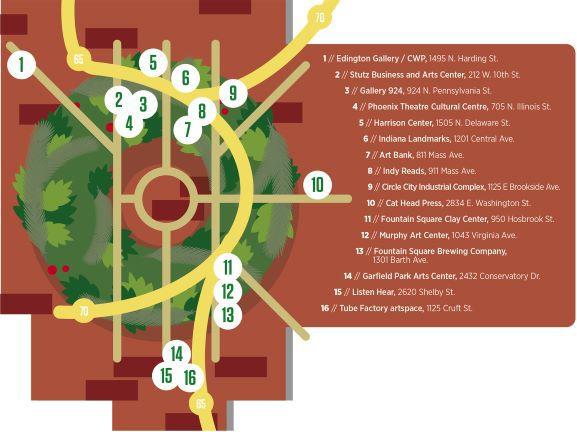 Brace yourselves, arts aficionados. This First Friday preview's packed to the stocking-brim with art galleries vying for your attention because 'tis the season. However, First Friday isn't the be all, end all. Most of the shows listed below continue on through the month; a handful have collector's nights on Thursday, Dec. 6. Check websites for hours.
We're starting our First Friday journey this month on the Near Westside, at the 1495 Harding St. storefront venue shared by both Edington Gallery and Christopher West Presents. Edington will be hosting a reception for A Bird I knew, Dreamt a Dream, of Valley View, an exhibit of new cyanotype paintings by Casey Roberts. CWP will host Ann Hamilton's installed "book weights (human carriage)" Hamilton, currently on staff at Ohio State University, represented the U.S. in the Venice Biennale in 1999.
Downtown, the Stutz Business and Arts Center  call their annual Holiday Open House All Wrapped Up because they're featuring over 60 Stutz studio artists who want you to wrap up their artwork and take it home with you. 10th West Gallery, also located at the Stutz, is celebrating its year anniversary, One Year at 10th West Gallery. It's billed as a celebration of artists from Indiana and around the Midwest who have exhibited in the venue.
The Arts Council of Indianapolis plays a humongous role in supporting the arts in the Circle City. But on First Friday they will be going small. That is, at the seventh annual Tiny Show at Gallery 924 at the Arts Council you'll find hundreds of works on display in dimensions of 6"x 6" or smaller. Considering 924's track record, we can confidently predict a multiplexity of styles and mediums.
Not too far away from Gallery 924 you can find the Phoenix Theatre Cultural Centre which is taking the plunge into the the first Friday art scene (welcome aboard!) with the Glick Art Exhibit opening reception presented by the Glick foundation featuring abstract paintings by Marianne Glick. The reception is 5:30-8 p.m. ahead of the A Very Phoenix Xmas 13: Merry Superstitious.
The Harrison Center is partnering up with estate developer Onyx and East to present Onyx & East, AKA the annual color-themed group show. Dozens of local artists will display "onyx-hued" work in the Harrison Gallery. The Harrison is also where you'll find the Indieana Handicraft Exchange Winter Market with their juried craft vendors exhibiting their creations.
At Indiana Landmarks, members of the Indiana Plein Air Painters Association are presenting you with their One-Day Holiday Show and Sale. They' ll be selling you their outdoors-painted plein air work right off the walls, in plain sight, but that does not mean this work can be described as plain. Plainly, this is not a show to miss.
Art Bank—the only art gallery in Indy that is a former bank, with an actual vault—is banking on your patronage this First Friday. The featured artist this month is Sarah Rae Cote, who will show you how Indy moves her with her exhibit titled Indianapolis Moves Me.
"Some works are done from life, but many just flow from my imagination," she writes" I paint owls and giraffes, and many creatures. I received requests for Indy themed art, so I created custom pop art Indiana pieces."
Just down the street from Art Bank you'll find Indy Reads Books. Their December artist is Ellen Leigh and her medium is something you'll find in abundance in the venue: books. She incorporates books and their covers, especially those found on the "pay what you can" cart and those bound for recycling.
Circle City Industrial Complex (CCIC) is a facility that itself has been recycled many times over the past 100 years. It's been a manufacturing facility and an office park. Currently it's a mixed-use facility hosting assorted businesses including art galleries. Originally CCIC served as a manufacturing facility for the Schwitzer Corporation—the car company founded by Louis Schwitzer, the first ever winner of the Indianapolis 500. (We're surprised, considering this history, no one's yet tapped a Louis Schwitzer brew.)
The 2nd floor gallery at the CCIC, named in Schwitzer's honor, will feature performance from the Alexander Coleman Dance Company—newly relocated to the CCIC—featuring Latin dance and Hip-Hop fusion at 7 p.m. and 8 p.m. on First Friday.
Elsewhere in the CCIC, there will be plenty of art available during their open studio night and the following day from the dozens of artists with studios and galleries there.  [Update: Satch Art Space will be closed this First Friday.]  If you're into team sports and you also like art, you'll very much appreciate Full Circle Nine Gallery's Versus—a group show. The fifteen artists will divide into three teams, a red team, a blue team, and a yellow team, in order to create a mini-show based on their team's color. Patrons get to vote for the winning team. Sounds kinda high concept, but we are the home of the Colts and the Indy 500, right?
And in the CCIC South Studios, you'll find Carla Knopp, who's showing the work of Jan Scott Boyer in her exhibition space. Boyer, Knopp says, "was well known for his 'Allism' paintings of the 1990s, which featured mutilated bodies and graphic sexual content. After 2000, he transitioned in a different direction that he eventually labeled 'Lightism'."
From this CCIC it's a short trip on the interstate and east on Washington St. to Cat Head Press where there will be an opening reception for Nathaniel Russell's Note to Self which will feature prints and drawings by this Indy-based artist especially known for his fake flyers. His art is featured in a 2015 episode of Sarah Urist Green's The Art Assignment.
In her 2016 Art Trip video on Indy, Green marvels at the changes in the Circle City, including those to Fountain Square and its emergence as an arts venue. A recent addition to the Fountain Square First Friday scene is the Fountain Square Clay Center. Their holiday show will feature sculptural and functional art by local ceramicists.  
At Murphy Art Center, in the center of Fountain Square, you'll find spoken work as well as visual art at Future Friends Holographic Magic Club.  This Is America: When They Use Your Words Against You will feature a chapbook release by Tatjana Rebelle with an accompanying art installation.
"The chapbook is going to be a lot of my speeches," says Rebelle. "I was part of the March for our Lives rally at the Statehouse and I did a speech there. A white supremacist got a hold of a portion of my speech and put out a video defaming me, calling me an anti-white racist. So this book is about that, and the art installation is about that."
Too Black and the Tuesday Xavier Collective will also reading at the venue.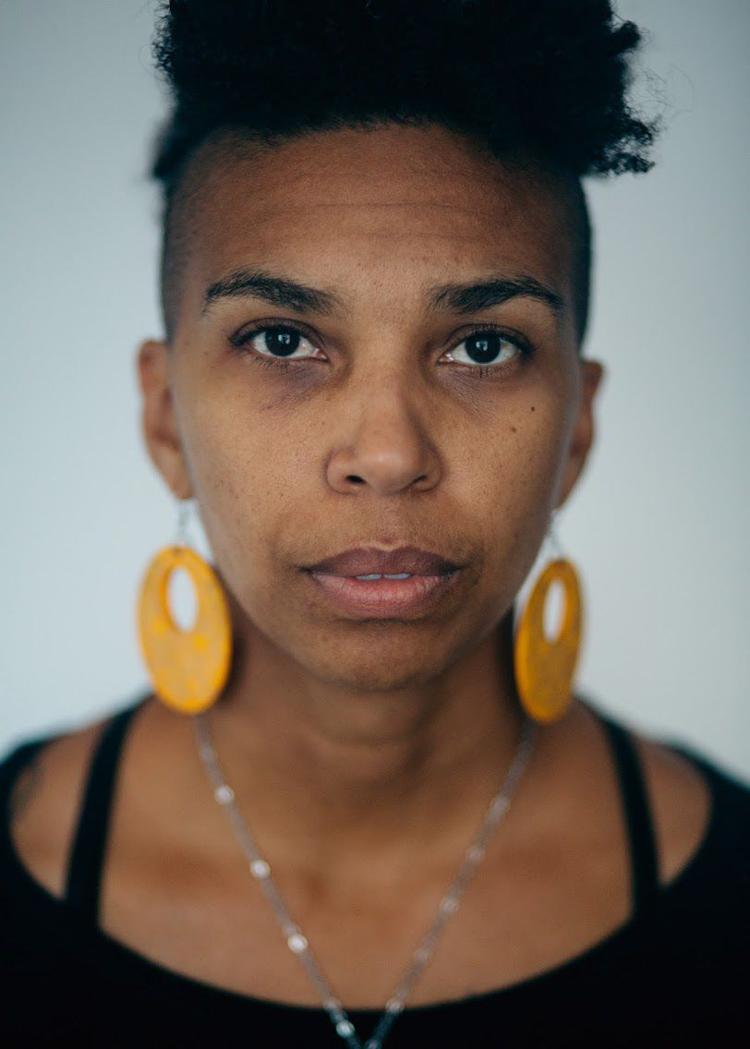 Also at the Murphy, you'll find the group exhibition Color at the Blackline Studio, curated by Christine Plantenga, featuring the work of 17 artists, and at LO-FI  Lounge you'll find work by featured artist extraordinaire Martin Kuntz whose work might make you think of James Rosenquist or Salvador Dali or Looney Tunes or a mashup of all three. Take your pick. 
A short walk away from the Murphy, you'll find Fountain Square Brewing Co. featuring Feed me Weird Things an eclectic group show featuring work from 30 artists that you can drink in with your eyes while imbibing your artisanal brews.
Garfield Park Arts Center will also attempt to tempt your palate with Palate: An Appetite for Art. The group exhibition will feature a palette of food-themed art by a diverse group of artists; you'll also be able to enjoy appetizers, alcoholic drinks in addition to work by local musicians and poets.
After you're done imbibing, why not consider the appendages you use to bring refreshment to your mouth? Baltimore-based Britney Pendleton's Hand(s) at Listen Hear will feature photographs of said appendages.
Chances are you'll find something to imbibe as well at the First Friday Night Market at Tube Factory artspace. You'll also find the continuing exhibition No USA Return by Laura Ortiz Vega and Absence Presence by Tiffany Pierce, Amanda Taves, and Jedediah Johnson. Johnson's photographic work features images of numerous models mashed up together, to make one body, as it were.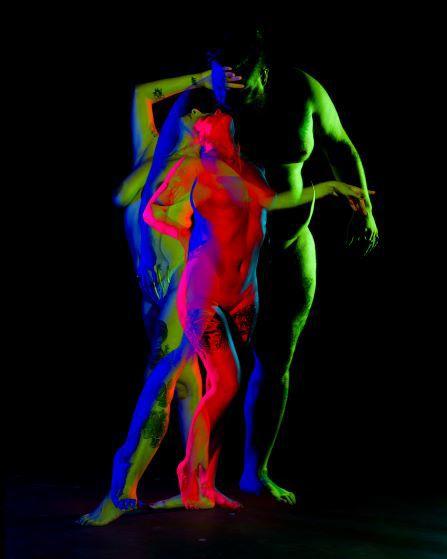 He specializes in photographing people "who don't necessarily fit the the really narrow commercial beauty standards," he told NUVO back in September.
So there you are, arts aardvarks, aficionados, and amoureux. We make this arts roundup not only for you, but for the artists requesting your presence (and your support!) We're not a diamond showroom, but we absolutely, positively guarantee a night full of sparkling, aesthetic pleasure if you check out even just a fraction of the exhibitions listed in our First Friday guide.
See you at the galleries.