Over the past several months, the COVID-19 pandemic has wreaked havoc across economies and communities around the globe; closing businesses, cancelling events, and prohibiting the gathering of people in groups.
One of the earliest questions I had at the onset of the coronavirus outbreak was, "How will the Arts survive this?" As an industry driven by events, in-person interaction, and site-specific happenings, what does a socially-distanced art world look like? 
As the battle against coronavirus has continued, the growing impact it has had on the arts has remained top-of-mind for many. When I received word that the Harrison Center, a long-time fixture in the Indianapolis arts community, was experimenting with ways to revive their First Friday presence, I jumped at the chance to see firsthand how an exhibition opening model would work during a pandemic.  Fully-masked and with a bottle of hand sanitizer at the ready, I set out for the Harrison Center on Friday, July 3 for a cautious glimpse into how First Fridays might operate in a post-covid landscape. 
Upon first approaching the Harrison Center building at 1505 N Delaware Street, I was immediately struck by the visual reminders that we are indeed, living in the time of social-distancing. Large painted circles decorated the ground leading up to and around the building, some with chairs, serving as a visual cue to stay six feet apart at all times. Harrison Center staff and volunteers were present in masks, some wearing cumbersome hoopskirts adorned by flowers as yet another reminder to keep our distance from one another. 
At my arrival, a member of the staff explained to myself and other guests the guidelines and precautions for the evening. These steps were outlined on signage both onsite and on the Harrison Center's website and are as follows:
-Masks will be required for employees and guests.
-Extra sanitizing precautions will be taken and janitorial staff will be onsite for frequent cleaning during the event. 
-Hand sanitizer will be provided in each gallery.
-Social Distance visuals and signage are onsite, and social distancing will be required.
- A limited number of guests will be allowed in the building at a time. Guests will enter at City Gallery, at the corner of 15th and Delaware, and follow a contactless one-way flow through the building. More guests can enter as space allows.
These precautions were clearly communicated and defined, and I applaud Harrison Center staff on their transparency and commitment to a safe, socially-distanced, and nurturing environment. As a patron, safety in public spaces is a big concern right now, and I felt protected and well-equipped to enter the galleries. 
I entered the first space, the City Gallery, through the newly-installed convertible patio doors, a nice addition to the building that really opens up the space and fosters a sense of welcoming and community into the gallery. Here, I encountered Indianapolis artist Courtland Blade and his exhibition The Unheard: Indy's Response to Injustice.  Blade's work provides an apt and intimate look at the recent events of the Black Lives Matter Movement and the impact its had on spaces around Indianapolis.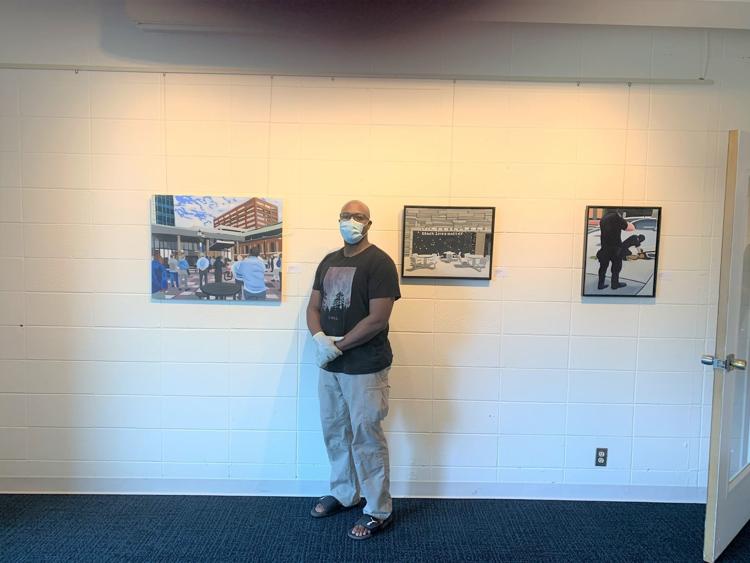 Through a series of thoughtful and expertly painted canvases, Blade evokes both a sense of stoic reflection and palpable conflict in his work. The stylized color palette and expressive brushstrokes contrast with the loaded subject matter, an approach that successfully allows the viewer to contemplate and digest the imagery while also prompting contemplation on the current social and political movements in the United States.
One painting, "Preparations," accomplishes this particularly well, depicting an ominous yet dreamy line-up of police outside of the Governor's Mansion protest in Indianapolis on June 1.
Exiting the City Gallery, I followed artfully crafted way-finding markers as they adorned the floor and pointed the way throughout the building. This was another successful implementation by the Harrison Center, and one people followed quite well; I rarely met congested foot-traffic and social distance was largely upheld by patrons. 
In the Harrison Gallery, Indianapolis artist Willard Johnson presented "When Strangers Meet," an exhibition of mixed media work in varying sizes. The exhibition, originally slated to open in May, explores Johnson's influence and experience living abroad through the lens of experimental painting. Bold patterns and vibrant colors are reminiscent of the ethnographic fabrics and designs of Asia and the Middle East.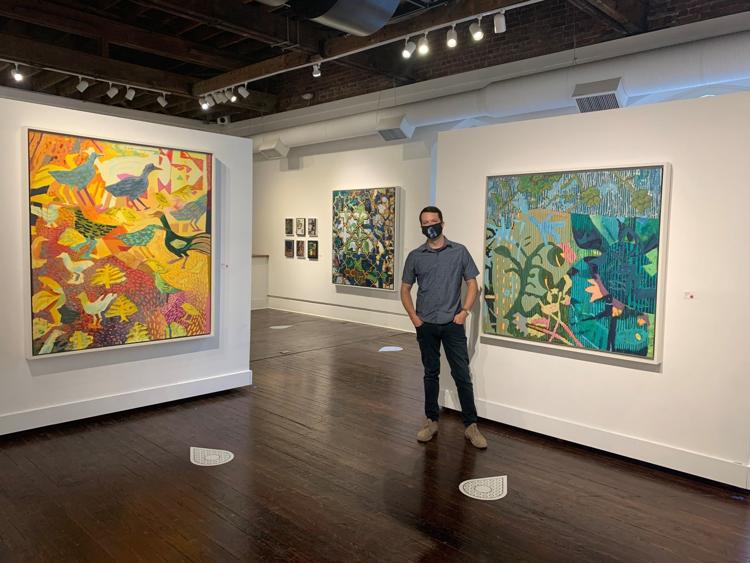 Johnson, a local art teacher who has been in Indianapolis for three years, is also influenced by Abstract Expressionism, a movement characterized by mark-making and intuitive use of brushstrokes and color. Johnson's work merges these worlds together into striking, compelling melting-pots that offer viewers multiple entry points into the imagery. According to his artist statement, the exhibition "sets the stage for the collision and intersection of time, culture, place, and identity." This notion struck me as especially timely as global conversations on cultural and racial unity and advocacy are becoming increasingly amplified.
Meandering throughout the rest of the galleries, I was struck with how much more enjoyable this First Friday experience was for me than in the past. Small crowds and social distancing allowed for more one-on-one time with the work and artists. The loud hustle and bustle of a traditional exhibition opening was gone, and I was able to carry on conversations directly with the artists and staff that were intimate, meaningful, and insightful. The floor markers gave me a clear path to follow in visiting the space and was an opportunity to be thoughtful and deliberate in my viewing of the work. 
While I do admit that the energy and buzz of a traditional First Friday seemed to be slightly stunted this go around, I found the Harrison Center's approach to be a largely successful affair, and one that we can learn from in moving forward into a post-COVID arts community.