This First Friday, walking into the Athenaeum, I thought of the Baudelaire poem "Landscape," where the poet attempts to make, in the middle of a frigid winter, a warm atmosphere with his imagination.
I don't think the artists of Indianapolis were taking their cues from Baudelaire, but there certainly was a lot of imaginative art to be seen around town on a rather frigid First Friday.
At the ReGeneration Indy exhibition at the Athenaeum ArtSpace, the participants, all volunteers or students with the eponymous arts organization, were still setting up. But I was able to see a painting by R.A. Buys, "We are with you Paul," and the painting stuck with me. It contains a stylized depiction of a group of people, staring straight ahead, against a colorful patchwork background.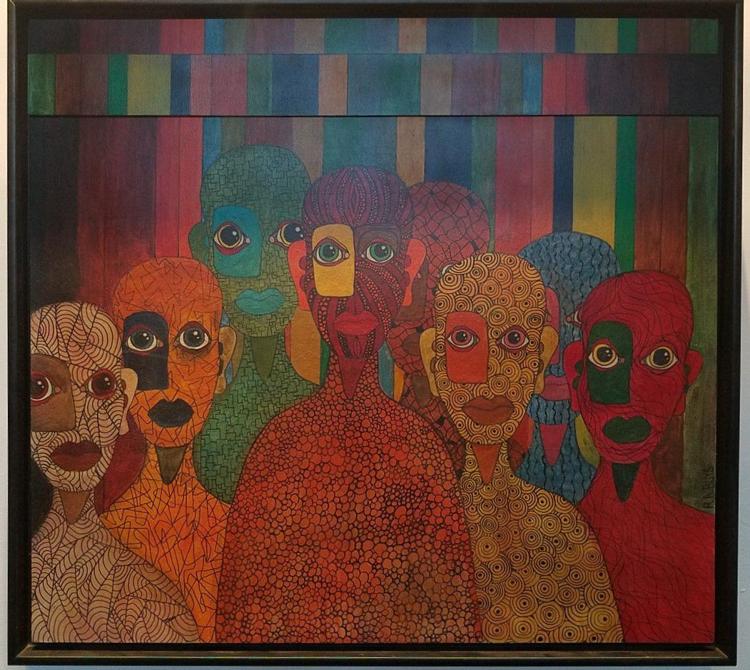 "My piece was based on the fact a good friend committed suicide and this was all his friends standing behind him confused and wanting to help but didn't know something was wrong," says Buys about the work.  
At the Harrison Center, I was able to see the exhibit Black Spaces and Places by Courtland Blade. At the previous shows of his, his work has documented the public spaces that we share in Indianapolis be it interiors of big box stores, traffic intersections, or playgrounds. But there are more faces of actual people in these paintings than I've seen in other exhibitions of his—Blade often likes to portray human-made environments devoid of humans—and more spaces important to the African American experience in Indianapolis. In his exhibition, he also highlights the importance of Black culture to the city as a whole.  
A standout for me is his large-scale painting "King Park," that depicts not just Martin Luther King Jr. Park in Near Northside Indy, with the remarkable King-Kennedy Memorial depicted in a small corner of the composition, but the sweeping sky above. The forms of the trees and the clouds are abstracted and simplified in the same flowing rhythm, as if to denote an underlying order to the world.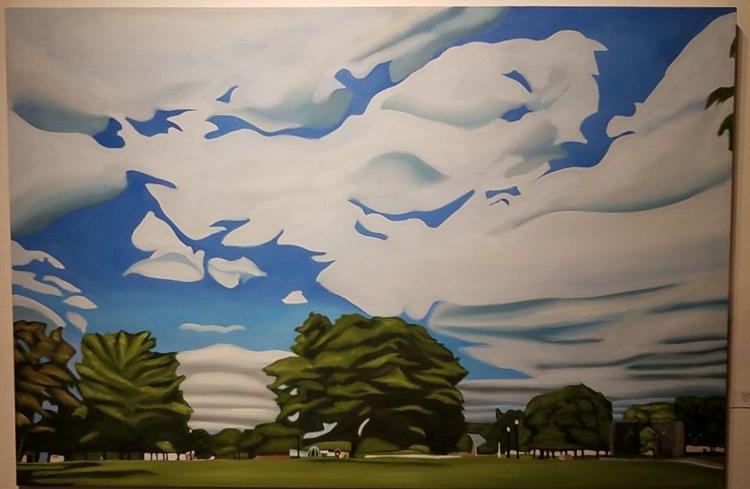 Fifty years after the assassination of both King and Kennedy, it's hard to look back and see linear progress in the area of civil rights and social justice since that time. But sometimes progress must be measured in baby steps. The fact that so many nonprofits and community development organization are working together are working to improve King Park—and artists like Courtland Blade are increasing the public awareness of its importance—can only be a good thing.
Another standout from Blade's exhibition is "Children at Play," where he's able to capture the essence of his subjects—two children playing in a bedroom—in a painterly way, in a way that departs from photo-realism slightly just like his landscapes.
At The Video Show, at Gallery 924, I donned a virtual reality headset and found myself in the middle of "Morning on Earth" a world created by Carla Knopp, an artist I know mostly by her paintings of ethereal landscapes. But in this monoscopic 360 video Knopp had created a virtual world unlike anything on earth, and it encompassed the entire 360 degree circumference around me. There were floating spheres and a mountain-like mass in the distance.
My last stop of the night was Circle City Industrial Complex, where I checked out the exhibition Elemental, New Work by Ron Kern, at Satch Art Space, which is a departure for the longtime photographer.
In this selection of 11 works in miniature, you see some photographs, and some computer-generated prints that were first sketched out as drawings. He made the work in miniature, he says, in order to have the viewer "come close and examine the work in detail."
Drawing comes naturally to Kern, which is not surprising because his daytime job is that of a golf course architect, but he hasn't drawn all that much outside this professional realm. For the work in Elemental, he sketched out ideas and then completed his preliminary works on the computer. The resulting works remind me a little of the work of early modernist Piet Mondrian, all except one.
That particular work, titled "Putin Trump Corruption"—the only titled work in the whole exhibition—actually looks something like a German poster circa 1910.  In fact, it seems to bear some resemblance to the work Kern and his wife displayed in a 2015 exhibit titled The Art of the Poster 1910-1921 Berlin, where they exhibited outstanding examples of the form. But the letters on the print are Cyrillic, spelling out the word corruption in Russian.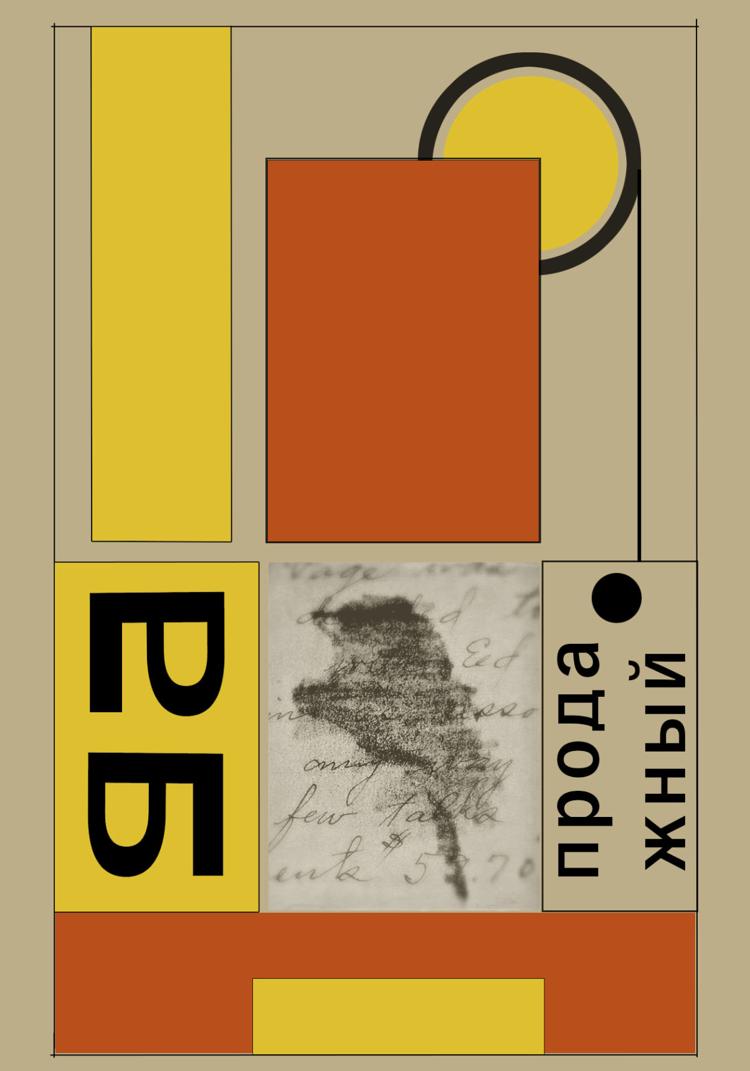 I admire art that's able to comment on the current political situation without becoming agitprop.
The last stop of the night for me was Casey Robert's studio, where I got to see a relatively new work of his titled "Whale Tail (Deep Water)." Like just about all of his paintings it was created with a Civil War era photochemical process that Roberts has learned to regulate with everyday products like peroxide and bleach in order to obtain his desired effects. 
And one of the desired effects in "Whale Tale" is a stunning translucence in his depiction on the water from which you see the whale tale popping out.  Since the cyanotype reaction turns the chemical blue on exposure to sunlight, it must have been a magical moment for Roberts during the composition process when the canvas' colors deepened to an aqua-blue.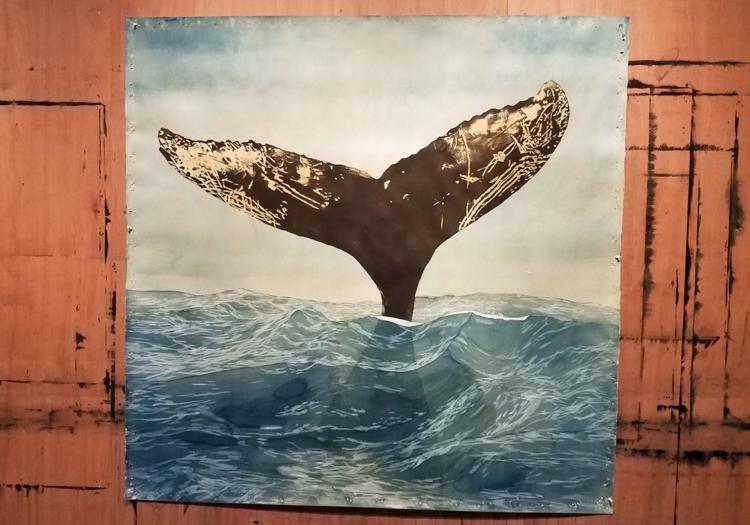 But in a way looking at this painting is heartbreaking. It's hard to look at such a painting and not think about the reports of ocean mammals washed up on shore, with stomachs full of plastic. It's hard not to think about Sir David Attenborough's speech at Davos, where he was quoted as saying "Eden is no more." And finally, it's hard for me to see this painting without thinking about the current political moment, feeling like one of the figures in the aforementioned R.A. Buys painting. 
Baudelaire might have been able to shut himself in his Parisian apartment and ignore the world, but then he didn't have to think about the Polar Vortex and shrinking Antarctic glaciers.