Gallery 924, the house gallery of the Arts Council of Indianapolis, has shown the work of many of Indy's best artists, Anila Quayyum Agha, Walter Lobyn Hamilton, and Jay Parnell among them.
Creating opportunities for local artists to get paid for their services —  in addition to just showing their art — is another of the Arts Council's roles. 
You could, in fact, say that the organization functions as a piston in the engine of the Indianapolis arts economy by administering the programs that give money — often from large donors such as Lilly Endowment  —  to artists in the form of grants and/or commissions. 
According to Julie Goodman, arts council president and CEO, the nonprofit arts and cultural community was doing well before COVID-19. "Our sector generates $440 million in annual economic impact," she said in a June 24 ZOOM conference. "We support 30,000 jobs and serve eight million residents and visitors annually."
The gallery was packed with visitors on Friday Feb. 7. They were there to see a show titled Feminine Bloodlines, Mexican Womanhood, Erasing Submissiveness, by Indy-based artist Beatriz Vasquez. The exhibition contended with both past and present, from the Aztecs to ICE. Inspired by the Mexican handicraft papel picado (cut paper), Vasquez employs construction paper as her canvas and an X-Acto knife as her brush.
The wall-hanging "Diosa Azteca" depicts an Aztec goddess dressed in a bedazzling array of colorful feathers and jewelry while "Eyes for Ice" is a ceiling-hanging work that depicts, in negative space, the pupil of an undocumented immigrant, on the lookout for Immigration and Customs Enforcement (ICE) agents.
Cutting multitudes of designs and forms into paper can be a painstaking and exacting process. By doing so she creates a paradox of sorts.  Her works, while physically fragile, often portray strong personalities and enduring spirits. One of those portrayed is a great aunt, portrayed in "Adelita Cardota" who took part in the Mexican Revolutionary War. 
"The military would steal the women," says Vasquez, "And they would turn them into basically their servitude. They would cook ... everywhere they would go they would take the women with them ... They didn't have  any other choice but to follow them … but they also became guerillas … They would learn how to shoot, how to fight." 
 "She's the only badass woman that I know in my long line of feminine bloodline, Vasquez says of her aunt. "Other than me."
"My practice was born out of a necessity to find identity," she writes in her artist's statement. "The process of creating became the most important part of the artwork. "Focusing on my well-being was critical to begin creating for social change, racial equity, and human rights. My healed spirit allowed me to become an activist."  
In 2019, Vasquez was able, through a residency with the Indiana University - Purdue University Arts and Humanities Institute, to see her family in Brownsville, Texas for the first time in 15 years. That visit helped inspire her current work.
"The residency gave me the opportunity to go back to the border and see for myself, what was happening," she told me. "It gave me the opportunity to speak to some immigrants that are asylum seekers and for me that was very important. It was also a homecoming for me."
Vasquez has been a Creative Renewal Fellow with the Arts Council. Through this program, she received $10,000 to further her artistic development, and has been able to showcase her work on billboards in Indianapolis as a High Art Billboard Project artist (also an Arts Council initiative).
She has had, along with her successes, more than her share of adversity in the past two years. In July 2018, in the middle of a move, her trailer was stolen along with much of her artwork. In November, 2019, she survived an attack by two pit bulls.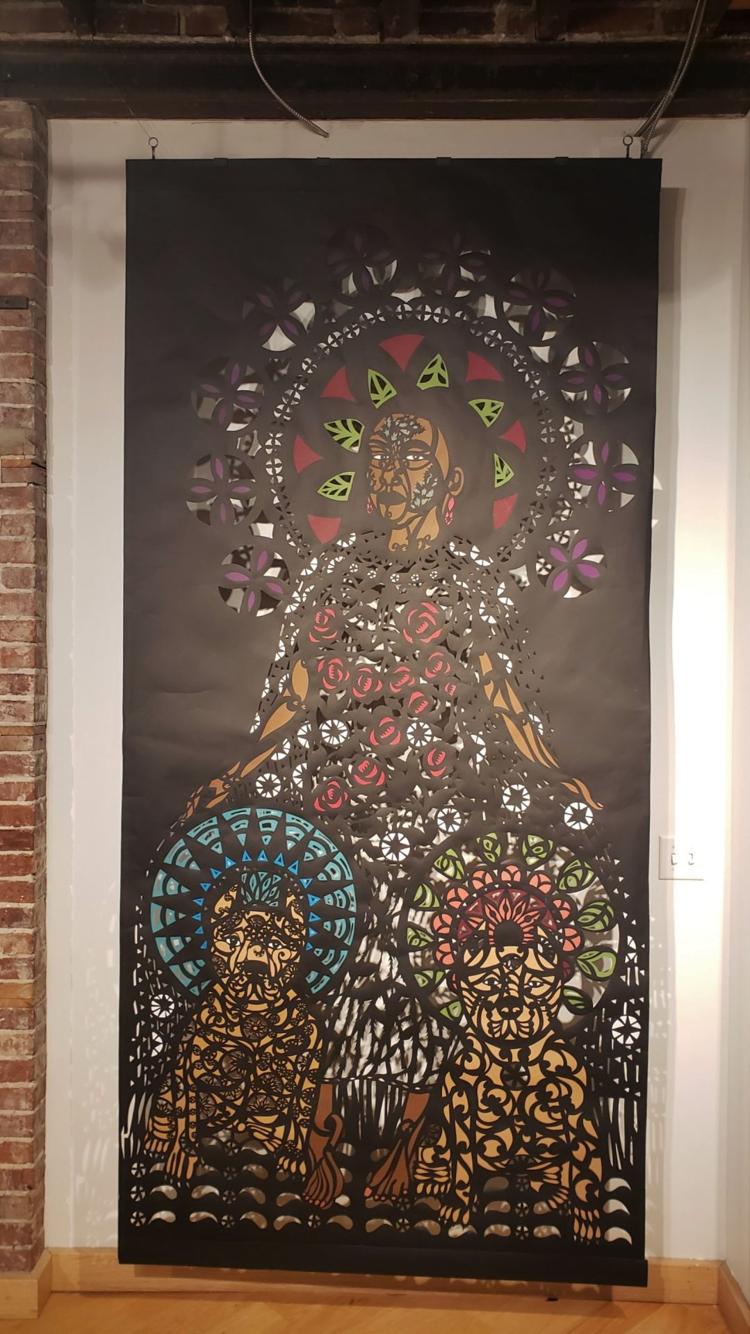 After the attack, she had a dream in which she not only forgave the pit bulls who attacked her but bonded with them.  When she told her son Phoenix about the dream, he told her that she had to create something out of this experience, to turn her ordeal into art.
 "'It's going to be huge," she told her son … "'something really spiritual' ... and I created this in four days'".  The result was a large-scale work titled "Spirit of the Pit Bull" where you see a woman in a magnificently colorful dress, a pit bull to either side of her.