After checking out Long-Sharp Gallery and the Harrison Center, the next stop on my agenda was the Circle City Industrial Complex (CCIC), a behemoth of a building that spans more than half a million square feet on Indy's near eastside.
The complex, which began its life as the home of the Schwitzer Auto Company in 1918, now serves as the home for dozens of businesses, nonprofits, and artists' studios. There is ample space — much that has yet to be filled out — for fabrication, manufacturing, warehousing, and the like. There is even a brewery. There were so many First Friday patrons that I had a hard time finding a place to park.
The 22 Bananas exhibit, which was my first destination in the complex, referenced a somewhat ritzier venue: Art Basel Miami Beach.
You may recall reading about the Galerie Perrotin booth at Art Basel in September, 2019. That is where Italian artist Maurizio Cattelan made a killing by duct-taping bananas to the wall. Titled "America," the work, if you could call it that, sold to two separate buyers for $120,000 each. (A third sold for $150,000.) The sales made international headlines for both the money involved and the tossed-off Duchampian conceptualism.
Julie Kern, aka Satch, who runs Satch Art Space at CCIC, was provoked by this show into organizing an exhibit. She bought 22 plastic bananas on Amazon, duct-taped them to black cardboard frames, and then mounted these frames on the wall outside her gallery. She put a suggested price range of $10 to $35 on each. All proceeds went to the local artist listed beside each banana.
Said Kern, "The exhibition, 22 Bananas, was meant to be fun and it was meant to poke fun at the ridiculousness of the original duct-taped banana at Art Basel Miami. On a more serious note, it was also to inform visitors to the exhibition that buying art directly from the artist is a sincere affirmation of support."
Kern opened her gallery in 2015 as a showcase for her own work in assemblage, and for her husband Ron's photography. It also serves as a showcase for the work of talented local artists who, like Kern, appreciate the crowds at First Friday events but wish the presence of those crowds would translate into more sales for Indianapolis artists.
The Art Hustle
My next destination was the Full Circle Nine Gallery (FC9), also housed at CCIC. That's where I met up with "NO MAEN CITY" painter and gallery founder Joy Hernandez. She was behind the cashbox, selling artwork by the artists of the FC9 collective at a steady clip.
Incredibly, she had some time to talk to me about her various art projects and her role as gallery founder/member artist. (She also had time to show off her mural in a CCIC hallway of José "Bill" Cuauhtémoc Meléndez, aka the voice of Snoopy.)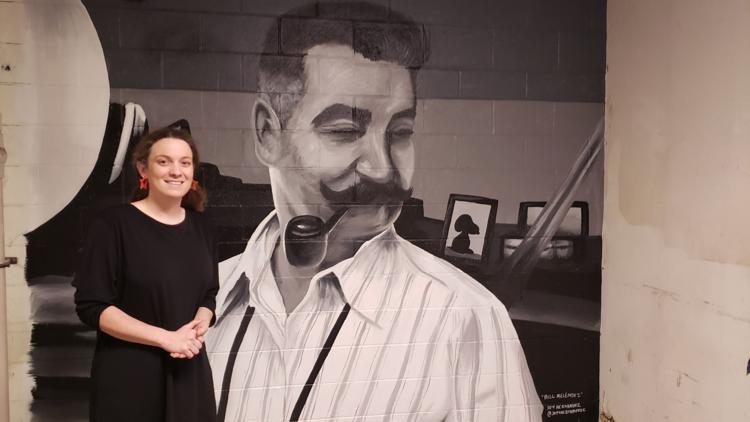 "I'm playing the long game, art-wise," Hernandez-Butler told me. "I realize fully that we aren't all overnight sensations with our art, me included. You've got to build up a career, a path, a body of work. I try to take advantage of the opportunities that arise, like with the Arts Council [of Indianapolis] or the Harrison Center ... I'm on the artist opportunities mailing list and all that. But this is my way of creating my own opportunity."
Rather than define herself as an emerging or established artist, she talks of a middle ground.
"I don't know what the mile marker is for considering yourself established but I don't feel I'm there yet, personally," she said. "The gallery is a home for those of us in the middle, as well as the other two groups. We don't turn away those that consider themselves established, by any means, and we help emerging artists along the path with do's and don't's we've learned along the way."
There are 24 artists at FC9 gallery including Hernandez. They all pay $80 a month in dues which goes towards rents and general improvements. There is no commission on sales other than five percent for a credit card transaction. The price range runs from $10 (for prints and coasters) all the way to $2,000, which puts it in line with the Harrison Center pricewise.
The FC9 founder has more than a plateful of full and part-time employment. She is a full-time photographer/editor for WISH TV, the Indianapolis CW affiliate, and a contributor to the WFYI Public TV program Curious Mix. She is also reporter/editor for the nationally syndicated Pet Pals TV and Great Day TV.  Having graduated $77,000 in debt from the University of Indianapolis and the Art Institute of Chicago, Hernandez is doing her best to pay off her student loans as fast as she can.
"If I had to have another job beyond my main one, to make ends meet and such, I'd rather be doing the art hustle, creatively feeding my soul, than working retail or whatever," she said. "I'll pick the 3 a.m. art deadline stressors over that any day."