Valadezza's work at Circle South highlights myth and immigration realities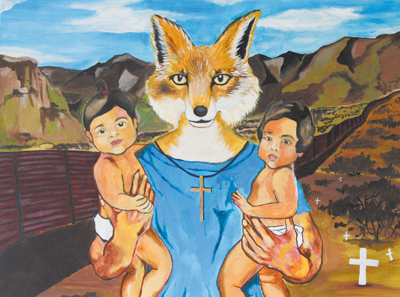 The painting is entitled "Protector." 
On the canvas: a coyote holding two infant children in his arms, a crucifix dangling from his neck. In the background, a fence straddles the Mexican-American border, stretching across the desert into the mountains under a blue sky.
It's an actual coyote depicted in this painting —  from the shoulders up —  with the body of a man. But coyote is also the colloquial term for the human smugglers who facilitate migration unlawfully across the Mexican-American border.
The painting, by Valadezza, is part of a group exhibition entitled Lienzos Americanos —  at Circle South Gallery, in Fountain Square up through Sept. 26 — and it depicts an episode in the early life of this Indianapolis-based painter.   
 "I was brought here when I was one," says Valadezza, 31, who goes by her artist's name. "What I know is that we were smuggled by this older gentleman when I was one and my older brother was two. When my parents hired this person, they were like, 'How are you going to guarantee us that you're to get our children back?'" 
The fact that Valadezza and her brother —  both are depicted in the painting —  made it across the border unharmed figures into the title, but there are other factors that it addresses as well.
"I was focused more on the animal aspects of how the coyote here in the States is a nuisance to everyone," she says. "Everyone gets annoyed by it. You're afraid it will end up killing your dogs, your cats, your chickens, whatnot. But if you look at the animal aspects, the coyote has a right to exist… They migrate and they hunt and they care for their little baby coyotes. So I wanted to portray that not all smugglers are evil or rapists. And not all parents who bring their children are mean people or bad people... Not everybody should be demonized."
Valadezza is acutely aware of the current political climate. She is disheartened by the Trump administration's decision to end the Deferred Action for Childhood Arrivals (DACA) program that was put into place by the Obama Administration in 2012. It is a program which currently allows certain individuals who had entered the country illegally as minors to access a renewable two-year reprieve from deportation and a work permit. (These individuals are often called Dreamers, after the DREAM Act, the goal of which was to protect these same young people but failed to pass the Republican-controlled Congress.)
Such reversals seem par for the course by this administration. In the very first speech Donald Trump made as a candidate, after all, he referred to undocumented Mexican immigrants as rapists and criminals. 
"You can't just blame the person who is picking the crop," says Valadezza, "because that crop winds up on your table during Thanksgiving."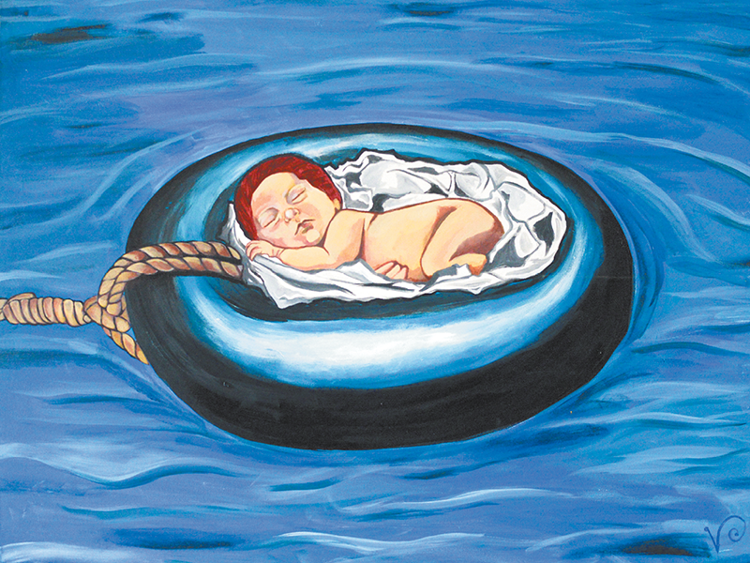 Across the Rio Grande and back again
On March 28, 1986, Valadezza was born in Ciudad Mante, in the southern part of Tamaulipas, Mexico, which borders Texas and the Gulf. Her father was living in the U.S. and sending money to the family. But one day those payments just stopped.
"And my mom, was like no, I don't think so," she says. "I don't think that you're just going to leave me here with five children, and you start another life over there with another family. She sold everything and she took a bus from Ciudad Mante to Monterrey, Mexico [with her five children], and from Monterrey, she took a train to Tijuana. And that's where she called my dad from Tijuana, and said, 'Hey, we're over here, you need to pick us up.' And, of course, he was not happy about it but that was just the beginning." 
Her two oldest siblings and her mother had border crossing cards, so they crossed the border legally into the States, but Valadezza and her brother Ivan were entrusted to a human smuggler to get them across. Her brother Juan, who was around the age of eight at the time, was also entrusted to a coyote, and crossed the border on foot.  
The family, now reunited, lived in California in El Monte, and in Monrovia. They continued to live in California for almost a decade before eventually moving to Brownsville, Texas where her dad's brother, who lived on the other side of the border in Matamoros, owned a jewelry store.
Not long after moving to Brownsville in the late '90s, Valadezza crossed with her family into Mexico after her grandmother died. Her mom wanted to see her family during Christmas, and see her mother's gravestone.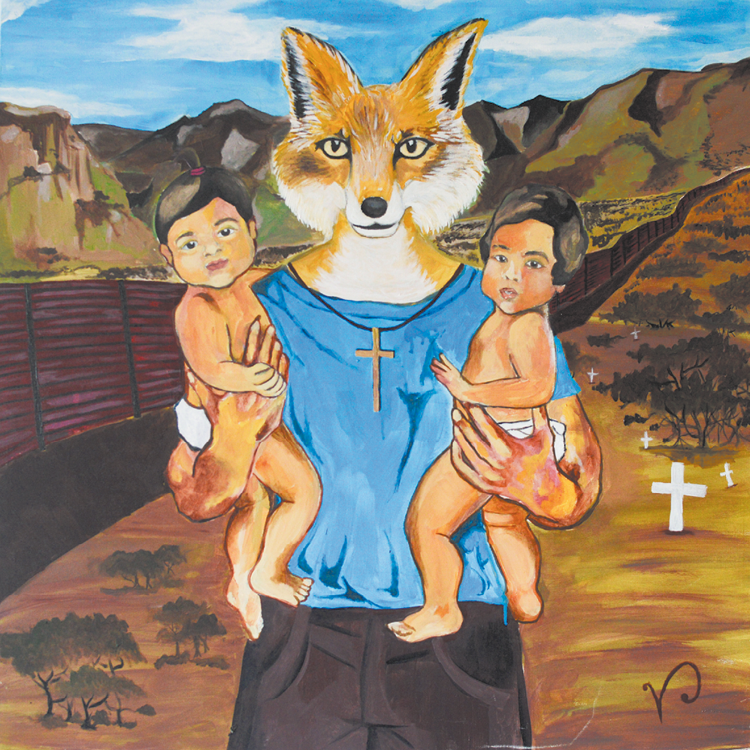 When they came back across the border, they came across the Brownsville and Matamoros International Bridge, speaking English.
"My dad was like, 'We're citizens but we just forgot our birth certificates.' So the immigration officer of course scolded him..." 
Valadezza recalls —  at her father's instruction — telling the Border Patrol officer that she was born in Brownsville, and went to elementary school there.
"At that point we were aware it was a huge risk and we made it through," she says.
Despite the risk of deportation, the family visited Mexico one more time.
"I don't know why my parents decided to go again on another Christmas trip," she says. "And we went and this time I was older, I was like maybe 11… And I was like thinking, 'Oh my God, really?' And that time we couldn't cross the bridge because it was just so strict now. They required the passport and birth certificate and such. So we ended up crossing the river, the Rio Grande, on the mouth of the river near the Gulf of Mexico."
"My brothers swam over to our side with a tire tube…" she says. 
Her brother Ivan was pulled across first. He was in the inner tube when her older brother Jose grabbed onto the tube while their dad pulled the rope attached to the tube from the American side.
And then it was her turn to be pulled across.
"[My brother] Juan.. placed me in the tire tube, and my mom, she held onto us and pulled us. I just remember my mom saying, 'Swim and kick.' I just remember the current underneath my feet being so strong …"
Another of her painting in the Lienzos Americanos show, which portrays a naked baby sleeping in an inner tube with a rope attached to it, relates to her experience at the mouth of the Rio Grande.
But like "Protector," this painting has resonances beyond the particular story that inspired it.
"That piece is called 'Coming Home' because it's in reference to the immigrants, undocumented —  refugees coming from all over the world —  who are crossing oceans, crossing rivers: from Cubans like Elian Gonzalez to that Cuban lady who shipped herself in a box from Cuba to Miami to people crossing the border, dying, risking everything," says Valadezza. "Placing themselves behind fences or in the trunk of a car, trying to reach the American Dream and risking their lives."
Art from Lienzos Americanos at Circle South Gallery
Negative number - 1199730  
It was during that crossing that Valadezza became acutely aware of her undocumented status. And then from that point on, she was never able to forget it.
"In middle school, it kind of dawned onto me because of report cards," she says.  "I remember seeing my name and then the number the school would give you.  And for me it was a negative number. But for everyone else it was their social." 
Valadezza still recalls the exact number to this day. 
"So it was like a number of shame because I would always punch to eat my food at the cafeteria, but you always had to put in the negative number or the negative sign. You had to put it in the keypad. You kind of had to do it fast so that your classmate wouldn't know. But I remember seeing on the boards, grades and stuff, especially with track scores; seeing my name, seeing that number and realizing that that number is something that you borrow to enroll in school."
Her father was eventually able to "fix" (in her words) his status — that is, to obtain his green card —  through the Immigration Control and Reform Act of 1986, signed by Ronald Reagan. (This act granted amnesty to nearly 3 million undocumented immigrants.)
"He was a jeweler and he was able to fix in that amnesty that was also for agricultural workers," says Valadezza. "And his employer sponsored him to get his green card."
After a wait of around 15 years, her father became a citizen, allowing him to re-submit and expedite petitions for his family with the Immigration and Naturalization Service (INS) that he had previously submitted in order to obtain their work authorizations, the first step on the road to green card status.  (The INS ceased to exist in 2003 and its functions were absorbed by the newly created Department of Homeland Security.)
"If we hadn't gotten legal status through my dad, we would have been in the same boat as everybody else as a DACA [recipient]," she says.
After obtaining her work permit and her green card, she became a U.S. citizen in 2002.
Not long afterwards, she moved to Indianapolis with her mom, a move which roughly coincided with her parents' divorce, due at least partly to religious differences. She describes her dad as a "hardcore Catholic" while her mom had become a Pentecostal Christian. Her dad wound up going back to Texas.
Valadezza enrolled in Northwest High School in Indianapolis.  It was something of a culture shock for her, after living in Brownsville, which was very heavily Mexican-American — and assimilated into American culture —  to walk in the halls of this high school.
"When I got here that's when I first realized there were other people, the Caucasian culture and the African American culture, and going to high school and thinking, 'Who do I talk to?' And the first thing I thought of was the alternative kids. The rejects. And I became friends with them. I also became friends with the Latino kids who weren't all football players. They were like the immigrants who had come here from other states or just recently arrived, who didn't know English. So I kind of started to help them by going to this El Puente project [a project designed to help Latino youth stay in high school]. From there I started being a voice for those who didn't have the privileges I had by being legal. So I helped them and I was the president of them for a while. But then, after high school I went to college. That's when I dealt with the whole gender-transitioning issue."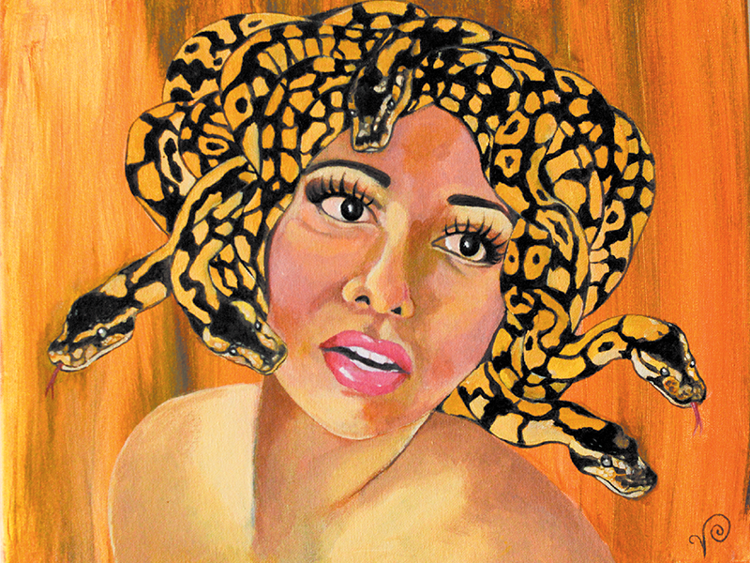 Feeling different
"I've always felt different," says Valadezza, who was assigned male at birth.
"I've always felt that I just didn't belong with the boys when they were all playing baseball and stuff," she says.  "I just wanted to sit there and look... I wasn't like them, all energetic…and hitting the bat and secretly crushing on some kid. It's like I always knew. But when I was young, I just remember saying ... 'Maybe I'm gay,' I'm thinking, but not even that; I was like, 'No, I don't think so'; something more than that, feeling different. Feeling you were meant to be a girl. 
"I just remember not understanding the whole situation and then having to find that space in school with the other nonconforming kids, the punks or the punk rockers or the rainbow kids. My brother used to say, 'Mom she's hanging out with the rainbow kids.' And my mom threw a fit, you know. But even then, once I started to realize maybe I was gay, I was like, 'No, it's more than that.'"
It was around 2006 or 2007 when Valadezza decided to act.
"I just stopped going to school and started working full time to be able to sustain myself because I knew I was going to do it," she says, referring to transitioning. "I wasn't going to get the support of anyone except myself, so I had to move out of my mom's. I worked full time so I could move in with someone or get an apartment and slowly transition, and that's what I ended up doing."
Valadezza, who describes herself both as a trans woman and as a woman with a transgender history, describes transitioning as an ongoing process. 
"I found myself at one point where I just wanted to be through hormone transition and be passing and be passable and be pretty," she says. "But not take that extra step and grow my breasts, or go and take the surgery. And at one point I just was comfortable being just me. With the first steps, no surgeries, with the hormones and wanting to be known as a third gender or non-binary. After that, I embraced my womanhood." 
There were some especially difficult moments with her parents, who were not so quick to embrace what she describes as her rebirth.  She recalls one particularly difficult conversation.
"Look, your son is dead," Valadezza told her tearful mother at one point. "But he's still living through me. He's reborn. And now you have a daughter."
But they have since reconciled: "She came around and is really supportive."  And she was also able to reconcile with her father who died last year.
"He was able to accept me about a year before he died," she says. "He was able to call and ask for forgiveness after not talking to me for more than a decade." 
She has also had to navigate difficult relationships with the men who she has dated.
"With a lot of men who date us, it kind of messes with... their masculinity and where they stand," says Valadezza. "And they question their sexuality; 'Am I gay or am I bi or this?' But really, it's none of that; it's just you liking another girl who's just different…. How you represent yourself to the world.  By them dating us they're still hetero, but they just can't grasp with the reality of women with a transgender history."
 The painting "Medusa," another one of her four paintings in Lienzos Americanos, recalls a moment in her life where she felt that she had been rejected for being who she is.
It's a self-portrait, with snakes as a substitute for hair.
"To me what it represents is basically being this creature that's part man, part woman, part animal, who's just beautiful who wants to love and be loved," she says. "But the people who love her, people who stumble into her and encounter her, are so attracted and amazed by her beauty and her being that it causes them confusion and it causes them to question themselves. And that confusion and rejection eventually comes into hatred which ends up turning their hearts into stone because they're unable to love her back...."
Valadezza has her an associate's of fine art degree in painting through Ivy Tech Community College, but her fascination with art began long before she started taking classes there.
"Ever since I was a kid I've always doodled," she says. "As soon as I would see white paper I would doodle; there was a point where I was freaking out my parents because I would draw all of these mythological elves and dinosaurs with sharp teeth and really scary animals that they really didn't understand. They felt there was something wrong with me, like some kind of possession or something. And I was like no, it was just imaginary creatures that I would just make up … And I loved dinosaurs; I used to watch Jurassic Park; that was an influence…. I started to mature and see and open my eyes to my reality; that's when I started to transfer all of that into my art..."
Currently, Valadezza works as a customer service representative helping people solve various problems, in English and in Spanish and she lives in an apartment on Indy's Westside. 
She shares studio space with other artists at Indy Convergence, based in Central State Mansion, for which she volunteers her time. In the future she sees herself doing more volunteering — doing what she feels she needs to do to protect undocumented youth.  She also regularly attends rallies that promote social justice. 
  "I'd like to be more active with Indiana Undocumented Youth Alliance," she says. "I just can't sit back and not do anything."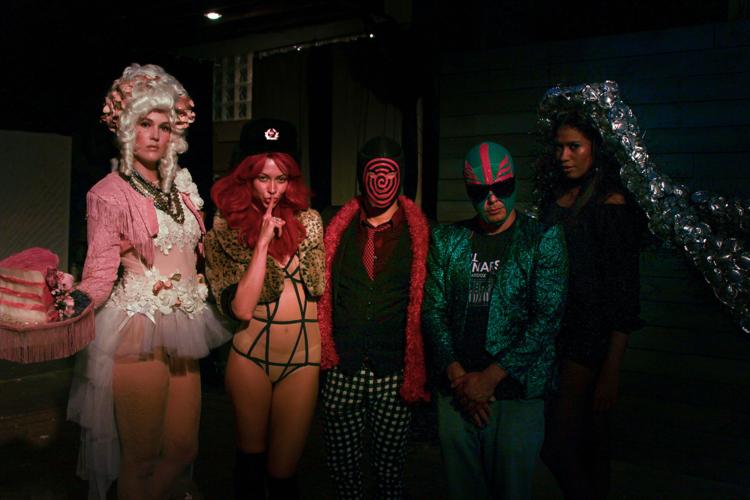 The Indy Latino Arts Scene
It was through dancing in a theater performance that was a tribute for AIDS awareness, that Valadezza met Eduardo Luna. 
Along with artist Christopher Dance, Luna organized the Lienzos Americanos exhibit at Circle South Gallery through the organization that they founded together in 2015. It's called La Sardina, a pop-up gallery that operates in commercial spaces around Indianapolis. (Electronic art-rock musician Melt-Face and Spanish-electropop-loving MP3J El Camaron Electrónico have been known to make appearances at events that they've organized.)
"Lienzos are canvases that you paint on," says Luna.  "And Americanos is part of the title because all of us from Latin America and North America are American. Throughout Latin America we consider ourselves American although the United States has kind of taken over the term."
Luna's picks for the art exhibition span a cross-section of Indy's Latinx community.
"For me it's impossible to say who's the most important from Valadezza to Maria to Gisele to Jonathan to Hector," he says. "So for example Hector Hernandez, now he's a pastor. Samuel Peñaloza is a young man who grew up on the Near Westside and he's a self taught artist and he does a lot of projects for the community. Jonathan Vazquez is important to the exhibit because he's a student at IUPUI… I see a future for him as an artist. Mary E. Mindiola works five days a week and the other two days a week she just spends making her art and creating her work for markets.  Ronald David Lora-Castillo is a self-taught artist  but he's also involved in a lot of organizations that are helping people ... Karen Garrido is one of the artists who I've met through doing this exhibition. Karen and her family are very involved in programs that benefit the Latino community. Giselle Trujillo is now full-time artist from Venezuela but before was a teacher at the International School of Indiana. All of them are important to me"
The thought of acknowledging that Hispanic Heritage Month starts Sept. 15 occurred to La Sardina's Christopher Dance when Luna first approached him with the idea for the exhibit which opened Sept. 1. But La Sardina is also striving incorporate a more year-round goal, according to Dance.
"Our gallery's prime directive is to connect underserved communities, artists that may or may not have potential to show in the upper echelon galleries and be able to connect with art communities outside of their neighborhoods," says Dance, who has taught ceramics and sculpture at Pike High School for the past ten years.  "And so this show was part of our mission, tapping into both the established art community, which we've kind of built a rapport with at this point; also tapping into communities that are most assuredly under-served… For some of them it may have been their first time in an exhibit."
Luna wants to find more such artists. "I would like to say there are more of those artists but probably because of questions of schedules and work, maybe we don't know them yet," says Luna. "Our real focus for the next year is to seek out these artists and invite them to collaborate with La Sardina, and work with other art groups and do partnerships with their spaces.  One of the partnerships that's helped us from the beginning has been Big Car Collective.  I work there. They taught me a lot how to organize events and show that I can put on shows." 
Luna is deeply involved in the arts community; he is part of Nopal Cultural, a Latinx arts organization that is putting together a Day of the Dead celebration at the Eiteljorg Museum again, on October 28, 2017. He is also staff artist at Big Car, which has brought notable Latinx artists such as Pablo Helguera to Indianapolis with his movable library project entitled Librería Donceles. 
Luna, who grew up in Guerrero, Mexico, has lived in Indianapolis since 1999. He has a B.A. in Media Arts and Science from IUPUI and lives on the Near Westside with his wife Emma Mahern, associate attorney at Muñoz Legal whose practice is primarily immigration (see NUVO's online edition for a discussion with Mahern on the topic of DACA).  They just so happened to meet on Mexican Independance Day, in 2008.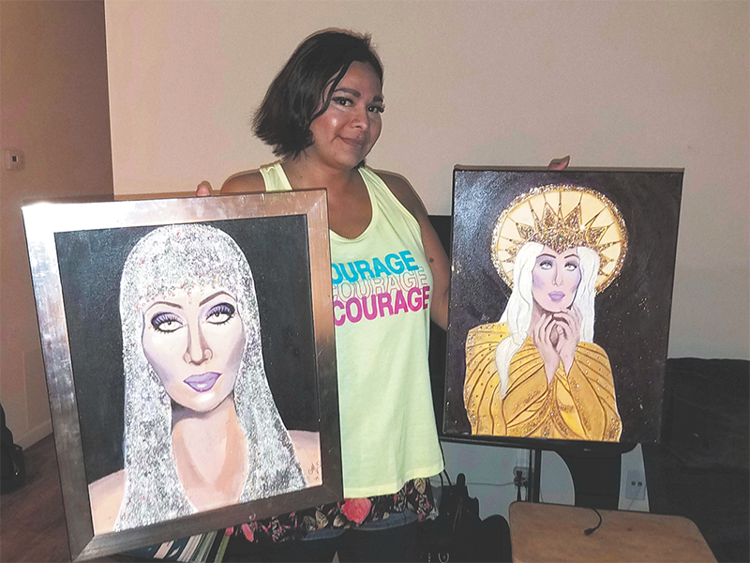 Shouting it from the rooftops
"I don't know if Eduardo knows it or not, but he's holding down a fair portion of Indy's Latino arts scene," says Rev. Canon Lee Curtis of Christ Church Cathedral, who spends half of his time conducting services at Circle South Gallery, at 1315 Shelby St., and also playing host to gallery shows like Lienzos Americanos. Curtis is one of La Sardina's many partners.
"We hosted their first show back in March," says Curtis.  "They're the kind of organization if we can be the space to host them [we will]  and they thrive because of that; that's what I'm here for is centering it all in a spiritual community in this space, in the neighborhood. La Sardina's perfect because there's a huge amount of talent and with Eduardo and Chris's connections, they're able to get that talent and we just host it. So that's the one way of saying don't have much connections with artists we just play host which I'm perfectly happy to do. 
"DACA is a huge topic of our conversation among Curtis's congregants.
"We've got members of our community, more than I'm sure I even know of at the cathedral particularly, who are DACA recipients," he says. I've got members of my leadership who were DACA recipients.  And so it's one of those things where I honestly knew the announcement was coming. I still haven't wrapped my head around what that's going to mean for the shape of this community; the shape of the Latino community in Indy in general and this community in particular." 
Curtis grew up outside Cape Canaveral, Florida, and went to Seminary in Atlanta, where he served in a congregation in the south side of town for two years before coming to Indy. 
"In Atlanta we've got a place called Buford Highway, a northeast corridor running out of town, which is a place where immigrants came and started businesses in places that were dilapidated and rundown," says Curtis. "Now it's one of the most exciting cultural areas of the city. We basically have that on Indy's Westside. And we should be shouting it out from the rooftops." 
And in her own way, perhaps, by pursuing her art, Valadezza, is doing exactly that; shouting from the rooftops. 
"I hope that my voice and my story could help open the eyes and minds and touch the hearts of people so they could see that we young people who were brought here as children, we are Americans," says Valadezza. "And we want to give back to our country. And it's just so much easier to do so when we are able to do it the legal way. Versus being in the shadow of the American flag. The reality is that we're here and we're here to say."