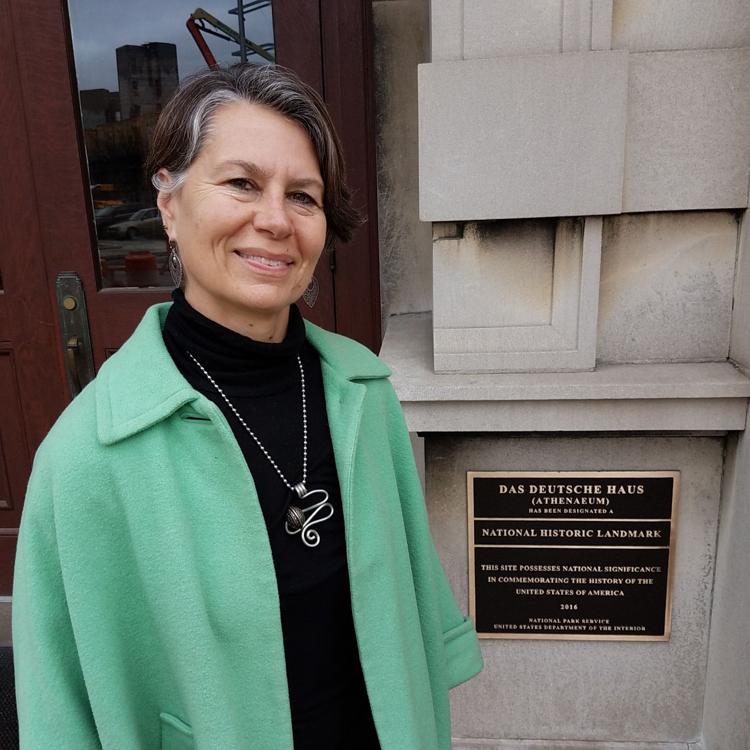 The German Heritage Society unveiled a plaque bearing the name "Das Deutsche Haus" at the entrance of the Athenaeum, at 401 E. Michigan St. on the evening of Feb. 22.
The unveiling ceremony is about acknowledging the past, according to Cassie Stockamp, president of the Athenaeum Foundation.
(The Athenaeum, which was designated as a national landmark in 2016, will keep its current name.)
It was in on February 22, 1918 — exactly 100 years ago —  when the building's original name, which means "The German House" in English, was changed to the Athenaeum, a Greek word meaning "gathering place of culture.'"
"Das Deutsche Haus was the original name of the building back in 1894 when the building was built," says Stockamp. "But in 1917-1918 during World War I, there was such fear and hatred of the Germans that there was actually an ad taken out that said 'Get rid of that German thinking.'"
After the United States declared war on Germany on April 6, 1917, The Indianapolis Star and the Marion Council for Defense demanded that Das Deutsche Haus, which served as a German-American clubhouse and gymnasium, have an "American" name.
The owners of the building acquiesced. Other German buildings, clubs, and churches capitulated to the pressure as well and changed their names.
After the plaque unveiling on Feb. 22, there was a meal recreating a-100-year old menu in the Wilkie Room of the Athenaeum.
"So all of this in my mind is because of fear of the other," says Stockamp, who not only presides over a German-American landmark, but a multi-faceted nonproftit organization that continues to serve as a venue for the arts, for nightlife, and for community development. It also houses the Ratskeller Restaurant and a YMCA.
The acknowledgement of history — as well as of historical injustice — also seems to be a part of the Athenaeum Foundation's mission.
"And we're repeating our patterns," Stockamp says. "Was it Edmund Burke who said 'If we don't learn from our past, we're doomed to repeat history?' It feels like we're doing that. So to me this building is a physical manifestation of that. This is our reminder to our city, to our country again that these things are still happening."