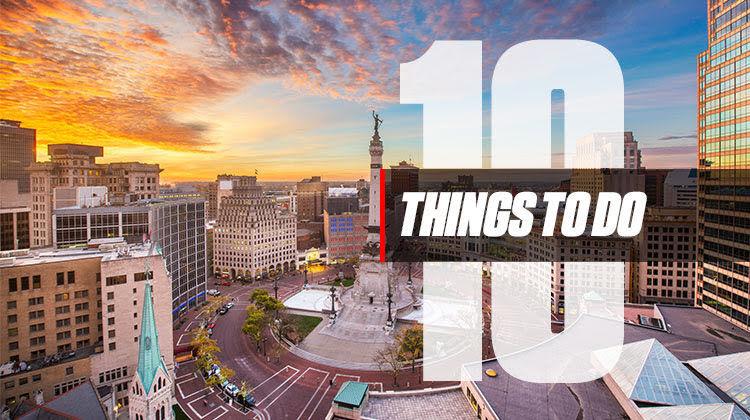 Hey everyone, it's arts editor Dan Grossman.  Each week music editor Seth Johnson, news editor Rob Burgess and I get together to choose 10 weekend events for you. We've got a great grab bag of events including Pacers games, First Friday art openings, and great performances. 
Per usual, on First Friday, I'll be out and about at the galleries. I've got Harrison Center and Tube Factory artspace on my list, but I'll probably make it to more. 
Hope to see you out there!
ALL WEEKEND
Inspired by the Life of: Sarah Breedlove
A group of middle-schoolers gets away from the guided museum tour and finds a hidden room with a big surprise: artifacts that take them back to the days of Sarah Breedlove aka Madam C.J. Walker.  A Young Actors Theatre Production. Friday 10:30 a.m. Saturday and Sunday 1 p.m. .19 and older $15 each, 18 and under free. The Toby at Newfields, 4000 Michigan Road.
This weekend is your final chance to catch the Buck Creek Players' production of Making God Laugh at the Buck Creek Playhouse. The comedy by Sean Grennan spans three decades in four parts as the plot follows one typical American family. Show times are 8 p.m. Friday, April 5, and Saturday, April 6; and 2:30 p.m. Sunday, April 7. Buck Creek Players  11150 Southeastern Ave., $16 to $18.
FRIDAY
Out There is not only the name of an album by the collaborative art and music project Michael O'Neil and Alex Gideon, but it is also the name of a live performance delving into the roles men play in the #Metoo era.  Also involved in this science fiction narrative, which explores the power of the divine feminine, are musician JD Samson, the band TEEN, and visual artist Jennifer Meridian. While you're at Listen Hear, you may as well check out Tube Factory artspace just down the street, the subject of quite a bit of coverage from NUVO. There will be a First Friday Night Market, and you'll definitely want to check out Bauhaus Imaginista, one of a number of exhibitions in the Tube exploring communities and architecture. This international project highlights the famed German art school's 100th Anniversary. 6 p.m.- 10 p.m.   Listen Hear, 2620 Shelby St., free.
Harrison Center studio artist Beth Guipe Hall will be showing her latest body of Work, Radiance. Of course she will have her signature encaustic collages available for patrons to peruse.  But she will also have a variety of work in other mediums on hand as well. The City Gallery will feature Presence, new work by Forrest Formsma. "I endeavor to interweave subject and poetry of materials and techniques," he says of his work. Don't miss the figurative paintings of Stuart Snoddy. His paintings often show subjects in the midst of fraught circumstances, in a feverish palette of colors. Dan Grossman wrote about his work at Christopher West Presents in March: There's a lot to think about in the paintings that Snoddy has here, and in the compelling visual language of his work in general. If he were a poet, he'd probably be more akin to a prickly Ezra Pound or a weighty Robert Lowell than a congenial Billy Collins, but I infinitely prefer the works of the former two to the latter." 6 p.m.- 9 p.m., Harrison Center, 1505 N. Delaware St., free.
We're Dyin' Up Here - A Thesis Art Show
This is a senior thesis exhibition by Herron School of Art and Design painting students Kaitlyn Schmelter and Logan Gainey. Check out the exhibition, and check out the marvelous printing equipment in their shop. Check out this feature that arts editor Dan Grossman wrote on Cathead Press recently.  6 p.m. - 9 p.m., exhibition open until Sunday,  Cathead Press,  2834 E. Washington St., free.
Indiana Pacers vs. Boston Celtics
With only three games remaining in the regular season, the Pacers and Celtics face off in a matchup that has huge postseason implications. Expect an electric atmosphere at Bankers Life Fieldhouse, as Bojan Bogdanovic, Myles Turner, and company duke it out for a chance at home court advantage in the Eastern Conference playoffs. 7 p.m., Bankers Life Fieldhouse, Find tickets at Ticketmaster.com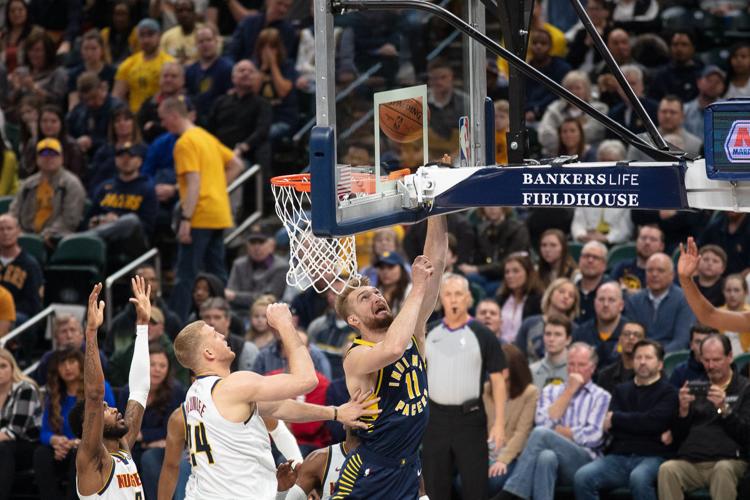 SATURDAY
With influences that range from Björk to Kim Gordon, Maggie Rogers first struck gold upon playing her song "Alaska" for Pharrell Williams, who was a big fan. Rogers went on to make her major-label debut this past January with Heard It in a Past Life—a release that debuted at No. 2 on the Billboard 200 chart. 8 p.m, Egyptian Room at Old National Centre, Find tickets at LiveNation.com, all-ages
TribeSouL, Joshua Powell, Veseria, and The Outside Voices
Don't miss this great lineup of local acts at one of Indy's coolest new all-ages venues. Just last year, we published a cover story on the great things TribeSouL has been up to in the city. Joshua Powell (Psycho/tropic) and Veseria (Post Party Depression, Pt. 1) both have dropped noteworthy releases of their own in the last six months as well. Healer, 8 p.m., $10, all-ages
Another Round (aka Straight No Chaser)
First formed in 1996, Straight No Chaser is Indiana University's most famous all-male a cappella group. The group has found fame on YouTube after a 1998 video of their performance of "The 12 Days of Christmas" was posted on YouTube. It has since been viewed almost 23 million times.https://www.youtube.com/watch?v=2Fe11OlMiz8 Some of the original members now perform under the Straight No Chaser moniker, but you can check out the current collegiate version of the group, Another Round, from 5 to 7 p.m. Saturday, April 6 at the Warren Performing Arts Center, 9500 E. 16th St. $15 to $25.
SUNDAY
An Evening with Eunice Trotter
Eunice Trotter — entrepreneur, journalist, and former publisher of the Indianapolis Recorder — will be in conversation The event is being hosted by the Attucks Historical Society, Soul Liberation Radio, and Scott United Methodist Church. This is the first in a series of planned events which will allow local history makers and community leaders to share their experiences and insights in hope of inspiring others. from 5 to 7 p.m. Scott United Methodist Church, 2153 Andrew J. Brown Ave, Free.