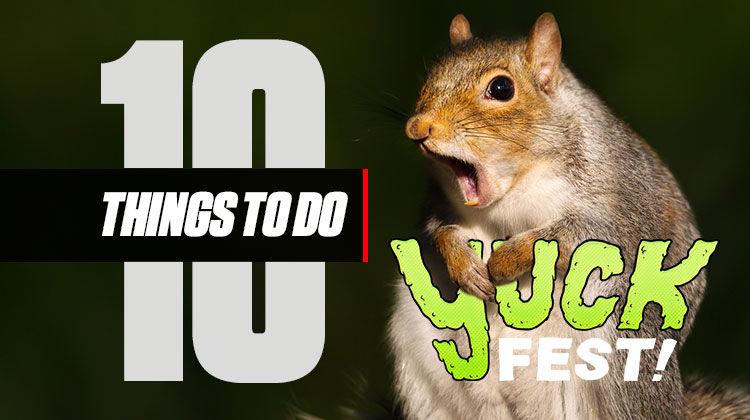 Not thrilled with the the NRA Convention this weekend being located right here in Indianapolis? Neither are we. So we put some extremely worthwhile events here just for you including a launch party, a dance performance, an indie-rock extravaganza, and that's far from all. 
FRIDAY
Commercial Article 12 Launch at Cat Head Press
From event organizers:  "Indiana design history journal Commercial Article tells the story of Stupid, Inc, a Mad Men-era novelty stationery and gifts company that tickled funny bones in both Indianapolis and London!!! Stupid, Inc. was founded in Indianapolis in 1959 by three buddies from the Herron School of Art. They wanted to create a sensation that was even more stupid than the hula hoop.! Stupid, Inc. produced wild and wacky novelty stationery and other gag gifts like aerosol sprays and matchbooks that were sold across the country and in high-end British department stores like Selfridges. Author Nicole Sholly will be on hand.  Cat Head Press, 2834 E. Washington St.
ALL WEEKEND
This Kenyetta' Dance Company production, choreographed by Nicholas Owens and Lalah Hazelwood, will explore the rich legacy of African American dance and culture. Friday 7:30 p.m., Saturday 2:30 p.m.  District Theatre, 627 Mass. Ave., Tickets: Adults, $20, Children under 12, $10.
Since originally forming in New Albany back in 2011, Houndmouth has gone on to reach international acclaim on the strength of three full-length album releases. The indie-rock band makes their way to the Vogue for a two-night stint this weekend, with headlining shows on Friday, and Saturday The Vogue, both shows at 9 p.m., 21+, $20 - $30
Megan Gailey at Helium Comedy Club
A graduate of Lawrence Central High School, Megan Gailey has appeared on Comedy Central, The Conan O'Brian Show, and more. This weekend, the Indianapolis native returns home for a pair of shows at Helium Comedy Club on Saturday, April 27 and Sunday, April 28. Helium Comedy Club (10 W. Georgia St.), both shows at 7:30 p.m., 18+, purchase tickets at the Helium Comedy Club website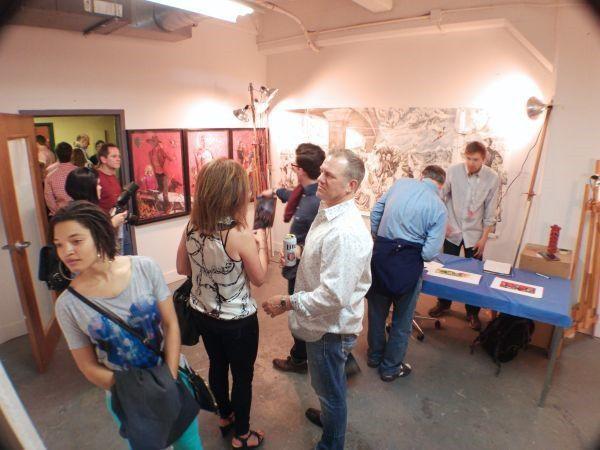 Raymond James Stutz Artists Open House
Here's a chance to visit over the studios of 70 artists who work in a wide variety of mediums. The proceeds of the Open House benefit the Stutz Residency Program. Don't forget to check out the studios of the Stutz resident artists.  Friday 5:30 - 10:30, Saturday, 1 p.m.- 5 p.m. Stutz Business & Arts Center, 212 W. 10th St.  Tickets: $15
Presented by Indy's own Rocketship Comedy, Yuck Fest will take place throughout the weekend, with shows happening across several Indianapolis venues. As Seth Johnson's story lays out, the lineup features a diverse selection of performers, including stand-up comedians, musical acts, and everything in between. Andy Kindler, Reformed Whores, Sirius Blvck, and Kiddo are just a few of the acts you can catch between Friday and Sunday. Various venues, learn more at YuckFestIndy.com
SATURDAY
Explore the businesses along the Canal, participate in activities and win giveaways Get a taste of what's coming this spring and summer on the Downtown Canal Walk. Downtown Indy will host the fourth annual Canal Awakens. This free event encourages attendees to get outside and explore many of the businesses, restaurants and attractions located along the 1.5-mile Canal. Attendees are invited to pick up a Canal Awakens "passport" and map at the Downtown Indy tent at the Walnut Street Basin (or any other marked passport location along the Canal) and then visit the businesses located along the waterway. Those who visit all participating locations and return their passport to any of the participating businesses will be entered to win giveaways including an Invoke Studio prize package, free Indy Bikes & Boats rentals, two entries for the Indy Ultimate race, free month at Capture Fitness, Pacers swag and other Canal goodies. This event lasts from 11 a.m. to 3 p.m.and is free to attend and is family and pet friendly.
Rotary Club of Carmel's Third Annual BourbonFest
The third annual BourbonFest is scheduled for Saturday, April 27, hosted by Platform 24 located at 12400 N. Meridian St., Carmel. Guests will enjoy food samplings from some of the best restaurants in Indianapolis such as Sulllivan's Steakhouse, Peterson's Steak and Seafood, Eddie Merlot's, Arni's, Blue Sushi Sake Grill, Oca, The Den by Foxgardin and A Cut Above Catering, each paired with select bourbons while listening to live music. Beer and wine will also be available. VIP tickets ($95) are limited with a 5:30 p.m. admission time and ticket-holders will receive an expert guided tasting tour of Bourbon, a commemorative rocks glass and priority access to food sampling. The main event ($55) will open at 6:30 p.m. BourbonFest attendees must be 21 years of age to attend. Questions may be submitted to thaddeus@thaddeusrex.com or call 312-965-0026. Click here for tickets.
SUNDAY
Street Dance Workshop with [Insert Crew Name Here]
According to Indianapolis Movement Dance Collective (IMAC), "[Insert Crew Name Here] workshops make use of street dance techniques not taught in dance studios —  hence the term "street". This workshop will introduce participants to the foundational tools and techniques that will improve your street dance knowledge and freestyle abilities and will be taught by Philip Wood and Kadeem Paige — both [Insert Crew Name Here] members. The workshop will conclude with an open floor dance cypher —  providing an opportunity to explore street dance and freely share anything else on the floor, no matter what the style. Get loose so you can get down! Open to movers of all experience levels ages 13+.  2 p.m. - 4 p.m. IMAC at 4011 N. Pennsylvania St. Tickets $15
Guns Down America Town Hall
All Souls Unitarian Church and Igor Volsky, Guns Down America co-founder, will host a town hall-style discussion with local gun violence prevention advocates. Held during the NRA convention in Indianapolis, the event marks the second stop on the Guns Down America tour, which is dedicated to meeting with activists around the country and creating bolder gun violence prevention solutions. In his new book, Guns Down, Volsky makes an evidence-based argument that guns, not "the bad guys," are the problem. Volsky; Ronald Frieson, Ceasfire Indy executive director; Charlotte Olsen, of March for Our Lives; Rosie Bryant of Faith in Indiana; and Rev. Anastassia Zinke, minister of All Souls Unitarian Church will lead a discussion on creating bolder solutions to gun violence. For more information, email press@gunsdownamerica.org or call 703-594-1787. 1 p.m., All Souls Unitarian Church, 5805 E. 56th St.