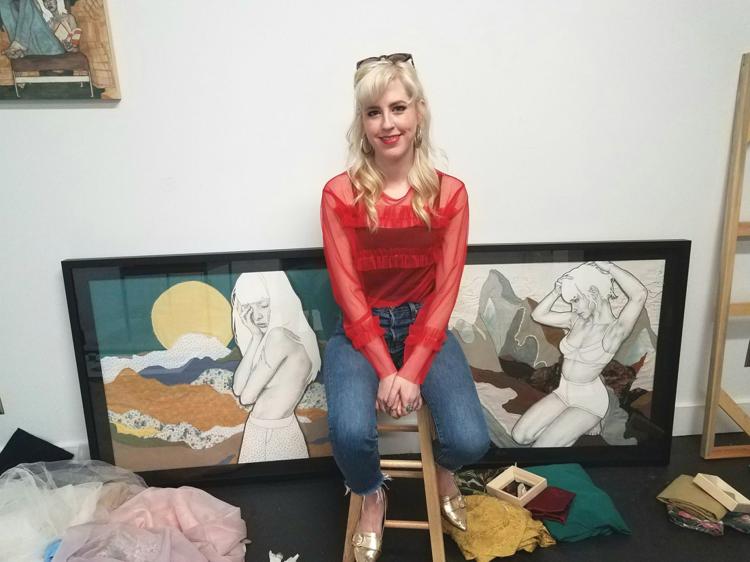 Going to the Stutz Open House, which turns 25 years old this year, is more than just a good way to encounter Stutz-based artists showing off their studio work. Since 1997, the artists of the former Stutz Bearcat factory have been using the admission fee as a vehicle to support the Stutz Artist Residency.
The residency stipend, which provides artists with a year of rent-free studio space, has helped many well-known artists in Indianapolis—Joseph Crone, Emily Kennerk, Patrick Flaherty, and Kyle Ragsdale among them—to establish themselves as professional, working artists.
One of the two 2017–2018 residency artists is Shelby Alexander, who combines her fashion-design talents with her passion for drawing and painting to arrive at an intriguing amalgam of the two.
Her work explores the impact of the fast fashion industry on the environment, a subject she grew interested in after attending a summer session at Pratt Institute in New York. She graduated from Notre Dame in 2014 with a BA in studio art.
"Next to big oil, the fashion industry is the second-largest polluter in the world, and I think a lot of people don't really realize that," says Alexander. "In fast fashion, everyone's sort of getting rid of their clothes and buying new ones constantly. And so because I have past experience in fashion, that really piqued my interest when I learned that fact, so I feel kind of bad for contributing to this environmental issue. My new work is really to explore the impact that fast fashion has on the environment while also appreciating fashion as an art form."
When Alexander applied to the program, she was living with her parents and using her bedroom as a studio.
"Before I got this residency, I didn't really think that I would be able to pursue art as a career," says Alexander. "I just thought it would need to be more of a side project, side hobby. So after getting this residency, I've essentially been working as a professional artist for the past six months, and I've gotten a taste of what my future could be like as a working artist, so now I see that it is a possibility for this to be a lifelong career."
One part of the residency that Alexander values in particular is the mentorship program, which involves one artist giving another advice about all aspects of creating and marketing one's own work. Alexander's mentor is Stutz artist Constance Scopelitis, who was one of 20 artists at the Stutz during 1993, the year she first moved into her studio.
Scopelitis grew up in Irvington and graduated with a degree in fine arts from Indiana University in 1977.
"By 1994 we were just having a really great time," she says about the Stutz. "The vibe was good. We decided to try and just invite the general public to see what our art studios looked like. We didn't really have a big agenda about [what] should it be…We looked at it more as just an introduction to this city because Turner Woodard had bought that building. It's almost half a million square feet, and people didn't really know it was alive with people inside. You know this was prior to social media. It was mostly word of mouth. Turner Woodard probably invited some of his friends because he's connected to all sorts of people, and we kept it real lowbrow, cans of beer thrown into a blown-up kiddie pool from the drug store with bags of ice in it. And 400 people showed up, and we were just shocked, absolutely shocked."
After that, the Stutz Open House just grew and grew until the point where it annually attracts 6,000 visitors.
"For the entirety of the '90s we had no Stutz Association or any kind of formal board or anything," says Scopelitis. "We truly had beginners' high energy and luck...It seems like after the third year we realized that so many people were coming and they were willing to pay $5 to come in. That's the only reason we ever charged entrance fees; we came up as a group with the concept of 'let's try to help artists who are working out of their bedrooms or their basements or their garages and see if we can't come up with enough rent.'"
The inaugural Stutz Residency artist was Greg Hull in 1997, who currently is associate professor of sculpture at Herron School of Art and Design. In 2006, the Stutz Artists Association started to offer the residency to two artists per year instead of one. Applications for the 2018–2019 residencies are due June 15.
This year the Stutz will have a special silver anniversary event on Thursday, April 26 especially for collectors (tickets are $100 each). For the silver anniversary, this year the artists will have works inspired by silver, and there will be silver decor galore during the preview and the Open House weekend that follows.
But for Scopelitis, the motherlode, as it were, are the human connections made in the studio between artist and patron.
"I really think that's what we're doing for the community is keeping artists up front and center, available and accessible so people can be introduced to art," says Scopelitis.