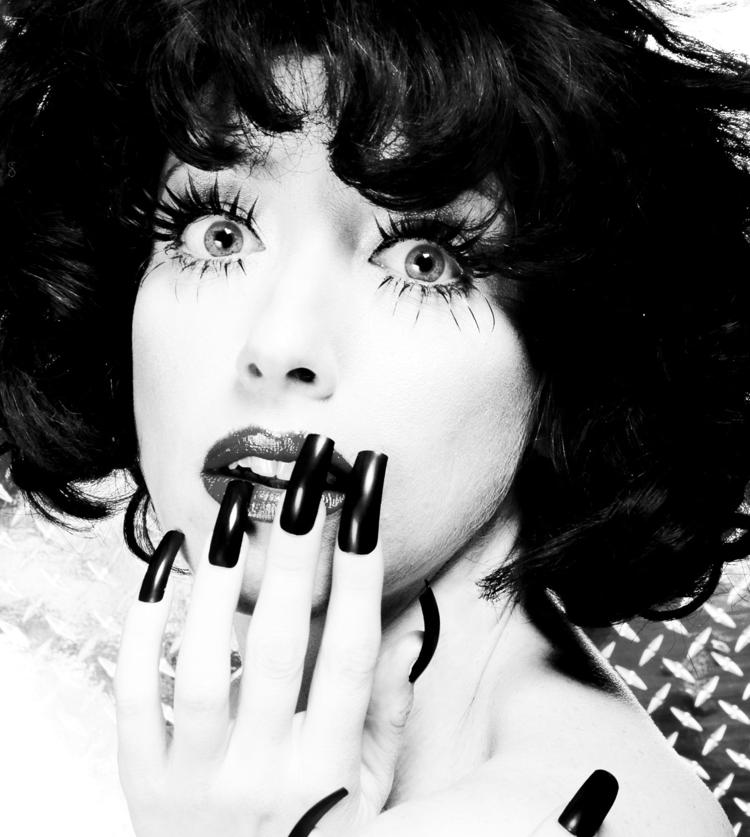 A sold-out crowd greeted Meow Meow's inaugural performance in the The Cabaret on April 21.
The Cabaret's newly completed Christel DeHaan Theatre is in the Metzger Building at 924 N. Pennsylvania St., where the offices of the Arts Council of Indianapolis and Gallery 924 are located.
With its bare bulb lighting defining a bandshell stage, curved walls, and all-in-all Art Deco vibe, The Cabaret might remind you of a postmodern version of the Kit Kat Klub, the venue immortalized by Sally Bowles (Liza Minnelli) in the film Cabaret set in late Weimar-era Berlin.
And before Meow Meow (Australian-born actor Melissa Madden Gray) strutted onto the stage, The Cabaret's Artistic Director and CEO Shannon Forsell took the opportunity to wax ecstatic about the new venue.
"We're so thrilled to have you here for the kickoff of our inaugural season in our new permanent home, and by permanent, I mean we will never ever leave," she said, having led her organization out of its longtime venue the Columbia Club in late 2016. (In 2017, The Cabaret set up shop temporarily in Indiana Landmarks Center's Cook Theater.)  
Forsell then pointed out the food and drink service handled by the Jazz Kitchen, and one drink in particular.   
"I highly recommend the 'Oui, Oui, Señor' Forsell said, before going onto say that the Cabaret rivals, and might even surpass, the best cabaret spaces in the country.
"And it's right here in Indianapolis," she said. "You don't even have to go to New York."
(But Meow Meow's attitude was, as we shall see, much more New York than Indy.)
Meow Meow didn't exactly arrive on cue when her pianist Lance Horne introduced her. When she finally arrived she didn't make the expected entrance from stage left or stage right, but through the back of the theater's seating area, suitcase in tow, projecting a slightly discombobulated air. But once Horne—who has previously accompanied Alan Cumming—started pounding the keys in earnest, the gags began. She instructed various men (and a woman) in the audience to undress her, not completely, but to reveal... a revealing dress.
The Cabaret is a classy performance venue, after all, and not a strip club.
She proceeded to engage in the cabaret art form which is basically a mishmash of high and low art. That is, in addition to musical numbers, there were gags involving audience members, and jokes verging on political commentary.  
There was French chanson (Jacques Briel's "Ne Me Quitte Pas") and American songbook (Al Dubin's "Boulevard of Broken Dreams") as well as songs in Spanish, German, and Italian, and even one of her own (or so she said). 
There were moments when her singing was powerfully affecting and emotional, but Meow Meow was not above interrupting one of said songs for a gag or two. At one point she used several men from the audience as furniture—men who appeared to be in their 40s or 50s and 60—who were seated at tables ultra-close to the stage. And she also maneuvered the head of another man between her legs and had him stay that way for several minutes.
These men were really good sports, or just really well-rehearsed, and it all went smoothly as you could expect. That is to say, nobody herniated a disc.
At one point Meow Meow asked, "Can I have the political lighting please?" And when that lighting was too bright, or too white, for her satisfaction, "Is this as political as Indianapolis will get?"  
After the performance was over, while Meow Meow was signing programs, she acknowledged that modern cabaret tradition draws heavily from the German tradition. (Weimar-era cabaret performances were rife with political jabs and satire.)
"Before that it was France and Spain, she said. "It's always…rough entertainment and satire and then there will be a frou-frou number. The original cabarets had a very broad sense. It can be high art and low art."  
Meow Meow also said that she liked the Cabaret venue very much. "It's beautiful," she said. "It's very pleasurable to have a space that you can play in. The sound was great, I thought. It sounded great on the stage. But I was frightening them all in rehearsals because I was singing around all the crevices, saying 'ooh I love this little space.'"