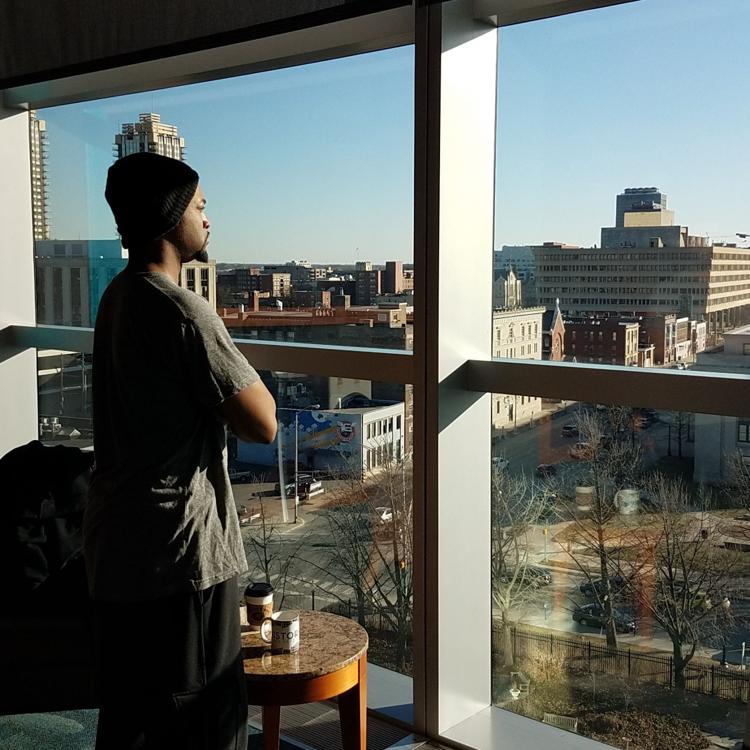 Spoken word artist Too Black has a lot to say about being Black in America. But the story of how he first started as a poet might have as much to do with pizza delivery as with race.
Too Black didn't get a lot of tips when delivering pizzas on the Ball State University campus in Muncie. (He graduated in 2012.) So he wrote about it in a piece called "Fuckstrated" that relates to the stinginess of many of his customers but also to a certain Chris Rock routine.
"The [routine] is about old Black men who grew up with really hard racism not as hidden as it is today," says Too Black.
Chris Rock talks in his stand-up routine about the service positions previous generations of Black men had, as janitors and butlers, and how they were forced to act a certain way if they wanted to make a living.
"We call it cooning," says Too Black. "You say, 'Yeah… how are you doing boss?' But as soon as the boss walked away you cussed him out and hated him but you didn't tell anyone because you wanted to make your money. I brought that to delivering pizzas. I'm like, 'Thank you,' and as soon as they close the door I'm like, 'Fuck you.'" I hope you choke on your food. Because they didn't tip me, right? I pulled from that legacy to write about this frustrated worker who's also trying to better himself."
Too Black was able to articulate the feeling of fuckstration, as it were, in spoken word in a way that was poetic and funny.
(Too Black's stage name has something to do with both a quotation from a Malcolm X speech and conversations in the media during Obama's presidential run about whether he was too Black, or not Black enough.)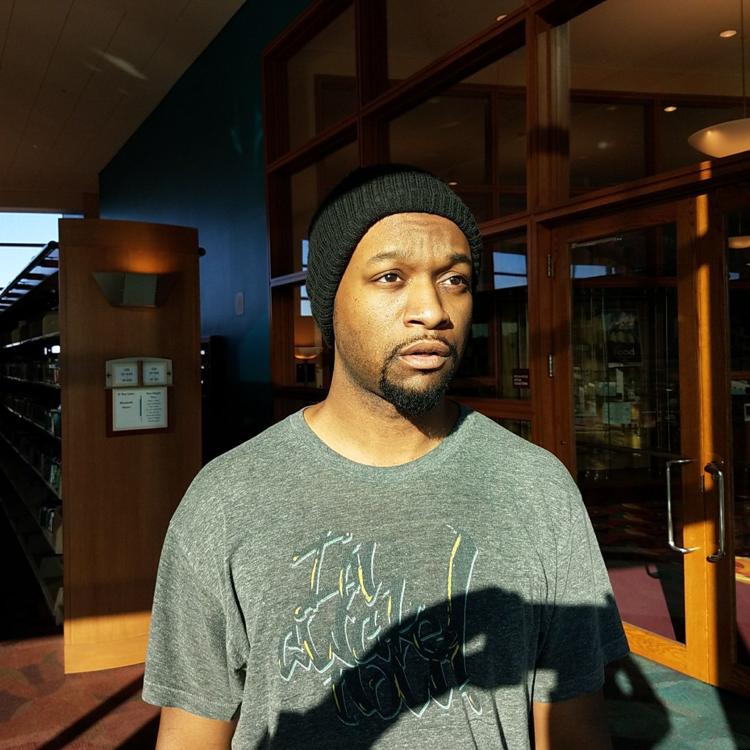 And it turned out that it wasn't just African Americans who appreciated his perspective. Once, he says, a white guy came up to him and bought him a beer after hearing Too Black do "Fuckstrated" in a spoken word event. He was a former pizza delivery driver.
Too Black, 29, grew up in Muncie, where his family still lives, and currently lives in Indianapolis.
"My father was the one who put me on about how the Patriot Act operated, who told me about the discretionary power that it gives the government to collect data on all of us and also how America used 9/11 as a proxy to enter the Iraq War," he says. "So these are the things I'm thinking about at that age."
That's when he started writing a lot, when he was in middle school, around the time of the start of the Gulf War.
And he had some teachers who helped him along the way.
"I had an art teacher," he says. "He really pushed me to write poems… He even shared them with the teachers."
He also had the encouragement of friends who not only sent him recordings of beats but also concepts to write about.
"One time he sent me a beat," says Too Black. "It was called 'Disconnected.' It starts with a phone operator; you can't get through. So the idea is how to get through to someone who won't pick up and how do you play that off metaphorically. So I wrote that to my brother who was in prison. Because you just get disconnected on the actual phone lines a lot of times. You only have so many minutes to talk to someone you haven't seen in months or years."
Coming up with that piece in particular, Too Black says, taught him how to write in concepts and he started regularly coming down to spoken word events in Indianapolis in late 2010 to communicate said concepts.
And coming down to Indy allowed him to check out the local spoken word scene where Gabrielle Patterson, Tony Styxx, and Januarie York among other African American wordsmiths were reading their work at various venues around town. Their work influenced Too Black.
His goal at first was to be a headliner for the various spoken word events in Downtown Indy. Once he achieved that goal, Too Black set his eyes on wider horizons. He began to think that it just might be possible to go on the touring circuit — visiting various colleges and conferences as a spoken word performer — as a means to support himself while doing what he loved. (As a student he had organized various events that brought in nationally-touring spoken word poets at BSU.)
And soon enough Too Black —   who performed his spoken word at the Indianapolis Artsgarden as part of the Art & Soul series of events recognizing Black History Month on Feb. 23.— was performing his poetry around the country and around the world.  
One such tour was a poetry slam and book festival in Cape Town, South Africa. Too Black was there when San Francisco quarterback Colin Kaepernick was regularly taking a knee at football games to protest police violence.
And white Americans — Donald Trump among them — responded with tweets, epithets, and cable news rants. (And Kaepernick lost his job shortly afterwards.)
"I found it interesting that one of the biggest retorts to Kaepernick was 'Go back to Africa," says Too Black. "If you don't like it here, go back, because we clearly chose to come here. Slavery just happened right? But when I'm over in South Africa, there's a sense of you don't necessarily feel at home. Because you still are an American. In a way, Americans are viewed as white, privileged in a sense. So there's still this dividing line."
In South Africa, says Too Black, he sometimes felt like he was being put on a pedestal because he was born an American. Some people thought that he was smarter and had more money just because he was born in America. It worked the opposite way too: once someone called him a "corrupt motherfucker," simply upon learning that he was American. The experience was highly instructive.
"As a Black person I'm not privileged by my race in America," he says. "So to go to South Africa and have those privileges attributed to me for being born an American, it's an upside down world view. There's a cognitive dissonance."
If you listen to Kyle Long's Cultural Manifesto on WFYI 90.1, you may have already heard a piece informed by Too Black's stay in South Africa; "Blood Splatter."
The work was recorded to the Gil Scott — Heron meets Bitches Brew jazz backing of Clint Breeze and the Groove.
"Something like "Blood Splatter" was written around the concept of Europeans conquering other nations and just the effortlessness in which it was promoted," says Too Black, "like the idea that it was almost artistic to conquer the world, that was what I was going for. So painting the world in blood splatter has a ringing irony...."
It's an ironic tone that he probably wouldn't have been able to achieve as a middle school student, when he first started writing about the state of the world. 
And to 12-year-olds out there want to perform spoken word, he has a message.
"Just keep writing man," he says. "As simple as it sounds, just keep writing and write whatever you want to say. Don't feel confined, get it all out. There's no one way to do it. I would say I didn't have the privilege of doing these things in my area but I would say go to talent shows. Go to open mics, go hear other people perform, go read other people's stuff. Expose yourself to a wide variety of literature and knowledge. Don't think automatically that you have the best stuff. You'd be surprised how much is out there if you open yourself up to it."