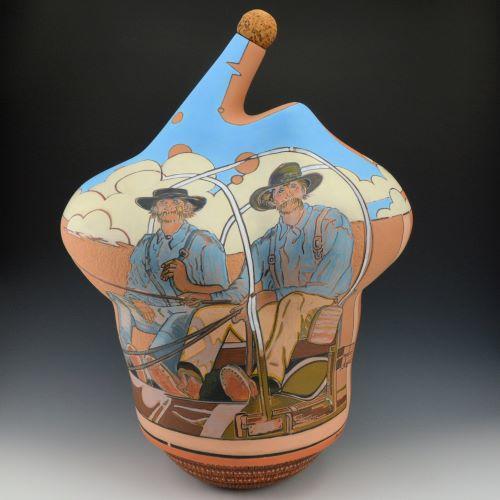 The recently completed revamp of the Eiteljorg's Western Art Galleries has one overarching goal according to retired chief curator James Nottage.
"Above all, our most conscious effort in the past few years has been to broaden the collection in a way to allow to see diversity of the west and the diversity of art in the west," he says. "Traditionally western art is pretty narrow, about cowboys and Indians. There's nothing wrong with that but there's more to the story."
The galleries—with their brand new moniker Attitudes: the West in American Art—expands precisely on this story of western art. This has been done partly through new acquisitions, and partly through creative juxtapositions.
Perhaps the most striking juxtaposition is the placement of E. Martin Hennings' 1923 painting "The Twins," a short distance from Susan Folwell's work of pottery from 2017—also titled "The Twins."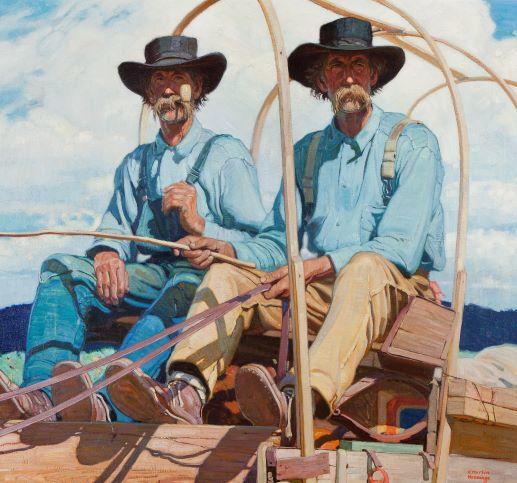 Hennings, a Chicago-based artist, was one of numerous painters drawn to Taos, New Mexico by a myriad of western subjects. He depicts in his painting the twins Jake and George Baumgartner, sitting in a wagon; one is smoking a corncob pipe. Both have bushy mustaches. Both look like they came straight outta The Searchers or some other John Ford western flick. And because they are twins, you get a double dose of rugged individualism.
Folwell is a native artist from Santa Clara Pueblo, N.M. By depicting the image of the Baumgartner twins on the surface of her pot, Folwell is playing around with traditional gender roles in a traditionally female medium. But it's not just gender roles she's subverting. It's also the roles of observer and observed. Traditionally in western art, it has been the role of the white male artist to observe, and then depict, the American Indian, not the other way around.
The exhibition as a whole not only acknowledges this fact but gives over an entire wall to paintings by white artists of Native Americans. These paintings are displayed in salon-style—meaning tightly packed together on the wall—where the viewer can ponder the archetypes and stereotypes of native people that have informed western art from the get-go.  
This salon-style wall, however, is given crucial context in this exhibition. That is, it's bookended by depictions of native peoples by Native Americans that afford the subjects a dignity, humanity, and historical context that they haven't always been granted in this genre.
The fraught history of native peoples in the American west is a subject that is still very current for contemporary native artists.
Walt Wooten's "Visit to the Louvre XXIV," painted in 2000, is based on the account of an 1845 exhibition of Indian paintings in Paris by George Catlin. Wooten, an American of Choctaw descent, creates a visual dialogue of sorts with his portrait of an American Indian in front of a renaissance era painting at the Louvre. Different genres of art, different style of creating art, and different cultures are all juxtaposed here.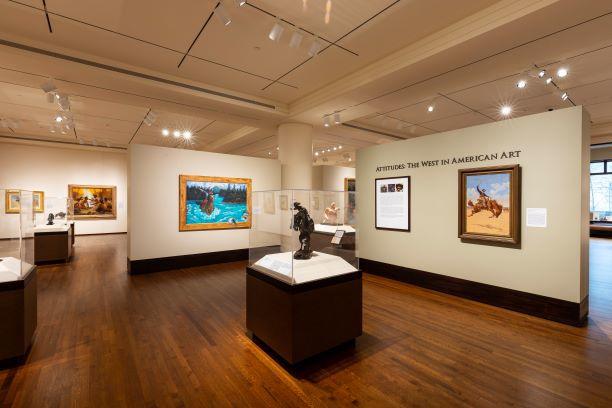 Another of the goals of the revamped galleries is to include works that better represent the diversity of the American West not just in subject matter but also in terms of the artists who made the work.
One such painting is "Castle Geyser, Yellowstone" by Grafton Tyler Brown, one of the only prominent African American artists working in the west in the mid to late 19th century.
Another goal of the exhibition, in terms of diversity, is to embrace some of the more shameful episodes in the American past as subject matter.
"Heart Mountain, 1945" by Japanese American artist Jishiro Miyauchi addresses one such episode head on. In this painting, Miyachi depicts the internment camp where he was imprisoned along with 11,000 of other Japanese Americans during World War II. The painting, which he created in captivity, depicts the internment camp at night, in winter. Miyauchi was forced to improvise to create pigments for this painting that is at once both beautiful and sobering: some of the darker colors were formed using coal dust.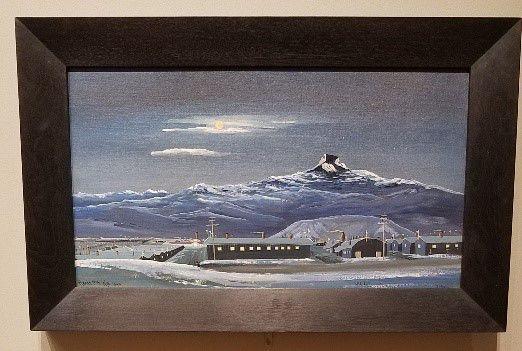 The story of Chinese immigration to America is another subject "all but erased from the art of the west," according to associate curator of Western art Johanna Blume. But the recent acquisition of "The Golden Mountain—Arriving San Francisco, 1865" by Chinese American painter Mian Situ serves in this exhibition to address this imbalance.  
The painting depicts Chinese immigrants on the deck of a passenger ship just as the port of San Francisco appears on the horizon. The dramatic lighting might make you think of a high renaissance nativity scene. But it also show these immigrants, who faced incredible hardships in adapting to American life, in a light in which you may not be accustomed to seeing them.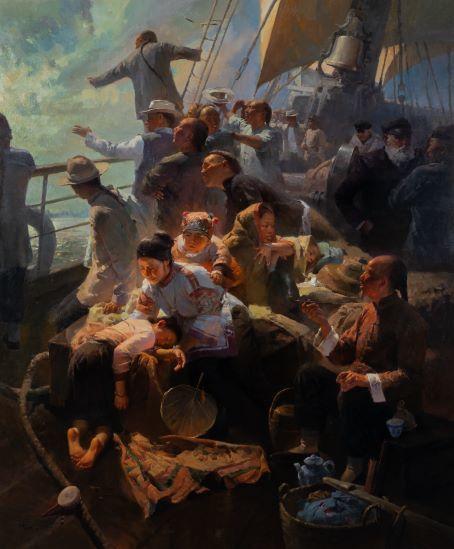 Because so much of western art is wrapped up in mythology, it might be jarring to seeing the West portrayed as it really is. "Snow/Interstate" by Woody Gwyn—a work painted in the late '80s—depicts a highway roadcut that snakes around a rocky piece of topography, giving one small example of how the interstate highway system has radically upended the landscape of the American West.
In an exhibition like this, which turns many traditional notions of western art on their head, it might also be tempting to overlook some of the more traditional work on display here, but that would be a mistake.
Curator Blume, for one, finds much of value in looking at the work of Charles Russell—who created more that 2,000 paintings of cowboys, Indians, and western landscapes in his lifetime.
In her tour of the gallery on opening day, she pointed out one particular Russell painting, titled "Crippled But Still Coming." The work depicts an old cowhand trying to lead his forlorn horses through a snowy mountain pass.
"Russell often opined about the passing of the Old West and made an effort to capture the Old West, but this painting painted in 1913 was really showing the West in 1913," says Blume.  ["Crippled but Still Coming"] was actually very contemporary for life in the West at the time he was experiencing it."