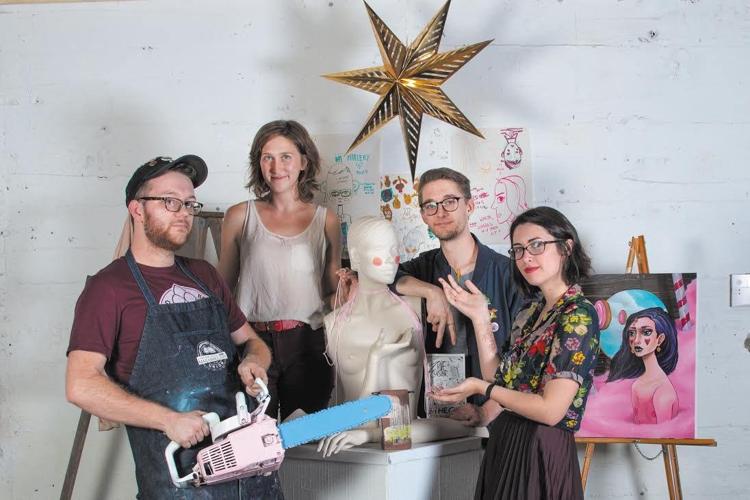 On May 19, I went to an exhibition of artwork by recently graduated Herron School of Art and Design students and alumni called Room 221 at The Oilwick, 1604 Deloss St., on Indy's Near Eastside.
The venue, located in a former warehouse, didn't exactly pop off the street. It's in an area in between three or so Eastside neighborhoods—a sort of no-man's-land in terms of redevelopment—one of the neighborhoods being Fountain Square.
I was impressed by the caliber of paintings that night, paintings such as "Kiss My 'Merican Ass" by Samantha Nicholls, a realistic portrait of a young woman's tattooed ass in panties set against a blue background.
This painting's title just might reflect the feelings of some art school graduates toward society at large. After all, art students regularly see media reports that dismiss their major as tickets to unemployment and/or low earnings.
Take for example this tidbit from Kiplinger.com in its article "10 Worst College Majors for a Lucrative Career 2017–2018": "Fine artists, including painters, sculptors and illustrators, typically collect precious little pay, earning a median income of about $24,614 a year."
No doubt, The Oilwick would confirm the worst of the Kiplinger editors' preconceptions—borne out of treating statistics as sacrosanct while dismissing all context—in the unlikely case that they happen to pay a visit. While there are ample track lighting and clean white walls in the gallery space, the wood floorboards are bare, and so are the roof rafters.
But the threadbare nature of the venue didn't seem to matter much. What mattered was the electricity in the air.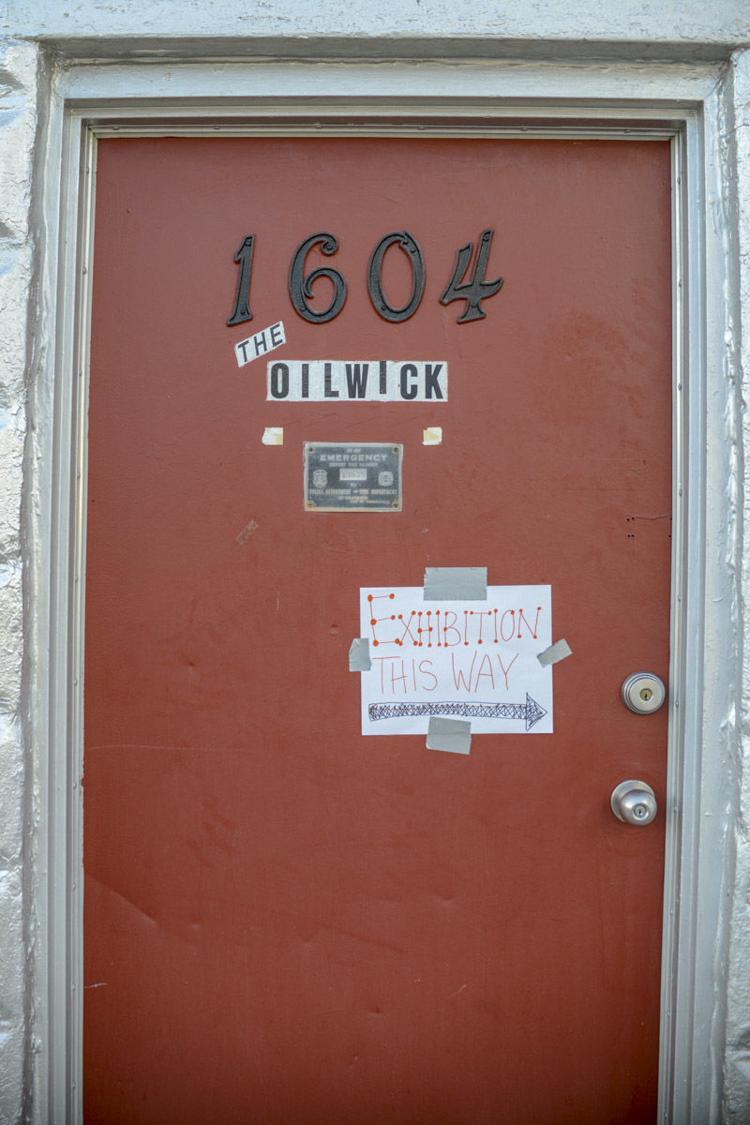 The Oilwick was started by three young artists, Amy Applegate, Josh Haines, and Sean Yager, all in their mid-20s, all looking for cheap studio space.
The story of Oilwick's conception begins in 2015 when Haines was still in school at Herron School of Art and Design.
Haines, who is executive director at The Oilwick, describes a chance conversation that he had with Paul and Suzanne Dijak-Robinson at B's Po Boy—the restaurant where he was general manager—before it was shut down. They happened to ask Haines what he was doing.
He told them that, like many of his artist friends, he was looking around for cheap studio space, not having much luck, and thinking that he might be satisfied with just about anything.
"'I'm going to find a friend who has a warehouse, who's working out if it. Maybe they have a closet I can paint in,'" he told them. "'Anything that's not at home; there's too many distractions at home.' So I'm telling them this, and they're like, 'We have a warehouse.' I was like, 'OK, that's pretty fantastic.'"
The Dijak-Robinsons, whose natural pet food business My Pet Carnivore is located at 1402 Shelby St., had recently purchased some property with garages and a warehouse, they told him. But the warehouse, which was also attached to some office space, was not being used; it was property that they were willing to rent out.  
Moving into the space at 1604 Deloss St.—which seems a lot farther from the rapidly gentrifying Fountain Square than it actually is—was a no-brainer considering the cheap rent. The pioneers in that space were Haines, Yager, Applegate, and Lynnette Sauer (also a recent Herron graduate).
And in the beginning, says Haines, they were just using it as studio space.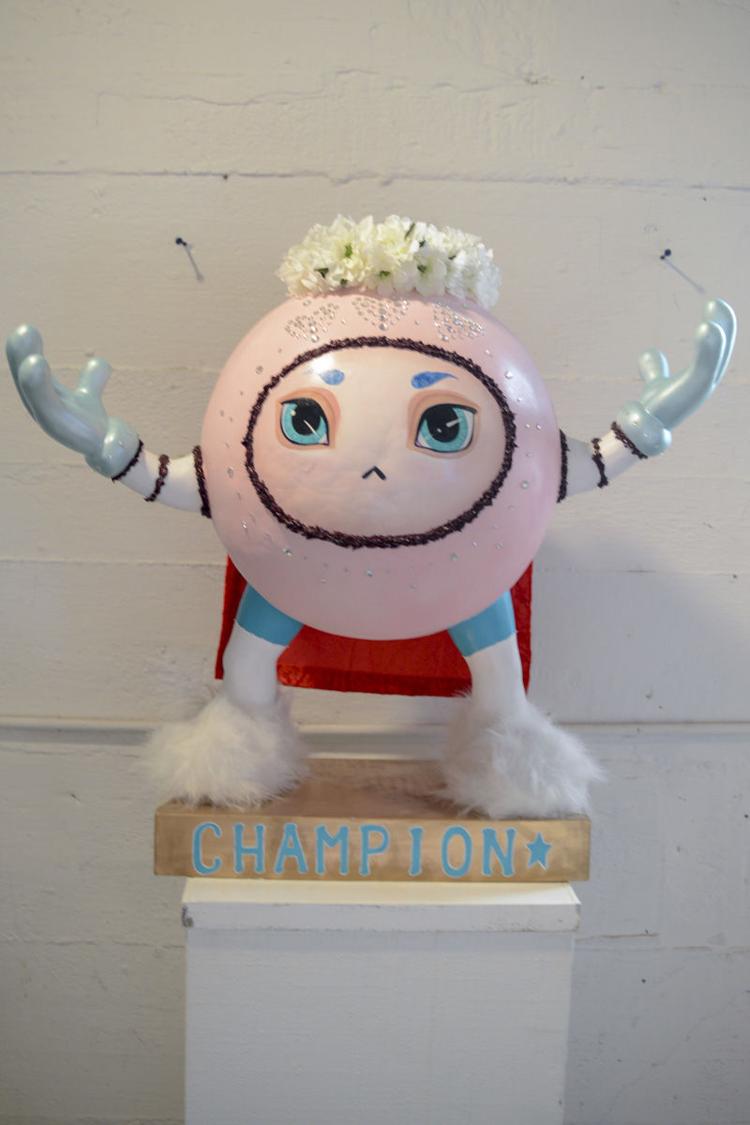 "For almost a year, it stayed super small," says Haines. "It was just studio space at that time. But we got a lot of requests from other people for studio space because they knew how much we were paying, and there was literally no place in the city you could get for that cheap. And we were trying to tally it down, thinking what if we took more of the space. The landlords were definitely up for it."
At first they were running The Oilwick on a pretty ad-hoc basis.
"It was kind of like a continuation of school when we first expanded," Haines says, "because it was kind of like our class from school who joined us here. I would [also] say probably eight months after that, probably like a year and a half in…a lot of our friends…ended up moving. Or having other plans. Now, I don't want to say it's a blind process of who we choose, but it's definitely not, 'Hey, you're our friend, come and join our space.' But in the beginning it was."
Over time, The Oilwick also evolved into a performance space, utilizing what at that time was the derelict warehouse space attached to their studios. (It has since been cleaned up, helped immensely by eight or so coats of white paint on the walls.) The signature event in the evolution was something called POMP, which happened on April 1, 2016.  
"POMP was a collaborative piece organized by Brian Johnson, Shannon White, and me," says Amy Applegate, who graduated from Herron in 2015 with a BFA in painting, who had worked at the Indianapolis Art Center as an exhibition technician. "We wanted this to be a big performance show. We wanted to advertise and not have people really know what they're getting into. We wanted to work with other people, so we got about eight other artists involved."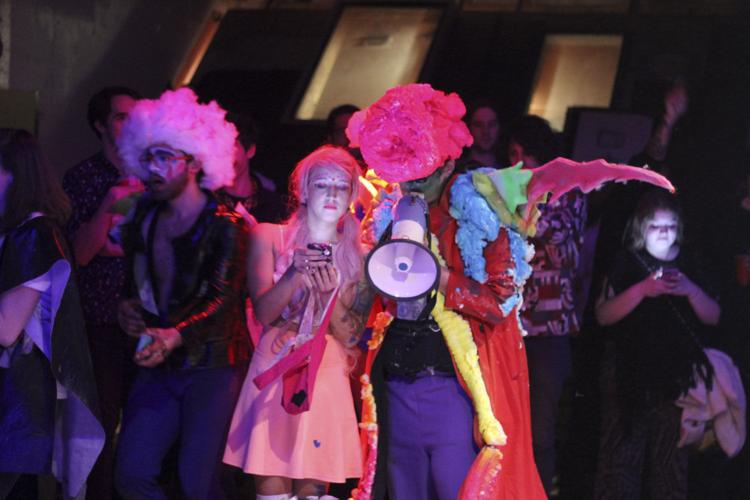 Those artists were Applegate's friends, some of whom had studio space at The Oilwick, and her instructions to them were to come up with their own artists' personas. During POMP, their instructions were not only to make artwork as their assumed personas but to also hang their work and portray their personas (or characters) during the performance.
"And we advertised it so ambiguously," Applegate says. "We were just like, 'We're having a thing. It's going to be weird…' So people show up…And there were these artists here, all of them people [that] people know. But they're acting as if they're these other people, and they even gave artist's talks as these characters. And that went on maybe for an hour or so, and then it was packed. And then, as they were giving artist's talks, the lighting all changed…spot lit and colored lights. And then Brian and Shannon and I busted through as these crazy characters, and then we took over the whole thing. And then it was like a game show, and then all the artists are competing, and then it's very bombastic."
It may have been bombastic, but it was the start of something. After POMP, there were regular open mic nights for six months afterward.
But the ongoing turnover from artists moving into the space, and then almost as quickly moving out and moving on, took its toll.
"We were like, 'OK, what do we want to do with this?'" says Haines. "Are we trying to be an organization or are we trying just to be a studio space?"
During subsequent discussions, they decided to become an arts organization with studio space for artists, gallery space, and a mission to help their fellow artists. Since that decision, The Oilwick has hosted multiple shows.
"They all went pretty dang well," says Haines, who adds that 2017 was something of a test year for The Oilwick.  
The Oilwick currently houses 12 studio artists paying between $125 and $175 apiece in rent, which supports their gallery space as well. And The Oilwick is on track to becoming a full-fledged nonprofit arts organization, one with an expanding mission.
"We're really trying to grow into our own shoes. We're still very young as a group that can take on financial responsibility," says Sean Yager, who manages much of The Oilwick's backend, including its website. "So we really hope to raise money for our space to improve the space for others and also start being able to take grant money to improve the lives of people within the Fountain Square area through art and through collaboration."
They are also collaborating with Southeast Neighborhood Development (SEND) in their own organizational development.
"We worked with Mike McCormick, who [was] SEND's treasurer," says Haines. "And he has tons of experience getting nonprofits set up. And so we worked with them, we got our domestic nonprofit status through the state…We're working on our 501c3. SEND's actually our fiscal sponsor."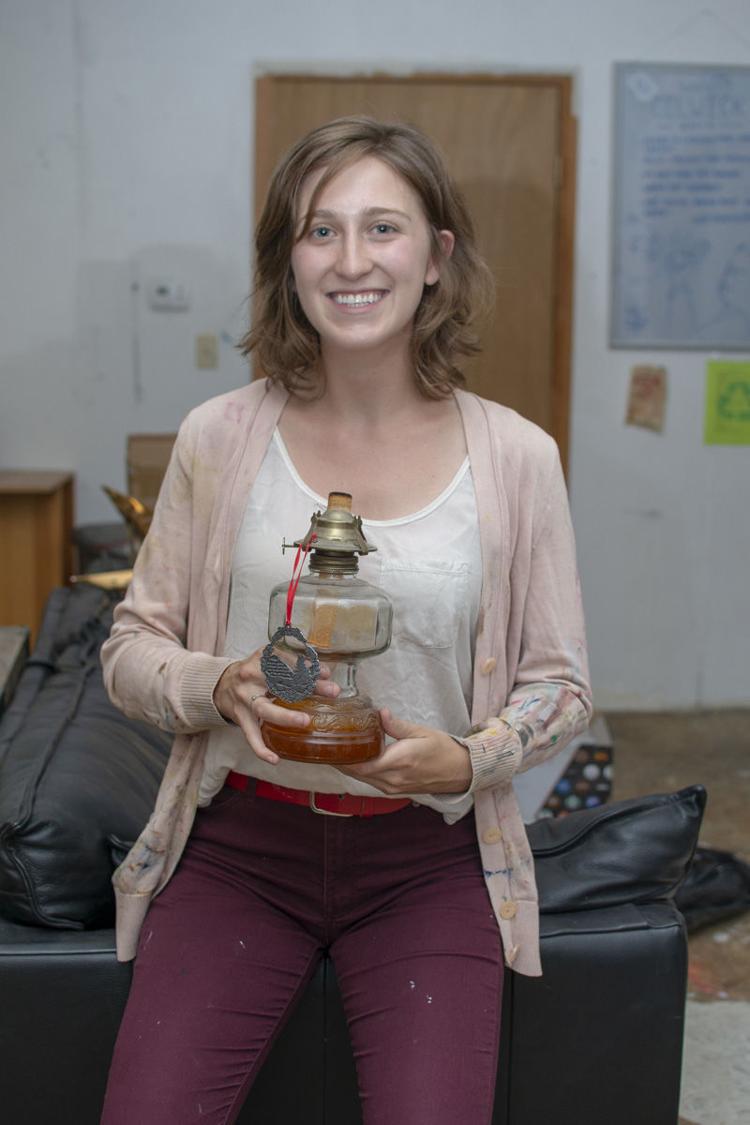 And there has been help from the Indianapolis Museum of Contemporary Art (iMOCA), which moved out of their space in the Murphy Building at the end of 2016. Paula Katz, then iMOCA's executive director, made the track lighting available to The Oilwick, which The Oilwick volunteers—all staff are volunteers at this point—readily installed.
They also formed a board.
"I joined The Oilwick a year ago when I moved to Indy after graduating from Ball State," says board member Katie Norman, who also rents space at The Oilwick. "I was having a really hard time finding a space to work and was not plugged into the art scene here at all. I missed having the arts community I had in Muncie and organizing art shows with local artists. It really was serendipitous that I ended up in this space, and I have really loved being a part of the board. The Oilwick has grown up so much even in the last six months with gaining nonprofit status and holding a full calendar of events each month. I really enjoy seeing that growth as well as my own growth as an artist in this space."
Norman is also organizing a three-part group exhibition of contemporary Midwestern artists called Roll Call.
"For this series, we are working hand in hand with [art galleries] Sugar Space and StorageSpace to make this show happen. I can definitely see this kind of partnership between arts organizations continuing into the future."
Roll Call 3 will take place on July 21 at The Oilwick.
The Oilwick has been reaching out into the community with other events as well, including one called Doodle Dudes, which organizer Yager describes as an "artist meetup," that alternates venues between The Oilwick and Cat Head Press. Their most recent event on June 30, Fold! Staple! Riot!, at The Oilwick was a preview party for the annual Gluestick Fest on July 7, which is a festival of Indianapolis 'zines and small publishing. (Eventually, Yager wants to make The Oilwick a hub for 'zine publishers.)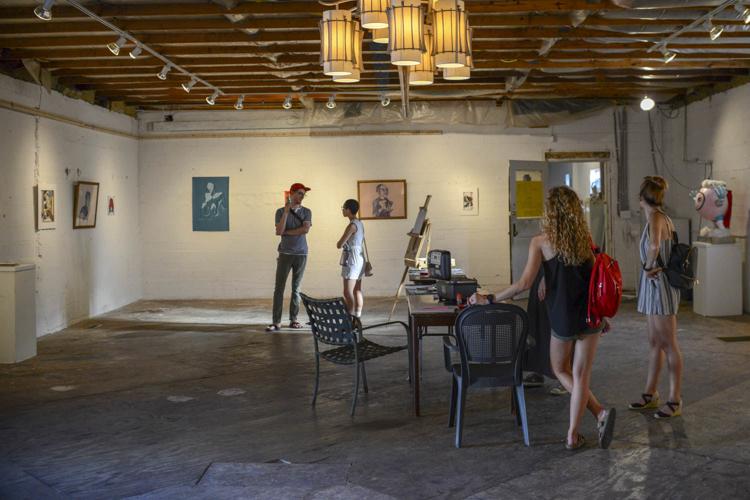 iMOCA is another potential collaborator that will soon be moving into the nearby Ford assembly plant at 1301 E. Washington St.
"The Indianapolis art world is small, so cross-pollination is going to happen," says Director of Exhibitions Mike Barclay. "We all know that collaboration brings new ideas and resources to the table for everyone to enjoy."  
Alexa Adamson, who graduated from Herron in 2017 as a ceramics major, joined The Oilwick in April 2017 because it was an affordable space that would allow her to continue to practice her art after graduation. On June 1, she organized an event called Pints for Pups. "It was a collaborative event giving artists both 2D and 3D together to be able to make pint glasses and sell those to the community and [proceeds] would go to Freedom Canine Project, a local charity that helps pair service and therapy dogs with victims of PTSD and victims of domestic and sexual abuse—being able to do something," she says, "That was really humbling because getting people who wanted to be involved with the collaboration, I feel like that's something that doesn't happen often. So that was pretty exciting for me to be able to do that."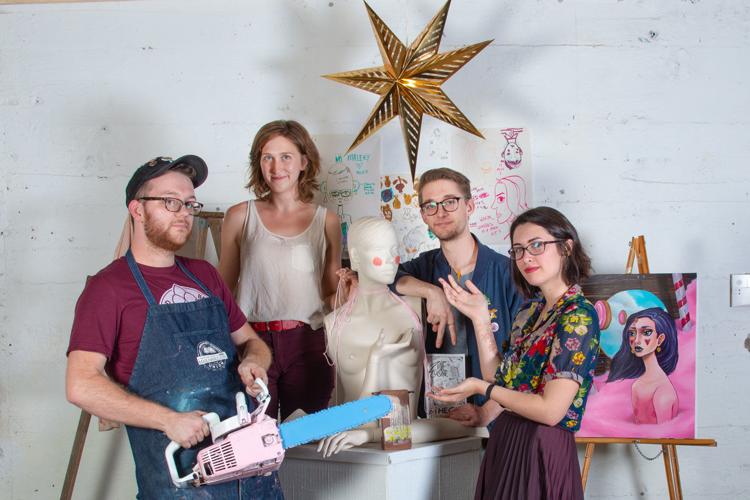 In organizing the event, she put out a call for local artists. "I had a lot of potters from the Fountain Square Clay Center," says Adamson. "They donated quite a few cups, and just random 2D artists were interested in coming and painting those cups. Stephen Creech, he's the marketing director for AMACO [American Art Clay Company]…donated quite a few cups. He donated a ton of supplies for the event."
The event did better than Adamson expected. "I actually just dropped off the check to them," she says. "It was $1,200."
You might consider this event in the context of the Art & Economic Prosperity 5 study, released in June 2017. It found that Indianapolis' nonprofit arts and culture industry generates $440 million in annual economic activity.  
But perhaps a more important goal than revenue generation for worthy nonprofits, at least for those directly involved with The Oilwick, is something that Yager points his finger at directly.
"A lot of our goal and our mission statement is to make sure that people have somewhere to go after they get out of college," says Yager. "You hear a lot about art students getting out of art college and not having anywhere to go, especially in Indiana, not having a support network. So I think the new art student career path is to find a part-time job somewhere and then to try and support yourself [with] the other half of your income through your art or in some [other] two jobs."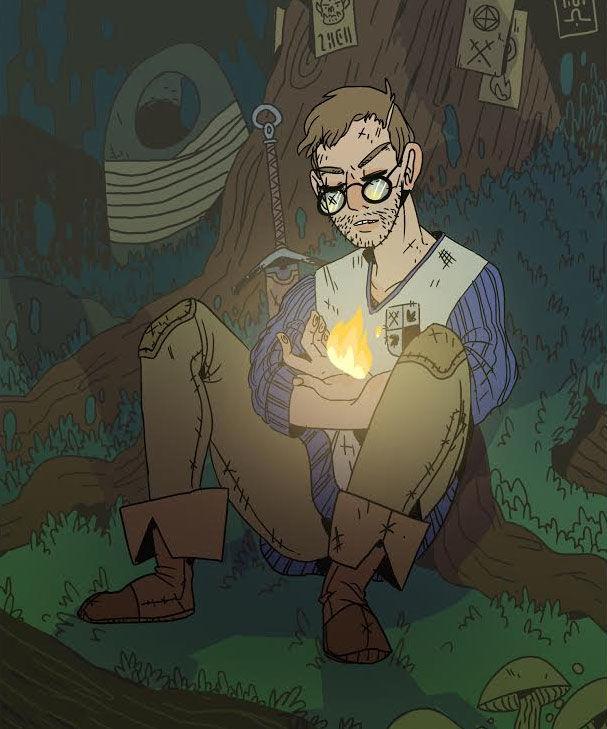 When not running the backend of The Oilwick, or hosting art events, or making his own art, Yager works part-time at The Great Frame Up.
"We try to find what we can," he says. "Indianapolis doesn't have a whole lot to offer, and we're definitely hoping to change that. A five-year goal for us would be able to hire a gallery curator or be able to pay someone some kind of salary."