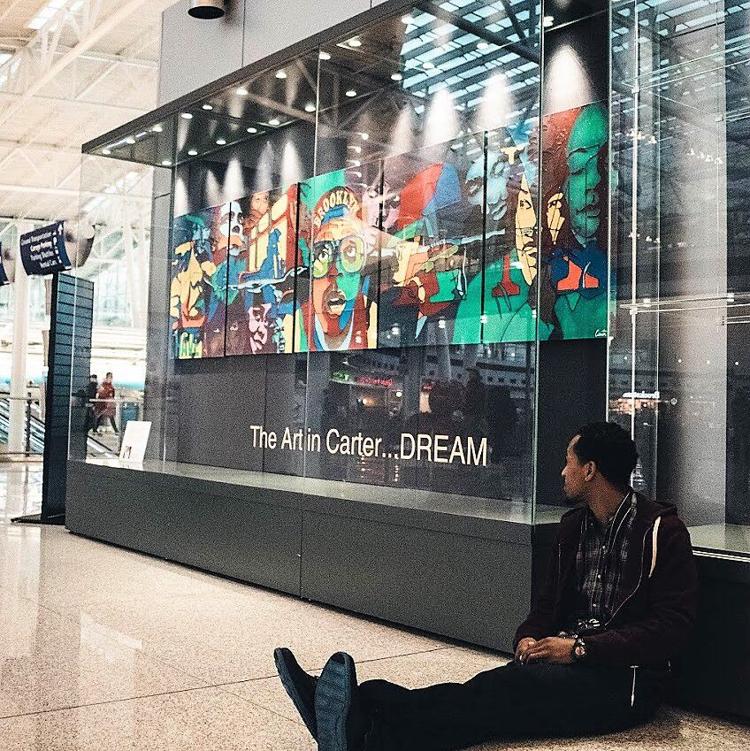 Derrick Carter "Dream" is a five panel painting — in a rainbow assortment of colors —   consisting of portraits of icons of African-American life including Rosa Parks, Martin Luther King, and Spike Lee.
The painting, currently on display at the Indianapolis International Airport, isn't just about iconography.
"I felt like everyone has a dream," Carter says. "Everyone has a gift. They took a leap of faith to change the world and that's what I'm trying to do with my art, to portray to the youth that it's okay to take a leap and jump out."
One of the reasons that the Indy-based artist's work jumps out at you is his dead-on representational ability. Another is his choice of media.
"The media is done with sand, acrylic and glue," he says. "I applied the acrylic and glue together first.  And then I layered sand.  And it has about six or seven layers.  Each layer, each color took about 24 hours to dry… "
It's a time-consuming, painstaking process, but one that pays off in the end due to the highly textural quality of the finished work. You can see the fine details, yet the individual canvases have a rough, sandy surface.   
Carter's path to become a full-time professional artist has, at times, been a painstaking one.
"My dream is to sell art professionally," he says. "I stepped out on faith to do my art.  I quit my job making 24 dollars an hour. I had two car payments. I had rent over a thousand dollars. Everything was falling but I believed in myself, I believed in my artwork, with getting forward and I am grateful that I did that because I learned a lot."
You may have seen Carter's work around town, last year at Meet the Artists, at the Indianapolis Central Library, in March, 2016. You also might have seen his work this past June at the Beckmann 10-Year Celebration Exhibition at Gallery 924. (Carter received the Beckmann Fellowship for Emerging Artists from the Indianapolis Arts Council in 2016).
His painting "The American Dream" was on display there, featuring a portrait of Tupac Shakur wrapped in what, at first glance might appear to be the stars portion of the American flag. 
But it's not a flag at all.
"He was in a straightjacket with the stars on it," Carter says. "And it was basically saying that we as African-Americans like to raise our kids to be superstars... music stars. To be a star is just like modern day slavery.  Your life is opened up to the world.  You have no freedom."
Carter isn't just trying to change the world through his art, however.
"I work at the Benjamin Harrison YMCA," he says. "I put together a teen night for teens to come and keep them off the streets. They can come and play basketball. It has become all basketball right now but that's not what it's meant to be. It's a Christian organization. We teach about the bible. We help with school, interviewing."
His advice for the youth he mentors?
"Take a leap, jump, you're going to fall sometimes," he says.