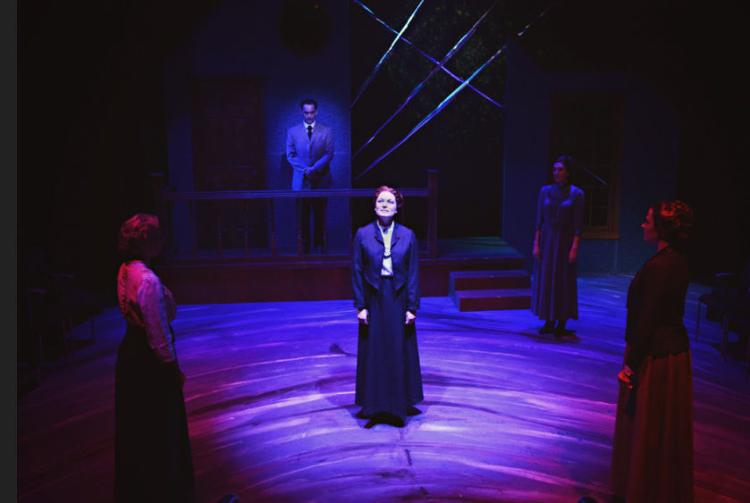 Summit Performance Indianapolis, a new women-based theatrical group, introduced themselves to us with a (have to say it) stellar staging of Silent Sky. The choice is apropos. The play by Lauren Gunderson is based on a little-known female astronomer, Henrietta Leavitt, who fought for equal recognition for her work while she also balked against social convention, single-mindedly immersing herself in a career at a time when most women were relegated to being wives and mothers.
Henrietta takes a post at the Harvard Observatory in the early 1900s, traveling from her home and family in Wisconsin. But when she arrives, she is surprised to find that she isn't allowed access to its telescope, which for her is an awe-inspiring object she yearns to wield. Instead, she is placed with two other women in what the astronomy department calls "Pickering's harem," Edward Charles Pickering being a renowned Harvard astronomer.
The women are referred to as "computers," in that their only job is to "compute" data that has been collected by the men. Her own ideas are rebuffed and even discouraged, so Henrietta uses her off time to explore her own theories, ultimately making a breakthrough that changes the astronomic perception of the universe and later influences Hubble's Law. She did receive some recognition for her work, but if she had been male, her discoveries would have been lauded as genius.
Henrietta isn't the only member of the team who made a mark on the scientific world. Annie Cannon created the Harvard Classification Scheme, though most of the credit was taken by Pickering, and she remains with her fellow computers regardless. Women's advances weren't given as much credit as they should have, and they were often downplayed by men, who took their research and built on it.
Sadly, society hasn't advanced as much as it should have since this time period. In 2016, The New York Times reported, "Women's median annual earnings stubbornly remain about 20 percent below men's. Why is progress stalling? It may come down to this troubling reality, new research suggests: Work done by women simply isn't valued as highly."
This is further illustrated in Mr. Shaw, Pickering's apprentice, who oversees the women's work. He and Henrietta immediately clash during their first meeting. As a man, he sees himself as her superior, not her colleague, though they hold equal academic degrees, and Henrietta calls him out on his subconscious misogyny. Shaw isn't even particularly invested in his work, whereas Henrietta is passionate—a word she has to illustrate for Mr. Shaw.
Rounding out the "harem" is Williamina Fleming, Pickering's former housekeeper whom he brought on because the "boys" tended to take the work and then move on to apply it to their own projects. The chipper Williamina gets away with more lip because she has been around the longest, but she always makes her unapologetic statements funny even when they are the bald-faced truth.
Henrietta is too focused on the stars to take much notice of the life that is happening around her. Above everything, her priority is the stars until her father's stroke pulls her back home, at which point she continues to work remotely. While her sister Margaret and Henrietta see heaven vs. the heavens, Margaret isn't a complete foil for Henrietta, as she harbors and delicately feeds her own passion for music.
With Lori Wolter Hudson directing, the cast and crew for Silent Sky come with impressive credentials all around, and their talent is on full display. Carrie Ann Schlatter captures Henrietta's single-minded dedication and her wonder in an energetic, sympathetic, and likable performance. Schlatter gives Henrietta a fully developed personality. Her character pushes on, growing with each new obstacle she encounters. She is always moving, rarely standing still, a parallel to her perpetually working mind.
Henrietta's co-workers, Annie and Williamina, bookend her personality. Molly Garner as Annie is the perfect depiction of a straight-laced, aloof, somewhat intimidating woman who knows her place in the hierarchy. Watching her slough off that stone face and evolve into a suffragist keeps time for the audience and allows Garner to take her character in a different direction, with often-amusing results. Williamina is a constant, an anchor in Henrietta's and Annie's lives, and Gigi Jennewein provides the support and levity needed during Henrietta's challenges and Annie's new interests. Her whimsical Scottish persona is delightful.
Schlatter, Garner, and Jennewein develop a palatable bond among the three women that is beautiful to witness. Their dialogue and interactions combine wit and resilience for a truly entertaining and touching trio.
Adam Tran was recently seen as Elvis in Actors Theatre of Indiana's Million Dollar Quartet, and his performance here is a testament to his versatility. Mr. Shaw's air of authority deteriorates under Henrietta's influence, finally settling on an adorable flutter as his attraction to her increases.
Devan Mathias as Margaret is a sweet and supportive sister to Henrietta, even in their goading, teasing sibling repartee. Though Margaret chose a domestic life, Mathias gives Margaret strength and perseverance, but she also allows vulnerability. Their sisterly bond never breaks through time or distance.
Lighting by Laura Glover plays an important part in the show, and her designs are ethereal, taking audiences into the cosmos. Abigail Copeland's scenic design and props are smartly done, which is a must in a black-box stage. The set is a mix of the utilitarian practical with bits of shine to reflect the story's subject. The silver adornments look like shooting stars. Especially impressive is a cunning table that transforms into several variations. And Brittany Kugler's period costume designs are lovely.
Lisa Gauthier Mitchison covers local theater at IndianapolisTheaterReviews.wordpress.com.