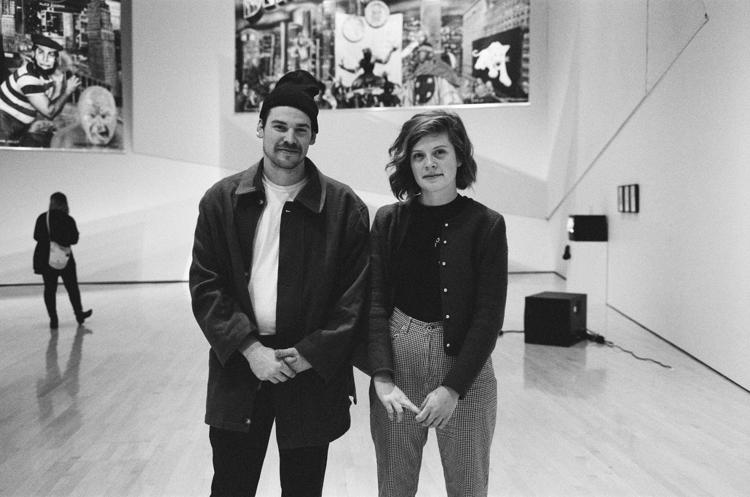 If you haven't checked out the sweetest gallery space in Indy yet, now would be a good time to do it. Led by multimedia artists Nick Witten and Danielle Graves, SugarSpace emerged on the scene in February 2018 with the Post-It Show, a fundraiser exhibition for the new space. Artists of all media and backgrounds submitted their work on Post-It notes, which were then sold for $5 each.
That first show had so many submissions that they partnered with Big Car Collaborative to host it in Tube Factory artspace's Efroymson Gallery instead of their own residential space. It was an enormous success, gathering over 300 people to buy unique, affordable art by their favorite makers. SugarSpace hasn't slowed down since—Witten and Graves have hosted new work in their house every month.
"We started working together on shows when we were back at the Guichelaar Gallery," says Witten. "When my residency there was done, Danielle and I both needed someone to live with, so we moved in together and started curating shows here."
SugarSpace's next show opens Sept 25th, featuring a migrating exhibition by art collective BBQLA called American Fine Arts: The Fool's Journey. The show will feature 30 artists in 11 cities, of which Indianapolis is just one stop.
This show is different than what SugarSpace has hosted in the past. "There are a lot of big names, or at least people that we've seen showing in big galleries," says Graves. "[They're] a bit older, more established artists, and [they're] from all over. It's a more diverse group show, even media-wise. I feel like we've had a lot of flat work with sculpture sprinkled in, but this is a lot of stuff all together at once."
The gallery will host two events for the public. First, the exhibition opening on Wednesday, September 25th from 6 p.m-10 p.m, and the second will be the next day, September 26th 6-10pm, which will be the free barbecue meal prepared by artist and chef Tré Reising and a Jeffersonian dinner performance led by performance and multimedia artist Erin K. Drew.
"[She'll be] facilitating a conversation with 10 artists to be in this performative dinner that everyone's going to watch, and it's all gonna be based around art jargon," Danielle explains. "Each artist will pick a work and present on it, and then have a conversation about that."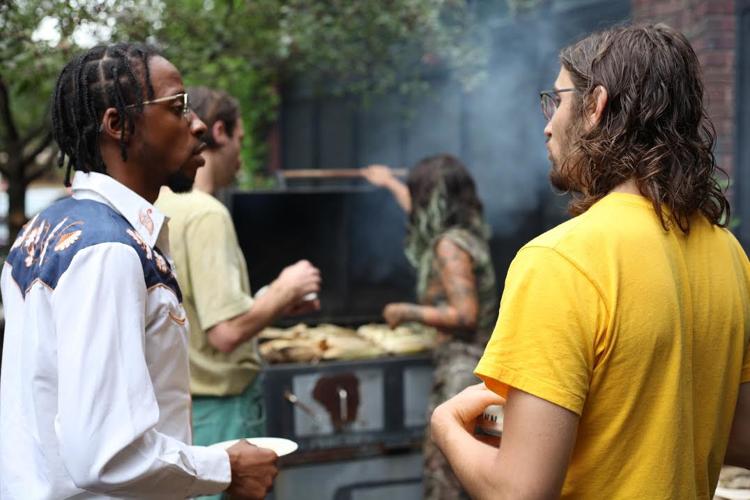 They have confirmations of participation from Indy artists Bryn Jackson, Joelle Stille, Ben Martinkus, and Lisa Berlin as well as Bloomington publisher A. Bowden and Cincinnati artist Breanne Trammell.
Their house, which sits right off the side of busy Raymond Street, doesn't scream gallery aesthetic. Unassuming and all-over white, the exterior of the house could belong to anyone. But step inside and you'll typically see several rooms of white-wall gallery space featuring intriguing multimedia work.
The name SugarSpace itself might conjure the image of an icing-encrusted gingerbread house, but the real reason behind the name is more on-brand for Graves and Witten. "[Nick and I] went out for food and I was just being silly," Graves recounts. "I learned this pickup line a while back where you throw a sugar packet on the ground, and then you pick it up and you're like, 'I found this, it has your name on it.' I gave it to Nick and then he was like, we should just call it SugarSpace."
Both artists are graduates of Herron School of Art and Design and have strong ties to the school. They see it as their role in the community to provide a platform where new or young artists can show work and get more exposure.
"Either we're showing younger artists or there's shows that we feel like [will be a good thing for younger artists to see]," Graves explains as she defines the space.
"I'm a very scatterbrained, unorganized person," confesses Witten, "so if it wasn't for all these people [at Herron] giving me deadlines and opportunities, I don't know if I would even have a good enough art practice to keep going. I feel like for a lot of students when they get out, if they don't have a good enough network to provide them opportunities to do stuff, or even a community to talk about art and make art [with], they're not gonna keep going. It's so hard to do just by yourself."
You won't want to miss this next show! Not only will there be damn good art, but according to Graves, "There will be a lot of food."