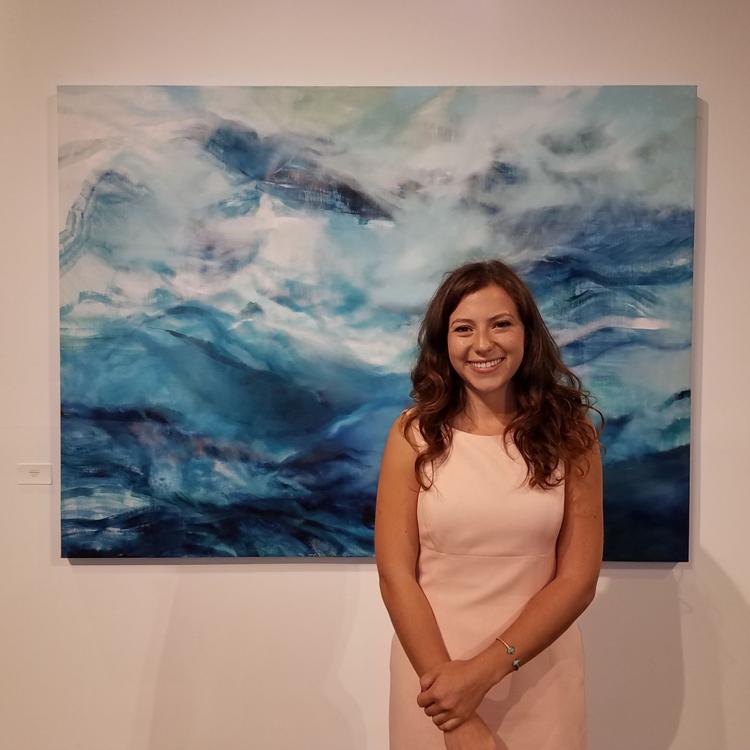 No, just because Indianapolis Downtown Artists and Dealers Association has formally dissolved itself, it doesn't mean First Friday art receptions in arts venues in and around downtown will be discontinued, at least if Shannon Linker has anything to do with it.
Linker, Vice President of the Arts Council of Indianapolis sees a role for her organization in carrying First Fridays forward. One of these roles is the distribution of a variety of grants and gift programs geared towards local artists, including the brand new DeHaan Artist of Distinction Award announced on at the Start with Art Fundraiser on Sept. 1, which just so happens to be the first Friday of the month.
Linker, who was also active in IDADA,  doesn't want all the institutional knowledge that IDADA members carry with them just to disappear.  "As a group we can still support the community by sharing that expertise and that history," she said.  "We are not exactly sure how that will manifest itself," she said.
In fact, were plenty of openings tonight including an exhibition entitled Undercurrent by Alicia Zanoni at the Harrison Center for the Arts.
It just so happened that Zanoni, a Harrison Center artist, was the winner of the Arts Council's Beckmann Emerging Artist Fellowship, consisting of a $3,500 grant.  
"I'm thrilled to receive the Beckmann award from the Arts Council and to so excited to have an opportunity to work with Leesa [Jing] and Lindsey [Lord] and Shannon [Linker] and Earnest [Disney-Britton] and all the other wonderful staff members to learn more about how to be an artist here in Indianapolis," Zanoni said at the opening of her show at the Harrison Center on Sept. 1.
"They've been a huge support already," she continued. "They came to my studio, looked at my work, and gave me so many helpful pointers even in preparation for this show."
The grant will help fund her studio rent for the next year, cover supply costs, and research different marketing resources.  
The announcement of the Beckmann Fellowship also came at Start with Art, which was held at the JW Marriott.
But the two big announcements of Start with Art both involved grants from the Christel DeHaan Family Foundation.  
One is the initiation of a new award geared towards contemporary artists, the other regarding the funding of the capital campaign to fund The Cabaret's move to the Metzger Building at 9th and Pennsylvania St.   
While the DeHaan Artist of Distinction Award will be administered by the Arts Council of Indianapolis, the vision for the award was that of Christel DeHaan, the philanthropist and businesswoman at the helm of the foundation, born in Germany, in 1942.
"If you look at all the genres that are represented in art, I think contemporary art in Indiana is the least represented and when you look at what comprises contemporary art, we see much more risk-taking," said DeHaan. "We see much more perspectives of an artist, what an artist thinks… And contemporary art brings us much closer to that realization. I think we needed to have a platform where contemporary artists needed to have a showcase for their work, needed to be rewarded for excellence in artistic endeavor, and to let that also grow as a more appreciated and recognized artistic genre."
Also announced at Start with Art was a lead gift to The Cabaret in their capital campaign from the Christel DeHaan Family Foundation. This gift will fund their move to the Metzger Building at 9th and  Pennsylvania, announced last month.  
In recognition of this gift the Cabaret's performance space will be named the Christel DeHaan Theatre.  
The move is projected for April, 2018 after the build out of the Metzger Building, caddy corner to the space the Arts Council of Indianapolis occupies on 924 N. Pennsylvania.  
"What's cool is because of this the Arts Council is going to have some expansion with a big new conference room which we can share," said Shannon Forsell, Artistic Director and CEO for The Cabaret.
"We're redoing the whole entrance together, all of the bathrooms, and during all the performances the gallery will be open so that the Indiana artists can be featured to a whole new audience," she said. "We hope that we're not going to be doing shows all the time. We're also going to serve other nomadic groups like we were, that need a space sometimes."
Sometime in 2018, visitors might be able to catch both a First Friday reception at Gallery 924 for an up and coming Indianapolis-based artist…and a cabaret-themed party of some sort, according to Forsell.
"We're going to start doing a First Friday series," she said. "So it's near the end of an evening and you can continue to party at shows with us and local performers.  We hope it will start as soon as we move in, probably in April when we have a grand opening."