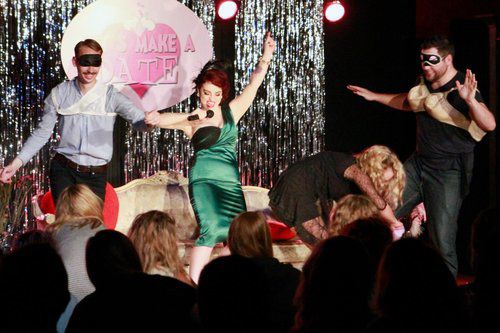 When Isaac Landfert dons his clashing red ensemble — red jacket with lapels, red-checkered pants, red suspenders, and sparkly bow-tie — he transforms into Mort Sheboigan, the ultimate dating game show co-host.
 For anyone who hasn't witnessed him as one of the emcees of Let's Make a Date! at White Rabbit Cabaret, be warned (or enticed):  the 21+, R-rated live dating show — the only such show in the Circle City — will get raunchy fairly quickly.
Landfert insists that Mort Sheboigan has a certain complexity beneath the raunch. "He is innocent and naïve," he says. "There is also a little bit of a desperation, and tinges of creepiness." 
 In the beginning, the show was hosted by Matt Clemens, Jeff Oskay, and the lovely Desiree De Carlo, a co-founder and performer with The Rocket Doll Revue. But after Clemens and Oskay stepped away a few years ago, De Carlo stayed on, and Landfert started hosting as the Sheboigan character.
The event on Feb. 14 will mark the show's fifth anniversary, and the club has produced at least 10 of the matchmaking shows every year since the first one.
 Even if you're already coupled off, says White Rabbit's Debra Silveus McGaha, "the show is very funny and entertaining as just an audience member."
 Other than the hosts and the premise, no two shows are ever exactly same.
 The bachelor and bachelorette are pre-selected ahead of time for these performances. Landfert has a list of potential bachelors and bachelorettes, but he is always open to taking more names, and audience members have even left their contact info with the bartenders at White Rabbit at past shows.
 Before everything gets started, the bachelor and bachelorette answer a series of questions ahead of time about their backgrounds, likes, dislikes and tastes when it comes to pop culture, and so on.
 As a side note, the hosts want all to feel welcome to participate. The show's co-hosts have purposefully decided to keep the contestants' sexual orientations ambiguous. Even the questions are ambiguous. Occasionally, the bachelor or bachelorette will out himself or herself on stage.
 As for the contestants, audience members compete for the spots.
 For instance, they might play a version of Name That Tune that features songs by musicians that the bachelor or bachelorette mentioned in his or her questionnaire. There might also be a similar contest where audience members have to guess a movie quote or synopsis of the bachelor or bachelorette's favorite film.
 There is also a portion of the competition where audience members share something about themselves -— something about their own personal backgrounds, for example, or a talent. This sharing can be as mundane as talking about their careers or educational experiences. Landfert adds that they've also had "people doing backflips, dancing, or singing on stage."
 "Mort and Desiree whittle the audience participants down to three that will receive a seat on the couch," says Silveus McGaha. "Then the newly formed couples compete for the grand prize date."
 When the show was first conceived, Landfert says, they were afraid that audience members wouldn't get it. Or worse, they wouldn't get into it.
 Since then, however, he said there have been several audience members who have joined in the audience participation multiple times.
 "There is always a little bit of apprehension from audience members at the top of the show, until they see what it'll be," he said. But once the regulars start to come out, "We can see how willing people are to put themselves out there."
 At least one couple has maintained a relationship after appearing on or at the show, according to Landfert. But the show's five-year-running success has little to do with successful hookups. 
"More often than not, the people paired off after the show because people tend to mingle afterward," he says. "We also have couples show up all the time where the two members of the couple will go up individually, and they do it so that they can win prizes."
 Prizes from local businesses include gift cards from New Day Meadery, Kuma's Corner, and Wip Downtown. You can also win tickets from The White Rabbit Cabaret and gifts from Lover's Lane.
 "The one thing that's important for people to know is it's just for fun," said Landfert. "You can meet people and also win prizes and have fun and be interactive. Or you can come as just a spectator and still enjoy yourself."