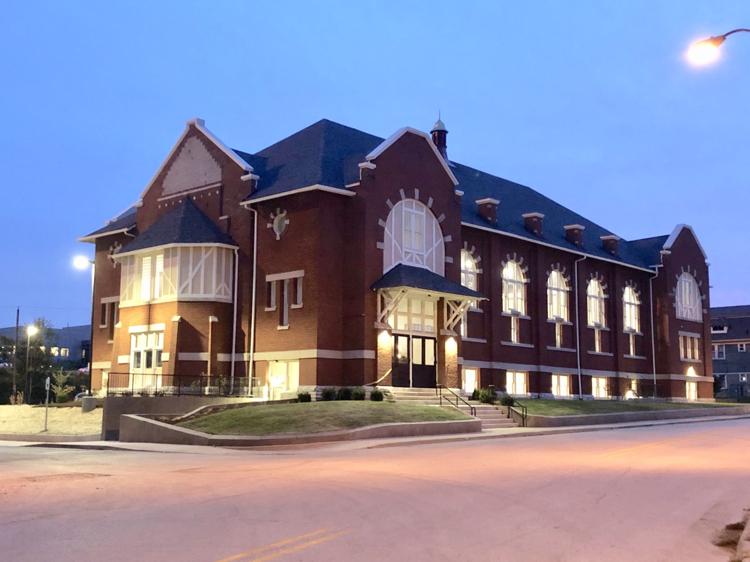 On Nov. 9, a ribbon-cutting ceremony at the Southside Turnverein building at 306 Prospect inaugurated the 118-year-old building for use as the new headquarters as Point Comfort Underwriters.
The company, which specializes in health-care management products and international insurance, was previously located in the Stutz Business and Arts Center.  
But the company owners saw an opportunity in undertaking a multi-million dollar renovation of the 21,000 sq. ft., three-story building that had originally served as a gymnastics club for the large German-American community in Indianapolis at the outset of the 20th century.   
In recent years the building had fallen into serious disrepair, and had made Indiana Landmarks' 10 most endangered list.
Betsy Brougher, who owns Point Comfort Underwriters with her husband Will Atkins, introduced Indianapolis mayor Joe Hogsett who gave brief remarks, but not before talking at some length about the history of the building. She also noted that Bernard Vonnegut—grandfather of Indianapolis-born writer Kurt Vonnegut—designed the building.
"In 1900 the Southside Turnverein [gymnastics club] purchased this parcel for $5,000," said Brougher. "And they retained the firm of Vonnegut and Bohn and construction began in June 1900 and construction was completed in November of the same year.The first opening of this building was held on January 21, 1901 and it was reported in the daily news, I think it was still the Indianapolis News. They reported that 3,000 people attended this event, which seems kind of crazy."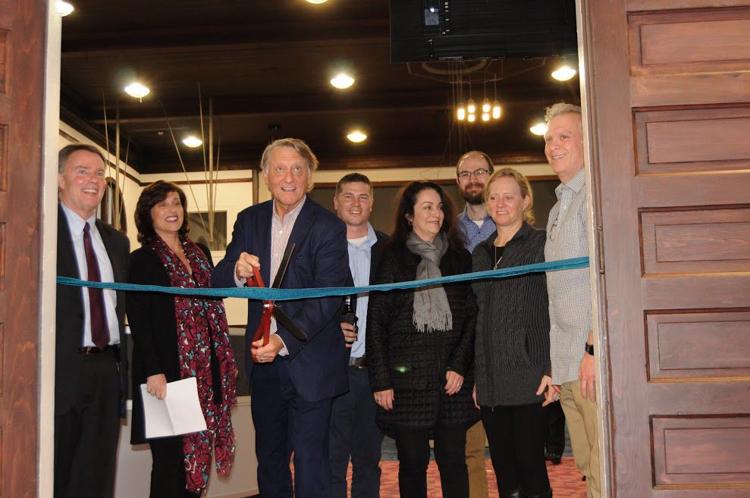 Vonnegut and Bohn also designed the better-known Athenaeum, which was originally known as Das Deutsche Haus, and also served as a German social club.
The Southside Turnverein building, Brougher said, had a colorful history.
'It was designed to seat about 800 people," Brougher said. "Clearly that was before the Board of Health. It was frequently full for dance theatrical performances and of course gymnastics. Downstairs was a social gathering place with meals political speeches and, of course, beer."
World War I dealt a body blow to the Turnverein movement in Indianapolis, and elsewhere in the United States.
"By 1918, anti-German sentiment in the United States became very intense and the Turnverein organization began to decline during this period," she said."German-Americans were trying to distance themselves from their heritage and reaffirm their Americanization. But this building remained a major community landmark."
On Oct. 4, 1960, then senator, and future president, John F. Kennedy made a campaign speech in the building.
It was "on the stage where our break room is today, to multiple standing ovations," she said. "John F. Kennedy spoke about the affordability of college; he talked about the high cost of medical care; he talked about the consequences of  illness caused by drinking polluted water. And I thought that was so interesting because it's so close to what we're still working on today."
The building remained in Turnverein hands until it was sold it to Tony Elrod in 1977, who turned part of the second floor into a basketball court. From that point on it was known as the Madison Avenue Athletic Club Inc.
The lower floor operated as Fifth Quarter Lounge, which from 2014 operated as a heavy metal club.
It "featured bands such as Five Finger Death Punch, Dead Horse Trauma, and my favorite lounge, and my favorite, Johnny Vomit," said Brougher. "In 2015 the Fifth Quarter Lounge was voted best small venue for live music by NUVO Magazine."

According to the Indianapolis Business Journal, Atkins and Brougher's Comfort Properties LLC bought the property in July, 2016 for $950,000. The operators of Fifth Quarter Lounge were given notice to vacate before renovations began.
One person who recalls imbibing in the Fifth Quarter Lounge, is Mayor Joe Hogsett, who injected a humorous note into the ceremonials.   
"This building has housed many enterprises, a German cultural center [and] the two bowling alleys that Betsy referred to," he said. "The only thing that she referred to in her recitation of the history that even mildly offended me was the fact that she recalled how many people had approached her about their uncle or their father played basketball at the Madison Ave athletic club," he said. "Well, I played basketball at the Madison Avenue Athletic Club and I am a father and I am an uncle," he said emphatically.
But he mostly sounded a more serious tone talking about how the acquisition of the building and its renovation, led by Ratio Architects, was a milestone of revitalization for the city of Indianapolis.
"We are in a very intentional and purposeful way trying to leverage the success and amenities of downtown back into own neighborhoods, particularly those neighborhoods that are contiguous and are readily and easily accessible to the downtown area," he said.
Brougher also introduced Bates-Hendricks Association Neighborhood Association president Laura Giffel, who Brougher said, welcomed the renovation "with open arms."  The association, said Giffel, was actively involved in projects to improve the neighborhood.
"We're working on a dog park, close to here," Giffel said. "We're working on a community park, We're low on parks with the massive amount of young children moving into our neighborhood."
It was Brougher, however, who seemed to speak most eloquently and passionately about the renovation project and what it means in Bates-Hendricks and beyond.  
"Preservation merges art with craftsmanship; it combines progressive ideas with cultural heritage; it balances capitalism with tradition and authenticity," she said. "It's a way of celebrating local customs while conserving taxpayer dollars protecting our natural environment, preserving an historic building and using existing infrastructure to serve today's demand is where commercial responsibility intersects with environmental responsibility. Preservation engages the past in a conversation with the present."