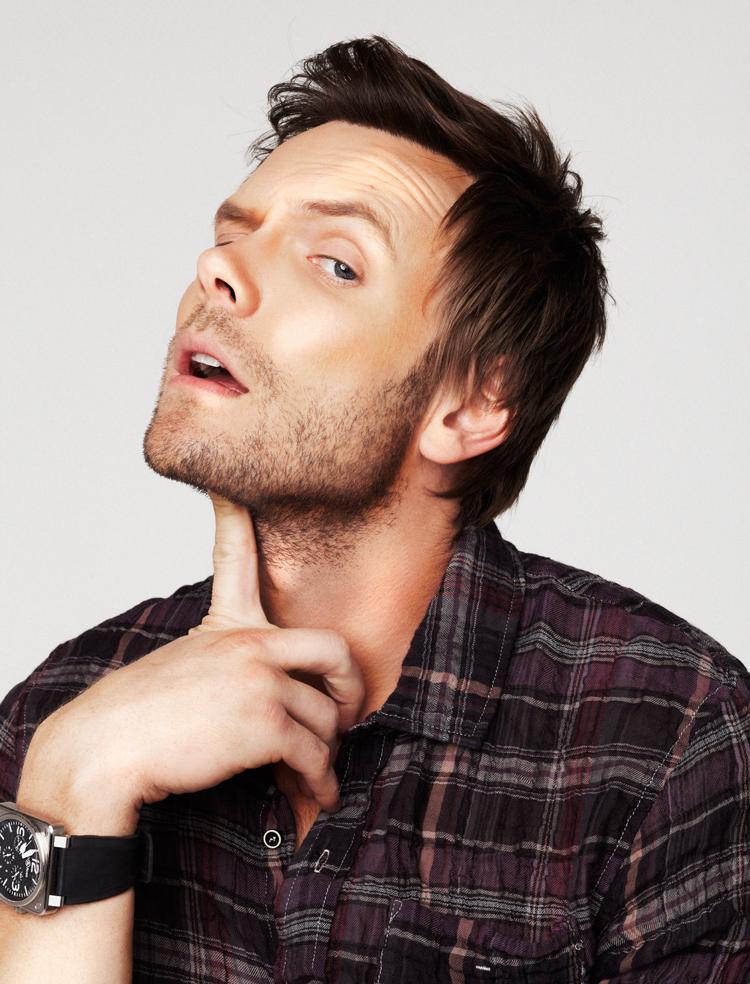 Joel McHale has spent a lot of his life in front of a camera, whether it's been making satirical commentary on The Soup or playing the role of Jeff Winger on Community. 
Every now and then, however, the longtime funnyman likes to get up on stage instead, where he feels equally comfortable as a standup comedian.
"I feel like it keeps me younger, and it keeps me on my feet," says the 45-year-old father of two. "I think it opens up new parts of my brain. It's like going and playing basketball for two hours. I love it."
On Thursday, June 29, McHale will visit the Palladium in Carmel for a stop on his latest stretch of standup dates. Host of the 2014 White House Correspondents' dinner and the 2015 ESPY Awards, McHale also recently appeared in Fox's 2016 revival of The X-Files and CBS' now-defunct sitcom The Great Indoors. And last October, he also released a memoir titled Thanks for the Money, which Entertainment Weekly describes as "a clever, much-needed antidote to the age of celebrity book deals."
From a very young age, McHale knew that acting was for him. 
"When I watched television and movies, I was just like, 'Gosh, that looks fun, and boy, I would like to do that,'" remembers the Seattle native. So, with his eyes set on becoming a professional actor one day, he went full speed ahead, despite what others around him thought.
"Everyone thought I was crazy, until I met other people like me that were pursuing acting in Seattle," McHale says. "I am so lucky that I grew up in a city that had a wonderful arts scene, and also that I have parents that supported it."
After doing "a ton of improv theatre" in Seattle, McHale made his way onto a locally produced sketch comedy show called Almost Live!, which also featured occasional appearances from a young Bill Nye. From here, he landed a few minor acting gigs, before eventually earning his role on The Soup.
"We never made a pilot," McHale says of The Soup. "We made a five-minute presentation, and that was after I went in and auditioned for it. They saw it and went, 'No,' and then they said, 'Wait. How much does it cost an episode? That's it? Great, let's put it on because it costs nothing.'"
At the start, he admits that doing the show felt a little weird. "We always told jokes that we thought were funny, and we always felt like we were just telling the jokes to ourselves," he says. But people started watching, and his career began to blossom.
"I finally got the auditions that I wanted after that because people went, 'Oh, we'll bring in that guy who's telling fart jokes about The Real Housewives of Atlanta,'" McHale says.
Most notably, McHale scored the lead role in Community — a show that has since become a highly regarded cult classic for comedy fans. Carefully crafted by Dan Harmon (also of Rick and Morty fame), the show aired from 2009 to 2015 and was the opportunity of a lifetime for McHale.
"On set, there were some of the best improvisers I've ever seen in my life," McHale says. "Donald Glover and Jim Rash are geniuses. And without having improv training, Gillian Jacobs and Alison Brie are two of the finest ones I've ever seen as well."
He continues, "Now, that sounds like I'm leaving out Danny Pudi, Chevy [Chase] and Yvette [Nicole Brown]. I'm not because they also were fucking geniuses. So I count myself as very lucky to have been in that cast because it was terrifyingly talented. They knew their shit, and it was great."
Although comedy seems to come naturally to McHale at this point, writing a comedic book was a whole other story. "It seemed like it would be fun, although I'm super dyslexic and ADHD," he says of writing his memoir. "It was like pulling teeth everyday trying to get it made, but I really enjoyed it and I'm very proud of it." As for his upcoming standup performance at the Palladium, McHale says that fans should prepare for something a little bit different than what they're used to from him.
"It's not like I get up there and give Community monologues or just tell Soup jokes with a monitor next to me — it's standup," he concludes. "I wear a sequined bodysuit with a lot of makeup. There's a lot of water on stage. It's a lot like Cirque du Soleil's O, but not nearly as safe."