Eiteljorg Museum's Gerald and Dorit Paul Gallery on Feb. 7 hosted an overflow audience that spilled into the hallway, arriving to hear sculptor Michael Naranjo talk about creating an exhibit of sculptures we're invited to touch.
This 2020 iteration had its beginning in 1992 when his first "all touch" show opened at the Eiteljorg. The success of this premiere concept led to the continuation of touring his work around the U.S.A., as a personal crusade to make sure that his work was always totally accessible to all. The exhibit includes Braille labels and audio descriptions along with the customary print labels.
Now, 28 years later,  "Please Touch! The Sculptures of Michael Naranjo" is back in Indianapolis until July 26, with over 30 works created from 1972 to 2012. This span allows a visitor to experience the ways in which Naranjo developed his artistry and craft within the parameters of blindness and use only of his left hand.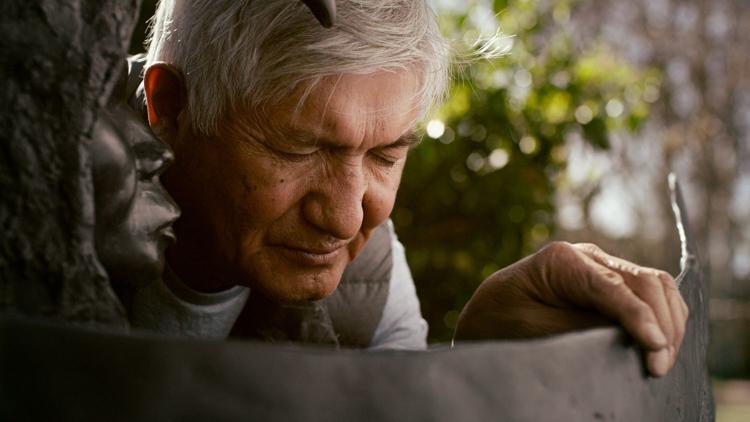 "Over the years, my blindness has made me realize, for me, the feeling of the piece becomes more important than intricate detail," offers Naranjo. "My work is representational. The patina I choose for my bronzes is matte black, which has become my trademark, as this is the color I see.
"Life as I have it is life as I want it," assures Naranjo.
He regained his dedication to making art when he came to terms with blindness during his military service in 1968.
When a fly landed on his face as he was convalescing from a Viet Cong grenade exploding into his face, he recalls, "I thought [this fly] can see; why can't I? I shed a tear and that was over. This moment. This time is most important."
Working with a ball of clay, he sculpted an inchworm, just as a child would. At that instant, he began his journey that has taken him to now. He describes seeing with his fingertips.
"Fingers are my eyes when I work. Touches are relayed to my mind's eye. Images in my mind, vivid images, come out. The magical moment is when I see an idea. Being blind is of no consequence. It's my life as a sculptor."
Bringing forth a personality as well as dimensionality in space is what he strives toward. Touching a work, allowing the sense of touch to reveal its intricacies, is different from merely 'looking.' I felt this most keenly with the details, athleticism, verve of the hoop dancer. This work alone is worth the visit. Communion with this piece was nourishing me, and, in some way, I felt that my fingers tracing and savoring and being grateful for its intricacies equally was nourishing the sculpture. I understood how the memory of' seeing' real-life hoop dancers impacted this 'touch me' moment. Nanrajo was capturing the moment in-between steps in hoop dancing; the sureness of momentum to keep the hoops in sync with body.
'How can he make this happen,' I wondered, And then 'how' didn't matter; just doing it, being in the moment of the happening and my absorbing it, is what matters. It's the aliveness of depiction from reality that marks Michael Naranjo's artistry. 
"I often feel my sculptures talk to me," confided Naranjo. 
Yes. Hop Dancer talked to me, too. 
As did the birds. As did the curled up dog, as did the…
"The sound of a bird as they take off is powerful and purposeful," he notes, adding, "I was moved by that sound."
Being moved is the operative take-away from this exhibit. I could not absorb all that was being shared in one visit. I'll return—often—before it departs July 26. A special aspect I felt is how his exhibit adds a different dimension to the Eiteljorg year of 'Honoring Women." Very evident are the influences of Michael's mother, his wife Laurie Naranjo, and their daughter Jenna Winters.
"While serving as artist in residence at the Eiteljorg from Feb. 10 to 14, Naranjo worked with students at the Indiana School for the Blind and Visually Impaired (ISVBI), teaching sculpture and aiding students in the creation of ceramic busts. Naranjo's artist residency is made possible through a partnership between the Eiteljorg and the Indiana Blind Children's Foundation (IBCF) on an initiative called No Limits, which aims to strengthen inclusiveness in the arts for individuals with disabilities," reads the news release .
"We are honored to have this opportunity to share Michael Naranjo's beautiful sculptures and personal story with a new generation, and provide increased accessibility for blind and visually impaired visitors," said Elisa Phelps, Eiteljorg vice president and chief curatorial officer. "The exhibit has been a catalyst in shifting our thinking about accessibility and visitor experiences, and will inform our approach to future exhibits," she said.
Pieces in the exhibition are on loan from the TIA Collection in Santa Fe, N.M., and from the personal collection of Michael and Laurie Naranjo. The exhibition "Please Touch! The Sculptures of Michael Naranjo" is curated by Jennifer Complo McNutt, Eiteljorg curator of contemporary art, and Dorene Red Cloud (Oglala Lakota), assistant curator of Native American art.
Please Touch! The Sculptures of Michael Naranjo is sponsored by Bosma Enterprises, the Indiana Blind Children's Foundation (IBCF), the Indiana School for the Blind and Visually Impaired (ISBVI), the No Limits arts series, Lilly Endowment Inc., Care Institute Group Inc., the Indiana Arts Commission, the Arts Council of Indianapolis and the City of Indianapolis.
Michael Naranjo grew up in Taos, New Mexico, where his mother Rose Naranjo was a noted pottery artist. His siblings also are artists who have close connections with the Eiteljorg.
Learn about Nora Naranjo-Morse, who received an Eiteljorg Fellowship for Native American Fine Art in 2003 here:
 https://www.mutualart.com/Article/Nora-Naranjo-Morse/863687A5E905A69B
https://pennyspoetry.fandom.com/wiki/Nora_Naranjo-Morse
Learn about Jonathan Naranjo here: https://kinggalleries.com/brand/naranjo-jonathan/
Learn about multiple Eitljorg Indian Market award winner Jody Naranjo here:
 https://eiteljorg.org/outstanding-native-art-recognized-at-eiteljorg-indian-market-and-festival-2/
https://eiteljorg.org/inside-indian-market-festival-meet-native-artist-jody-naranjo/
In 2019, the Eiteljorg Museum of American Indians and Western Art in White River State Park celebrated 30 years of telling amazing stories. The Eiteljorg seeks to inspire an appreciation and understanding of the art, history and cultures of the American West and the Indigenous peoples of North America. Eiteljorg Museum was named one of the USA Today Readers' Choice 10 Best Indiana Attractions.