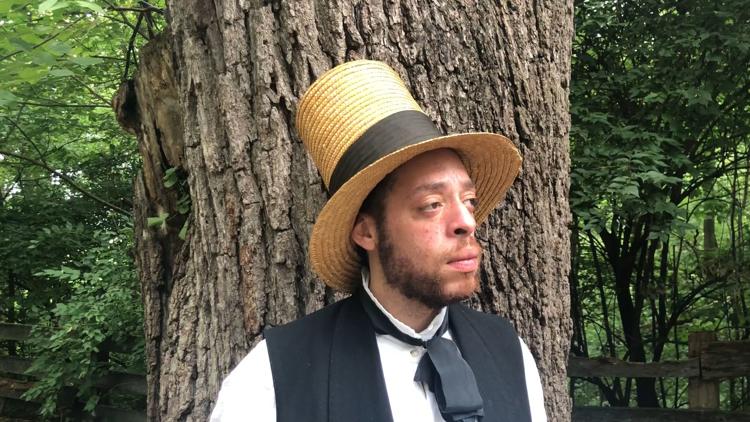 If you attend theatrical performances regularly in the Circle City, chances are you've seen Ryan Bennett on stage. He had a one man show at last year's IndyFringe, which he reprised in February at the Indianapolis Artsgarden for Art & Soul. He's also very involved behind the scenes. In last year's performance of Dear Bobby at IndyFringe, he ran the sound and lights. Additionally, he's on the board of the inaugural Circle City Film Festival running Sept. 27-29.
Bennett has found a particular niche in the Indy theater scene portraying historical figures. He's in the cast of Black Pioneers: Roberts Settlement 1836 at Conner Prairie running on Saturdays through September. It's part of the Giving Voice initiative, a co-production between Asante Children's Theatre and Conner Prairie.
In addition to the theatrical production, there is also an exhibition and live interpretation about the free people of color who, in the 1830s, emigrated to Hamilton County from North Carolina.
NUVO: Describe your involvement in Black Pioneers.
RYAN BENNETT: I play Elijah Roberts, founder of the Roberts Settlement. He came to Indiana to Hamilton County and bought 80 acres of land in 1836. This was before slavery was abolished. I play him as we are just arriving to the land he purchased from the U.S. government.
NUVO: When a visitor comes in, what will they see?  
BENNETT: As I walk you through the performance, you will see a man who is extremely excited about an opportunity to own land, something that he and his family have never had before; he has freedom in this new space, and he's excited about the opportunities for growth. You'll see his wife say all the reasons why not to move to Indiana and him giving the reasons why it's important to move from the slave [state] of North Carolina.
NUVO: Black Pioneers, is that your first encounter as an actor with Conner Prairie?
BENNETT: No. My first encounter was last year for the Giving Voice initiative on Frederick Douglass and his visit to Noblesville to make a speech and to open up for a presidential candidate. That was a two hour show, written in [the language of] the time period, so the English was extremely difficult. That was my first experience with Conner Prairie and it was fantastic. We had great crowds… and then they asked me to come back and do Black Pioneers.
NUVO: When did you get interested in doing historical types of performances? 
BENNETT:  I feel myself to be an activist and an advocate. A lot of the work that I do is geared towards people who are disenfranchised, who are forgotten, and I felt that there's a lot of history that's forgotten, [stories] that could possibly empower African Americans if they knew.
One of the other projects in Giving Voices is where I played Martin B. Jenkins who's a social scientist out of Terre Haute, he was a person that disproves the belief that African Americans are not as intelligent as white people.  He found a girl in Chicago who was nine years old whose IQ was like 210. And that was the curious case of Girl "B." Learning things like that is empowering, and I definitely want to hold the torch fighting for equality and fairness.
NUVO: What is your involvement in the Circle City Film Festival?
BENNETT: I'm on the board of the Circle City Film Festival. I am the liaison between the filmmakers and the organization.  
NUVO: Indianapolis has a lot of film festivals. Why Circle City Film Festival?
BENNETT: This was a brainchild of Rasheda Randle who was an Indiana native who lives in Atlanta and who has been doing some great work in that field and it's always been her dream to do a film festival. She's gone to a lot of film festivals and seen all the problems and things that they do wrong and she's just always wanted to do one a different way. This is a little bit different than the other film festivals... Our goal is to just really try to help grow the film industry and to connect and network people. Not just in Indiana but throughout the country.
NUVO: Your Fringe performance in 2017 was  Truth: the One Man Show where you played four different characters. Was that a big challenge switching from character to character?
BENNETT: Absolutely. Just trying to stay true to that character is challenging because as it goes from an enslaved African to a Ku Klux Klansman just right there there's a huge switch and change. I think the last one is probably my easiest character because it's the most recent and it deals with a subject that we should be dealing with in this country like why are there so many people incarcerated.
NUVO: You were involved with Asante Children's Theatre for some time.
BENNETT: I did so many things for them. I started off being in the program and then I came out I costumed for them. I directed for them. I've done marketing for them. I've been the assistant to the artistic director and then the liason between the artistic director and the executive director. I started the initial prep program, the program that's taken off very well with them; it's a nine week exploratory program for kids nine to 18. It just gives them a taste of what it's like to dance and act. It's called Prep for Life.
NUVO: So really, you're a living example of Asante Children's Theater in action, what it does and how it prepares people for theater, right?
BENNETT: Absolutely. And I would give so much credit to Asante for the teaching and learning that I got. Because I never did theater before. And I haven't really done much theater with other companies since. I've been in the film industry, I've been in the music industry but as far as the theater goes, they have really been a staple in my career.