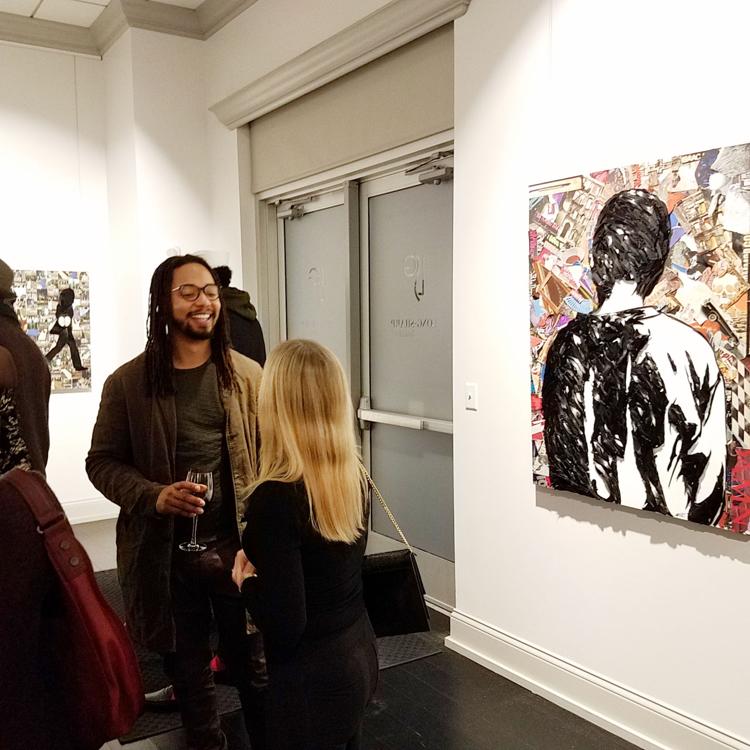 The Long-Sharp Gallery exists at a slight remove from other galleries in Indianapolis. I've usually found this gallery to be well worth the traffic, however, and the extra few bucks spent on parking.
 But the slight remove isn't just in terms of location.
Long-Sharp happens to be a high end commercial gallery in a city where gallery spaces run by nonprofit organizations—Gallery 924, Harrison Center, Tube Factory artspace, Indiana Landmarks, iMOCA, the list goes on—play a crucial role in the Indianapolis art scene.   
But the for-profit galleries have their role to play too. In addition to showcasing masterworks such as Picasso and Warhol prints, gallery owner Rhonda Long-Sharp displays the work of a good number of artists living and working in Indianapolis.
And the location gives her the opportunity to showcase the works of Indy artists to visitors from all over the world.
Which brings us to Walter Lobyn Hamilton's new solo exhibition Narrative Not Included at Long-Sharp, on view through March.  
Hamilton's work definitely pops, to use the oft-used expression of many a graphic designer, off the canvas. This self-described "vinyl record artist" has made a well-deserved reputation for his mosaics, of sorts. Broken vinyl records are his medium. He assembles pieces of vinyl onto a canvas into the images of popular icons—Malcolm X, Lauryn Hill, and Bob Dylan to cite a few examples—drawn from the music world and from politics.
It's worth noting that the 32-year-old Hamilton has been a part of the Indianapolis art scene for a while. He was a featured artist at Art & Soul in 2011, organized by the Arts Council of Indianapolis, in the Indianapolis Artsgarden. But more recently, his work has found its way into an Adidas store in New York City, into the homes of various celebrities, and onto the set of the hit TV series Empire.
A particularly memorable work was his 2014 portrait of spoken-word artist/musician Gil-Scott Heron (not part of this exhibition) where he snipped pieces of vinyl of record into individual letters. He spelled these letters out into words. And then he assembled the words into a dead-on likeness of his subject—word becoming flesh, as it were. Call it collage, call it portraiture, call it concrete poetry on canvas.
Perhaps his most provocative works to date is a portrait of Donald Trump titled "Der Donald," (not in this show) composed in part of authentic Nazi relics.
Such works demonstrate Hamilton's history as a dynamic artist, unafraid to take risks in terms of media and in terms of conceptual/political content.
But in Narrative Not Included, there are only a few examples of this type of portraiture. One is a portrait of Jimi Hendrix in vinyl against a purple backdrop—the first portrait that Hamilton ever composed out of vinyl was a portrait of Hendrix—and the other is an astoundingly intricate head portrait of a woman "Return from Africa." This work shows a woman in a vinyl headdress in the shape of Africa.
But his current work is the central thrust of this show, and he's clearly going in a different direction. He's still using vinyl as a medium for portraiture, but it's a more abstract kind of portraiture. In "London Fog," you see a figure from behind, silhouette-like, against the backdrop of a collage of bits of copy and pictures torn from magazine articles. He's walking towards a destination beyond the frame—unframed by any narrative. It's as if the figure is walking into a pop culture hurricane.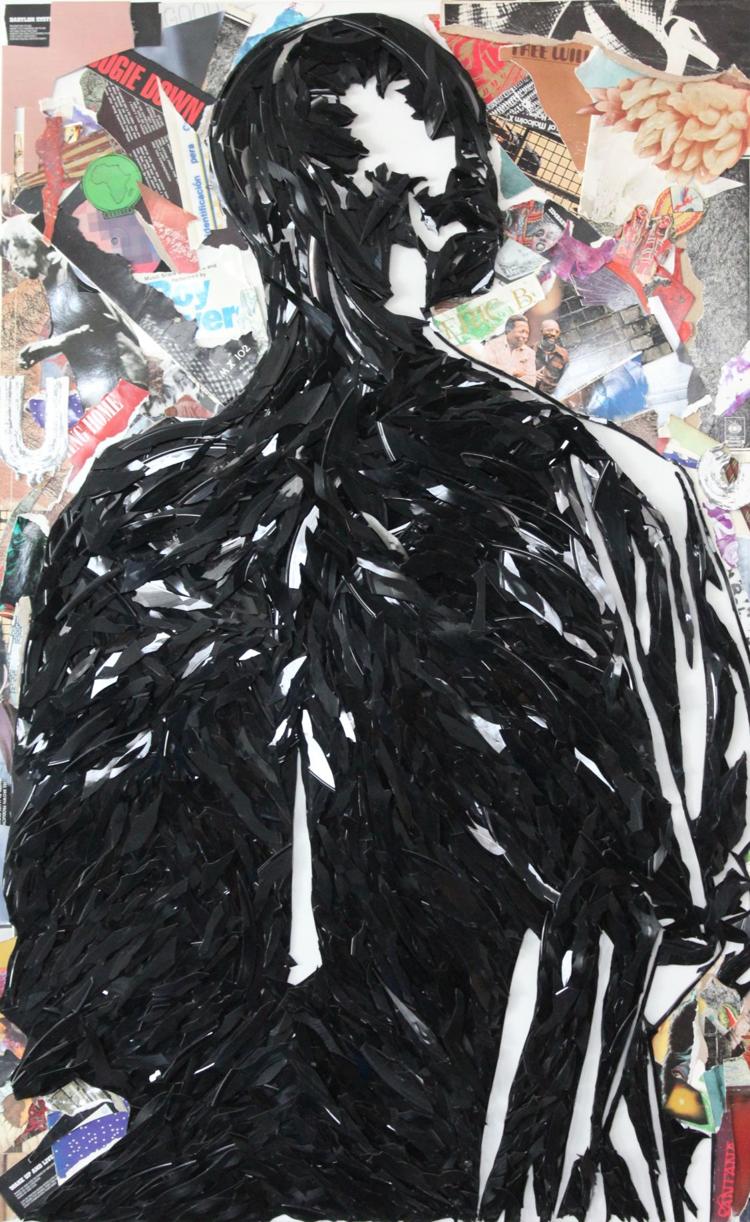 The figure is composed of snips of vinyl, like most of his works. But there's a looser, rougher, more abstract quality in how the snippets are bunched together on the canvas than is typical in his work.That is the surfaces of his portraits usually have a smooth reflective sheen. Here the material, still reflective, rises off the canvas in bunches and piles like the obsidian in an ancient lava flow.   
There are three other works here that seem to be variants of this theme, including one aptly titled "Decisions."
This may seem like an entirely new direction. But it's not like Hamilton hasn't created more abstract forms of portraiture before, as in his "Stockholm Series (Turn your Head Please)," from 2014, which portrays a woman in profile, her face composed of vinyl and her hair out of the bound-together spines of album covers. That is to say, Hamilton has been a dynamic, ever-changing artist from the get-go.
Perhaps Hamilton's turning his back, as it were, on representation was born partly from necessity. There are certain risks that you take when you create portraiture of someone and/or their estate without their explicit permission, whether living or dead. Or then again, maybe it's because Hamilton fears that he might take a step too far into political commentary with pieces like "Der Donald" and get called out for it. Or maybe it's a bit of both.
But the work is varied enough to keep you guessing, to being open to considering multiple narratives.   
Elsewhere in this exhibition, Hamilton pays homage to pop art history. "With or Without" takes its cue from Jasper Johns, the American painter (born in 1930) known above all for his paintings of American flags. But the two flag-like wall hanging wood constructions in Narrative Not Included are as much shelves as flags. Aside from wood, they incorporate record players where the stars are supposed to be. On one of the flags you see the shelves, serving as stripes—full to the brim with album spines—with the spines pressed together so you can see the titles.
Maybe this is a way to show that America has an extremely dynamic popular culture, or maybe it's a way to show an America burdened by consumerism.
What's going on at Long-Sharp Gallery, however, isn't just about consumerism. It's a significant thing, I think, that Long-Sharp is showing off to the world the work of this particular homegrown artist, who just so happens to be creating world-class art.