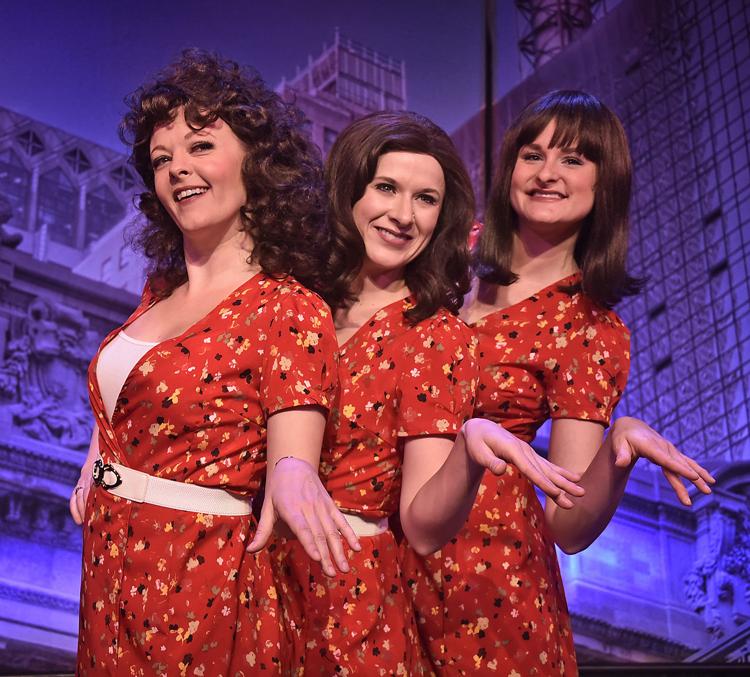 We can pretend objectivity.
But the reality for musical theater buffs—of which I am one—is that the productions we saw early in our show-going lives are ones we are likely to have a bias toward.
That doesn't mean that a bad show suddenly becomes good by virtue of memory (I still recall the awfulness that was Marlowe nearly four decades ago). But it can bring some extra glow to shows that are just OK—which may explain some of the goose bumps that rose on my arms at the beginning of just about every number in They're Playing Our Song at Beef & Boards Dinner Theatre (through Feb. 3).
I accept that this show's ability to charm me in spite of its flaws has a lot to do with nostalgia, the original production of it being the first musical that I ever saw on Broadway (with Robert Kline and Lucie Arnaz in the leads).
With only two on-stage characters—each with a pair of backup singing alter egos (paired down from three each on Broadway)—there's not much in the way of conflict in They're Playing Our Song.
Up-and-coming lyricist Sonia Walsk is paired with composer Vernon Gersch to crank out hit songs. She's Annie Hall-ish kooky. He's a bit neurotic and controlling. Of course, romance blossoms, followed by complications.
But this is a show in which the only obstacles in the way of Vernon and Sonia are Vernon and Sonia. The rocks in their relationship road seem imposed rather than organic, in spite of plenty of time between songs where something a little more substantial could have been developed.
With a mere nine songs (compare that to 39 that are packing Murder Ballad over at Footlite Musicals), the score is lean but poppy. Marvin Hamlisch and Carole Bayer Sager—known outside the theater world for The Spy Who Loved Me theme song "Nobody Does It Better" and "Theme from Ice Castles (Through the Eyes of Love)" offer tunes largely in that vein—numbers you could easily image covered by Melissa Manchester, Stephen Bishop, or a host of 70s AM radio stars.
The book by Neil Simon isn't any deeper. The show premiered at a time when Simon's name equaled guaranteed laughs and there are plenty to be had here. Without the inherent funnyman trappings of Robert Klein or Jason Alexander or others who have taken on the part, David Schmittou still solidly delivers as Vernon. And Sarah Hund gives the fluff a little heft in Sonia's second-act showpiece "I Still Believe in Love." Across the board, the ballads here are stronger than the group numbers, where ragged vocals detracted from the pleasures.
They're Playing Our Song remains a show that doesn't aim high but, for the most part, hits its soft targets. Accolades for any production of it aren't likely to ever rise much higher than "pleasant." But in its own humble way (to quote a lyric), it harkens back to a time before exorbitant theater prices made it impossible for good-enough, gimmick-free shows like this to have lengthy runs on Broadway—and healthy afterlives in regional theaters.
Beef & Boards staged the show twice back then. And it's nice—and pleasant—to have it back.