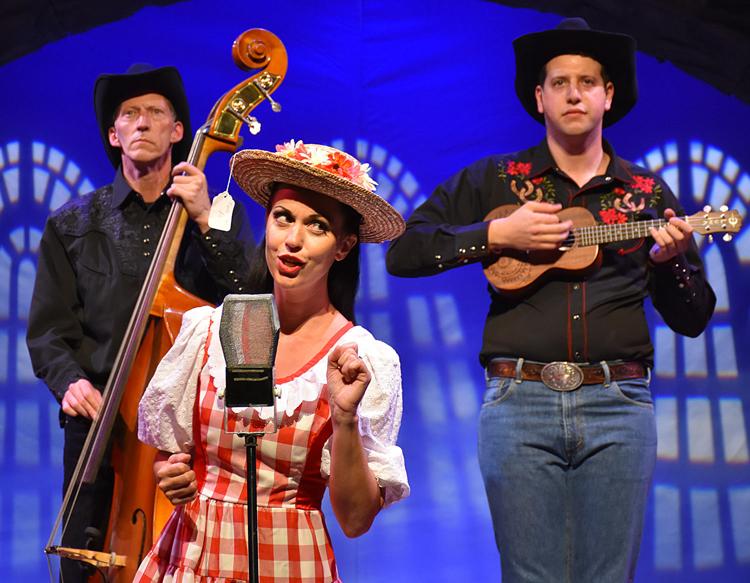 Ring of Fire sparkles as a Johnny Cash biographical musical in the intimacy of Beef&Boards' theatre. An outstanding cast of eight each announcing, "I am Johnny Cash" whips through 32 songs, most by Cash, showing facets of Cash's life from his hard-scrabble childhood though the 1930s and 40s, his leap to fame in the 1950s, disillusionment, the dark years and ultimately redemption and celebration.
Playing some two dozen instruments between them, and expertly trading off as soloists, some of the most touching moments come with the outstanding harmony as the cast shows the sweep of a song's genesis and its meaning at that moment. As much the story of all of us in the United States of America from 1932 to the turn of the 21st century as it is Cash's place within that sweep, Ring of Fire is an appreciation of a life without excuses. Don't expect an impersonation of the Man in Black or a mere recitation of songs.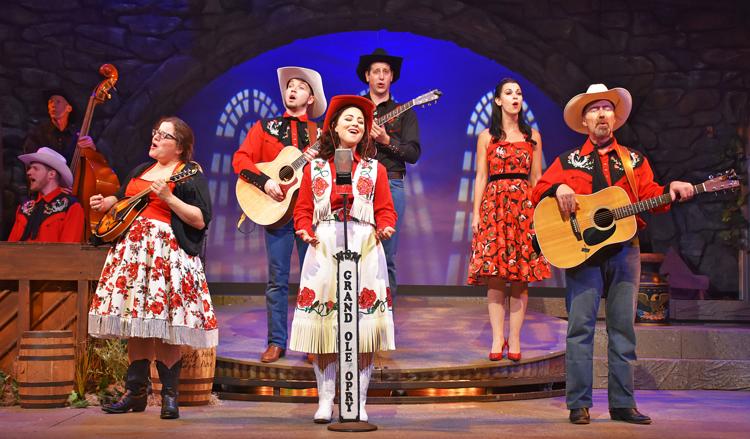 Created by Richard Maltby Jr., the award-winning director of Ain't Bisbehavin and Fosse, the ensemble approach opens the audience to their own connections with benchmark songs. Overheard during intermission at the table next to mine was how well the first act connected with them on their own personal levels — hearing them now touched them as much as when first listening to a recording or catching Cash on the Grand Ole Opry. 
"Before rock and roll, there was county" informs an actor; before country there was gospel. And when you've lived a while and knocked around more than your share, there's blues to lament choices and the fates.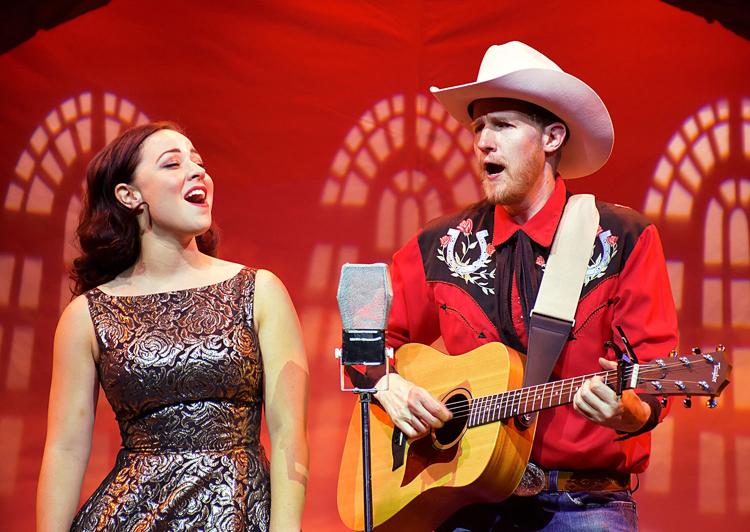 Expect directorial surprises along with the always outstanding Beef&Boards aesthetic interpretation of a script. Directed by Curt Wollan, with choreography by Wendy Short-Hays and musical direction by Travis Smith, the cast embraces Ring of Fire on a personal level, reaching out to us in the seats, to judge not by incidental events or a period of one's life, but by the sweep of it across the decades. In the balance, "Is he a good man?" The songs we most love are honest admissions of the striving.
Cast members making their B&B debut are Melody Allegra Berger, Tim Drake, Allison Kelly, Jeremy Sevelovitz, Travis Smith and Zack Steele; returning are Brian Gunter and Jill Kelly Howe. Cash: Ring of Fire runs through Aug. 13.