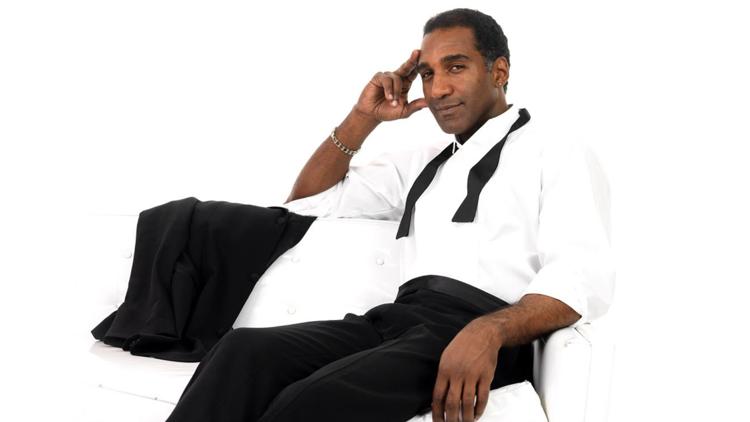 On Broadway, he's played Billy Flynn and Sweeney Todd. On TV, he's known for Scandal and the recent live Jesus Christ Superstar broadcast (He was the boom-voiced Caiaphas).
So surely Norm Lewis has some interesting stories to tell.
It's just a shame he didn't opt to share any of them during his show at The Cabaret this weekend.
In a Friday night performance packed with positivity but lacking in interesting anecdotes, Lewis celebrated the season with some holiday music—including a gorgeous "Ave Maria," the mansplaining "Mary, Did You Know?", and an awkward "Santa Baby." Audience goodwill was earned when he left the stage to mingle during "What are you Doing New Year's Eve?"
And, added to the familiar, was a newer tune from the writers of "All I Want for Christmas is You" that sounded, well, like a scrapped first draft of "All I Want for Christmas is You."  
The show's holiday highlight, though, was an obscurity: "All Alone in the World" from the animated TV special Mr. Magoo's Christmas Carol. Now there's something you don't hear even on the most relentless radio stations, let alone accompanied by complementary candy canes for the crowd and performed with a goofy, endearing sincerity.
Lewis tiptoed into politics with a hyper-cautious set-up to Marvin Gaye's "What's Going On?" including a few awkward shout outs about "immigration" and "separating children from parents." A talent on the order of Lewis should know that commitment is vital to the impact of such a song.
Playing to his strengths, Lewis made clear why Broadway casting directors keep him busy with powerful takes on "Bring Him Home" from Les Miserables and "Home" from The Wiz. The set-ups for neither, however, offered much insight into the man.
No surprise that he ended with "Music of the Night" from The Phantom of the Opera—Lewis was the first African American to play the part on Broadway (Robert Guillaume played him in L.A. first and Lewis acknowledged his predecessor).
It was a crowd-pleaser, for sure. But from a man who spent the last decade in New York in key parts in Sondheim on Sondheim, The Gershwins' Porgy and Bess, and Once on This Island, there would seem to be much more interesting choices for him to mine from the musical theater canon.