Don Giovanni, 4.5 stars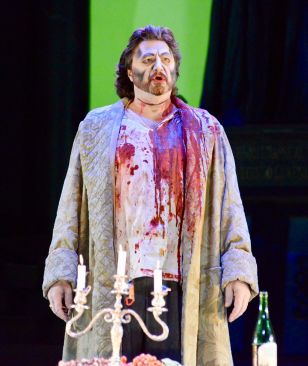 Don Giovanni is a story you've probably heard before, in some fashion. Based after the character of Don Juan, Don Giovanni is a nobleman and complete cad who sees women as conquests, and has no regard for anyone or anything, save himself and his appetite, and we just LOVE to eat up stories about him!
This comic opera in two acts by Wolfgang Amadeus Mozart has always been a staple in the operatic repertoire, and it started IU Opera's 2017-18 season on a good foot. There are several reasons why you should consider driving an hour south to hear this opera of a womanizer who gets his comeuppance: the IU Concert Orchestra under the expert direction of Arthur Fagen being one, with their skilled playing (though occasionally too loud, making the singers hard to hear at times, but overall a good balance). The other reasons would be every singer on stage, for both their voice and acting ability, which were well paired.
Bruno Sandes dove in to the title role; strutting about the stage with appropriate arrogance and bravado, his confident, baritone voice match a perfect match. Don Giovanni's servant, Leporello, sung by bass-baritone Glen Hall was a scene stealer at times, with his funny quips throughout, not to mention Hall's mature, bold voice. Donna Anna (Kaitlyn Johnson), grieving daughter of the slain Commendatore (IU Professor of Voice Peter Volpe) was paired incredibly well with her partner, Don Ottavio(Leo Williams). Johnson's rich, dramatic voice can carry and then some. Her sorrow is apparent and moving with each phrase. Williams was the perfect match to comfort her, with a voice that was incredibly tender and sweet. Donna Elvira (Shayna Jones), one of the Don's many discarded women, sang beautifully with heartbreaking pain that could be felt and heard.
The young newlyweds Zerlina (Alyssa Dessoye) and Masetto (Joey LaPlant) were another well-matched pair, with Dessoye's bright and sweet voice brimming with hope and a dash of naivete, and LaPlant's trust worthy, character was sung with assuredness and clarity. Hearing Peter Volpe as the Commendetore was the biggest treat of them all. His scene in Act 2, as the ghost trying to get a stubborn Don Giovanni to change his ways was chilling and even frightening with his commanding, deep and penetrating voice. There's another two performances this coming weekend, and I can't recommend them highly enough.
The remaining performances of Don Giovani, at the Indiana University (Bloomington) Opera Theater in the Musical Arts Center, are Sept. 22-23.