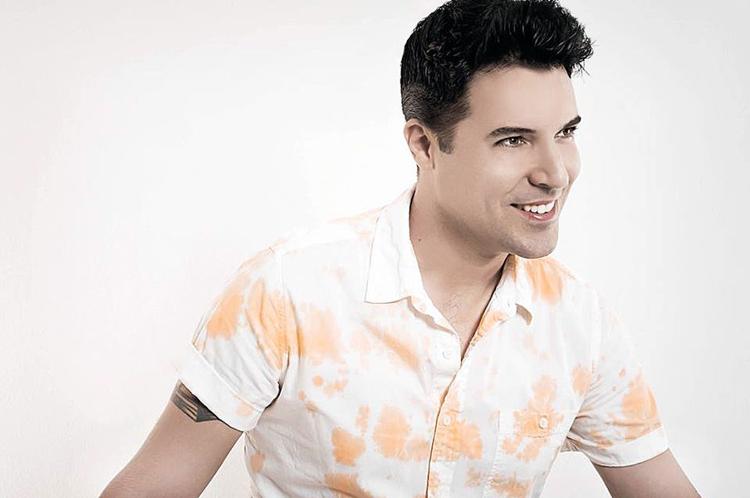 Rita says: 5 stars
Frankie Moreno literally tore the house down to the delight of a capacity audience at the Hilbert Circle Theatre on Oct. 20. With joyful aplomb Moreno shared the stage with his six-piece band and three backup singers along with conductor Jack Everly, ISO players and the audience. At every turn we were invited, encouraged, beseeched to get into the act. A few grooved throughout the program, dancing in total correspondence with every song evolving from the stage. It was a party. And the icing was Moreno spontaneously calling up concertmaster Zachary DePue to join in an old-fashioned fiddling contest.
Frankie Moreno creates a sparkling concert. I've never experienced a Las Vegas show live, but this is what I imagine it would be like. Pacing is just right; a ballad follows an adrenaline-pumping set; Moreno's band members move around the stage in meticulous patterns, except for the drummer, encased in a plastic shield to keep the ISO cello and bass players from getting overwhelmed. Together with lighting that abetted the mood, the movement creates an atmosphere of vitality that's never too much to distract from the lyrics and the beat. The arrangement of each song makes the very familiar new.
"I'm a songwriter," professed Moreno. And though he writes for other people, in his bones he owns the song and he delivers it his way. Nevertheless, he can glyph the famous and we love it. Of course we know Frankie Moreno can knock out a rock number — "Balls of Fire" shook the rafters. And we know Moreno is as much a showman as is he a piano virtuoso; "Roll Over Beethoven" began the show and it never slowed from that high point. And, yes, Moreno can make us believe Elvis never left the room.
For me, Moreno shows his mettle with the ballads. He sang a a tender-beautiful "Beyond the Sea,"  a luscious "Some Kind of Love," a wistful "One for My Baby," and a totally gorgeous "Bridge Over Troubled Water." That kind of range is solid musicality.