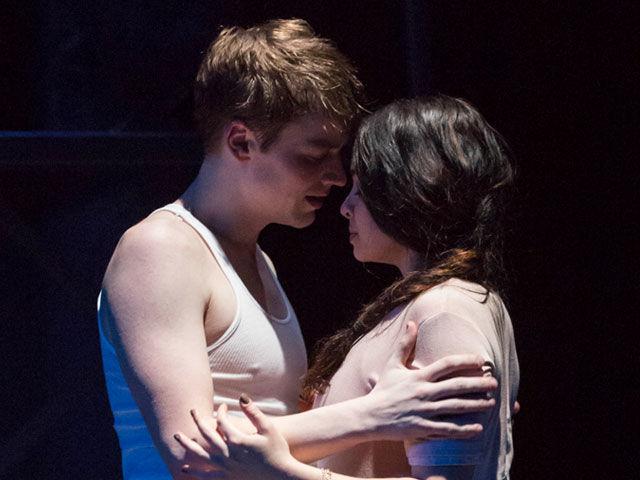 This is not just another "Let's do Shakespeare" gesture. IRT's "Romeo and Juliet" is one of their finest productions, fully deserving of the standing ovation and the laudatory comments by opening night audience members, moved to speak to each whether we've met or not.
What touched us is the honesty of each portrayal. We felt complicit in the death of four young people; two finding love despite being forbidden to do so, two mired in deeply embedded hatred. The air we are breathing along with them is toxic. Nobody bothers to retell when or why such gut-wrenching animosity started. The Montagues and the Capulets assume we know because we are them, on one side or the other, bumping into each other, walking the same streets, disdainful, disrespectful in body language and spoken word.
A cast of ten beautifully embodies the story as an unfolding reality. Henry Woronicz's nuanced direction of a script pared to a swift essence of events, simultaneously happening as in the moment and recalled as in a memory, is shaped as a ballet with spoken words. We are made aware every second counts; every gesture can have an implicit impact, exploding into mayem.
If all this sounds like here and now, it is. A four-hundred year-old quarrel is mercilessly current in setting and clothing. Sophia Macias as Juliet and Aaron Kirby as Romeo are two teens out of sync in a world they didn't make and want to change. They succeed through suicide.
Yet what makes this enduring play, this excellent production, bearable, are the good parts of humanity that give us a sense of hope. Maybe, just maybe, if we all come to the theater and together experience the reaching across, the touching of hands, we can find a way to live in harmony. Attend.