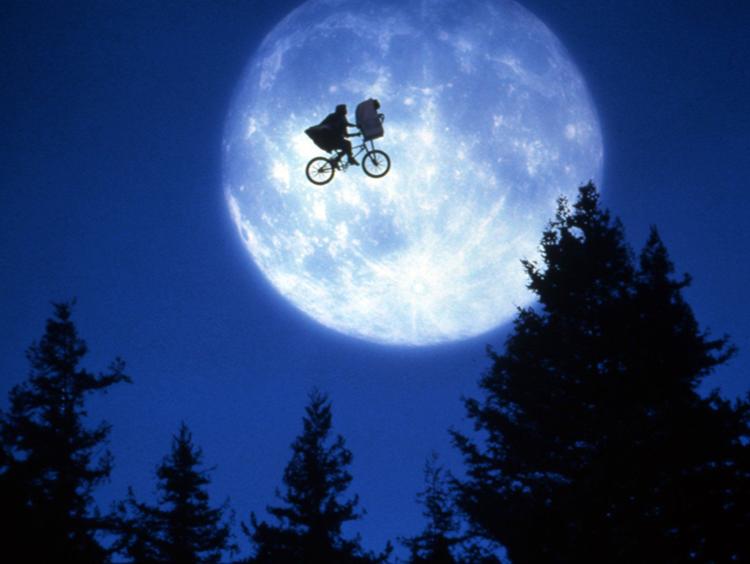 Rita says: 5 stars
ISO players, conducted by Jack Everly, delivered John Williams' brilliant E.T. the Extra-Terrestrial score with such subtlety, the person in the seat alongside mine remarked, "Were they even playing?"
Yes, they were, being so totally in sync with natural breathing and heart beating, as a mass of humans filling every seat in the Hilbert Circle Theatre we all lived in suspension of disbelief and we all cheered the aliveness of E.T. despite being given up for dead in scientific terms. "It's a made up thing, it never was alive, it couldn't die, be resuscitated…" My seat mate was looking for rational behavior. 
For all practical purposes, E.T. IS real because John Williams, Steven Spielberg and Melissa Mathison and everyone else creating the 1982 film believe in  plausibility, probability; the magic in our minds and hearts understands Elliott is a troubled child seeking acceptance.
The ISO's embrace of E.T.'s timelessness comes through as supremely as does the breathless moment we behold in the Sistine Chapel — two fingers reaching in unity with time and space; creation, mortality, music, art. Metaphorically, we in the U.S. at this very moment are a troubled populace lacking the ability to find a way to be befriend another.
As ISO players teased out John Williams' emotionalism, phrase by phrase building themes akin to wonderment, fear, tenderness, mutuality; embrace of the other, the outsider, the alien; we were alongside a child seeking a foundation of communication the is here, this is me — where is your where? what makes you, you?
What is the DNA of friendship respect? Do we find it in science, dissection? Or in our hearts, feeling?
Williams knows how to pump us into a chase — urban auto tricks as intricate as wild west horsemanship. And at the very instant the ISO players soar us into space, upwardly swelling cacophony in reverse plummets us into our inherent gravity. E.T. can not survive on our Earth. Elliott, in this coming-of-age tale, learns and teaches the factors of acceptance making home, home.
I wipe away tears. At my home, the current New Yorker is in my mailbox. I flip through it and am arrested by an essay pondering why we believe in made up things that do not exist…what truthfully is the stuff of personal and collective reality?
ISO's Nov. 10-11 program features violinist Zach DePue and cellist Austin Huntington in Brahms' "Double Concerto." With Krzysztof Urbanski conducting, you'll also hear Haydn's Symphony No. 101 in D Major ("The Clock") and Brahm's Variations on a Theme by Haydn.