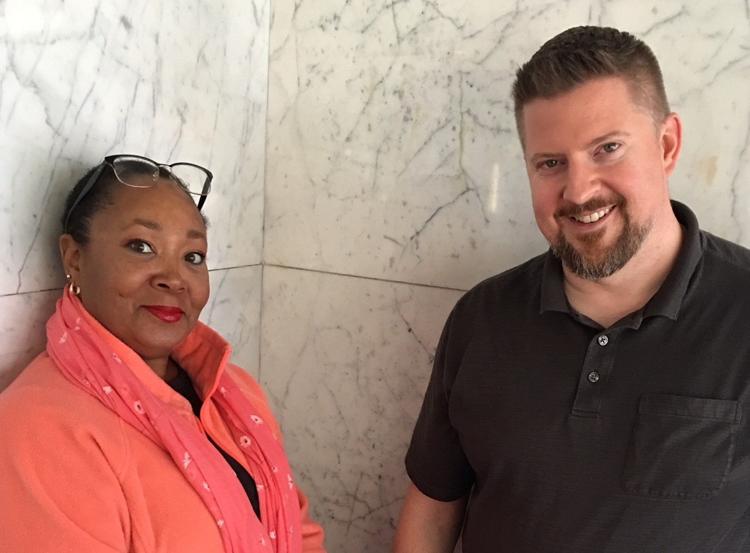 With a mission to focus on political and socially aware work—and with an artistic staff of unprecedented diversity in Indy—Fonseca Theatre Company differentiated itself even before the opening of its first production.
Its season announcement of a wildly diverse set of plays came close on the heels of Bryan Fonseca announcing the formation of this new theater...which came close on the heels of Fonseca's departure from the Phoenix Theatre... which came on the heels of the launch of the Phoenix's new theater and, well, if you want to catch up on the roller-coaster tale, see below: 
Regardless of your opinion of the backstory and the choices that led to it, the range of offerings added to Indy's theatrical landscape thanks to the rapidly formed company is, in and of itself, a cause for cultural celebration.
While it gets to work building an actual, physical theater for itself (target: early 2019), Fonseca Theatre is using Indy Convergence as its playspace. Its first production, the local premiere of Robert Schenkkan's Building the Wall. The show opened this past weekend and runs through Oct. 7.
It proves an interesting choice.
For while the play deals with immigration, politics, and the slippery slope that can turn a democracy into a fascist state, Schenkkan only really gives voice to one character—a white male (and a Trump supporter, no less).
Where the playwright has created more expansive, insider works—most notable his pair of plays about Lyndon Johnson and those in his orbit—here he deals with an outsider, Rick (Clay Mabbitt), an "I'm not a racist" disenfranchised man working at a private prison facility.
As the real-time play opens, Rick is a prisoner rather than prison administrator and much of the play is about piecing together why he is now on the other side of the bars. That information comes out, not always organically,  through an interview with Gloria (Milicent Wright), an African American history professor.
I won't spoil the ugly details. Suffice it to say that the play takes place after a terrorist attack in Times Square has led to Trump-imposed martial law followed by attempts at mass deportation. With Mexico and other countries refusing to accept these returnees, prisons—including the one supervised by Rick—have experienced massive overcrowding.
By the time Rick and Gloria meet, Trump has already been impeached and questions are being asked about how the situation got to the point that it did—and who should shoulder responsibility.
While there's more world-building than there is dramatic action in Building the Wall, there is undeniable power in hearing the kind of stories being spoken by a genuine American instead of delivered with a German accent in a post-WWII story.
Perhaps Schenkkan's strongest achievement is the quasi-sympathy he gives to Rick who, on paper, would seem a monster. How ordinary human beings end up performing horrifying acts is a worthy—and, tragically, still relevant—subject.
Alas, in his effort to put political lightning in a bottle (he wrote it quickly after the 2016 election), the playwright hasn't bothered to give Gloria much of a character. And she isn't very consistent as a historian. One moment she offers that everything Rick says will be published without editing, in another she says that the interview may turn into an article. Show me an uncut 90 minute transcript in an article and I'll show you a magazine no longer in business.
Often, Gloria comes across as prosecutorial and its difficult to believe that this would encourage the honest, soul-searching that comes from Rick. That's no fault of the actors, who effectively deliver.
The production qualities are simple; there's not much room at Indy Convergence for elaborate set pieces. As demonstrated here, the play doesn't need them. The audience (sparse, unfortunately, on the Saturday I attended), is split on opposite sides of the stage and the set is little more than an institutional table and a pair of chairs. Fonseca has directed the play with an urgency that briskly justifies the 90-ish minute/no intermission running time.
Reality, unfortunately for all of us, can cause some confusion here. It's not always clear if the post-election/pre-martial law facts recited here are from actual history or Schenkkan's speculative imagination. And I suppose future productions will be more difficult to pull off as real-life events overtakes the fictional narrative.
For now, though, Fonseca and company are offering a relevant piece of limited-shelf-life theater. It's theater for right now. Urgent. Confrontational. Relevant.
And oddly refreshing.