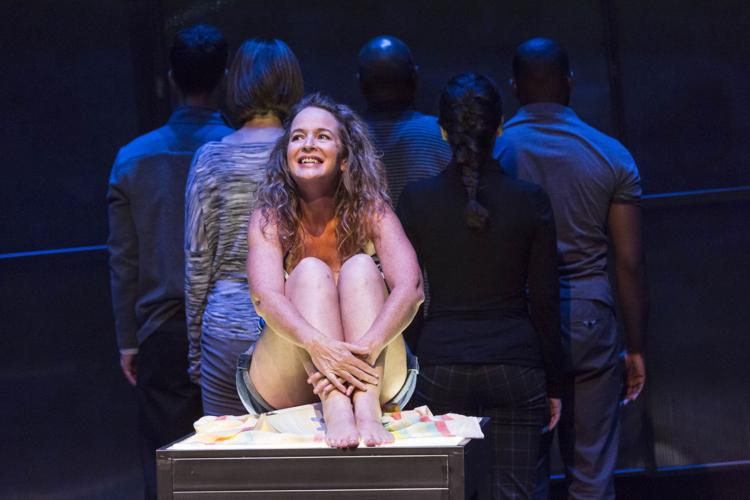 I'm not a forgiving person when it comes to adaptations of books I love, so my initial reaction to Mark Haddon's award-winning novel The Curious Incident of the Dog in the Night-Time becoming a play was wary excitement. 
Then I forgot about it, as I wasn't going to London anytime soon and probably wouldn't have the opportunity to see the play. Thankfully, the Indiana Repertory Theatre managed to snag the show for their 2017-2018 season so I once again got to worry whether or not the play treats Haddon's novel, and characters, well. I care because I found the novel moving and relatable when I read it in high school as a slightly weird and very nerdy teenager.
After attending opening night of Simon Stephens' play adaptation at the IRT on Sept. 22, I'm happy to report my wary trepidation unfounded. The play wasn't the same as the book, but the characters retain their emotional resonance as they do in Haddon's powerful novel. The star character for both the book and the play adaptation is Christopher. 
 I cheered for Christopher when reading the novel, but I laughed with Christopher more during the play and the rest of the audience did too. Christopher is introduced in unfortunate circumstances: he comes upon his neighbor's dog Wellington, who has been murdered with a garden fork. Christopher, a 15-year-old with autism, becomes determined to solve this mystery despite repeated commands from his father to keep his nose out of other people's business.
Advice Christopher does not appreciate because he views metaphors as lies.
The play emphasizes and clarifies Christopher's diagnosis more than Haddon did in the novel and there's power in seeing someone panic on stage when overstimulated. The visual impact of a teenager hitting themselves in public comes across more strongly in the play than the book can convey. As someone who worked with children and adults with both developmental and mental health challenges, I say this: if you haven't seen an adult or teenager panic in public, it can be unsettling. The play shows a variety of reactions to Christopher's panics ranging from pity to fear to empathy. It's a great learning moment for adults and students alike. 
It's also worth noting that that the production took the opportunities to use the play as an opportunity to address some of the needs of the autistic community. The IRT will have two sensory friendly performances, one for the public and one for students. It's such an important step to take for inclusivity. (The public, sensory friendly performance is Saturday, September 30th at 1:00pm.)
Inclusivity is important, but representation matters too. I'm a firm believer that there's a book, play, or movie that everyone can relate too, but admit that's harder to find in minority communities. Though, happily, many creators are addressing this issue and championing new voices. The actor who plays Christopher, Mickey Rowe, is the first American autistic actor to play the role. He was excellent and given the format of the play it's an intensive role that carries almost every single scene. Read Rowe's statement to Playbill published on Mar. 17, 2017 here where he addresses representation in his own words.
Other characters seen throughout the play are Christopher's parents, his neighbors, and his teacher who inspired Christopher to write a detective novel based on his search for Wellington's killer. Elizabeth Ledo as Christopher's teacher Siobhan was spot-on. She has that teacher voice that anyone with educator friends knows and the empathy and endless patience that many great teachers seem to possess.
The Curious Incident of the Dog in the Night-Time takes place in London and Swindon in Great Britain. The IRT stage setup for these settings was full of immersion and moving parts. Props and characters were rolling on and off stage throughout and a series of screens in the background helped the audience relate to Christopher's experiences. For example, panels with numbers lit up as he counted prime numbers to calm himself multiple times throughout the show and during a particularly intense scene at a train station, advertisements are heard while signs flash in the background. It's hard to describe and worth seeing yourself, but my notes simply read "train station scene - fucking loved it" and that's the most accurately I can convey how much I enjoyed that moment.
The play nicely balances hard and uncomfortable truths with comedic relief. An uncomfortable truth addressed immediately is that people murder dogs. Christopher and the audience understandably find this upsetting, but it also leads to jokes later in the play when Christopher's outrage doesn't match that of adults and other characters. Early in his detecting Christopher asks a neighbor what he knows about Wellington's murder. Then he clarifies it was a murder with a fork. The neighbor, still thinking a human was murdered and with a kitchen utensil, is understandably shocked. Once Christopher states Wellington is a dog stabbed with a garden fork (pitch fork) and not a dinner fork, the door is abruptly shut in his face. It's hard not to giggle at the juxtaposition between both the neighbor's and Christopher's agitations with the miscommunications.
Similarly to after reading the novel, I left the play feeling thoughtful and open to other perspectives. Christopher sees the world differently and it leads to a whole lot of awkward situations, but his teacher and the characters who get to know him also experience his brilliance and humor. In a world full of Twitter arguments about who is the most divisive, Christopher's story is worth shutting off your phone to watch. Maybe you'll learn something. I certainly did. 
The Curious Incident of the Dog in the Night-Time runs through Oct. 14 at the IRT before moving to New York.