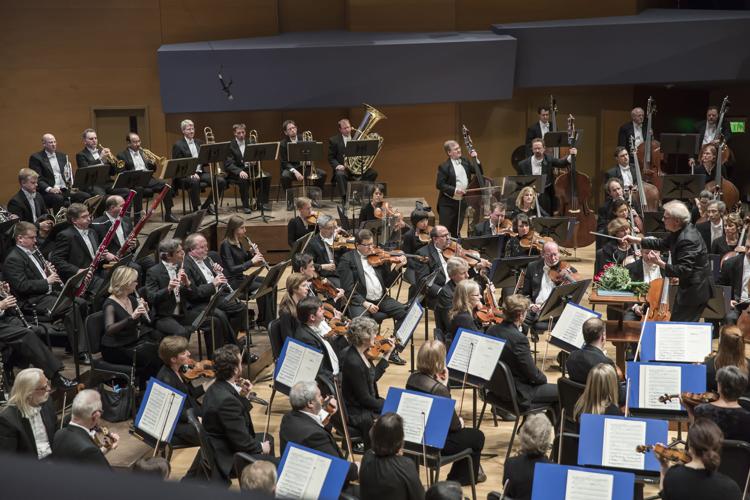 Minnesota Orchestra at IU Auditorium, Bloomington (five stars)
Touring for orchestras isn't the easiest of endeavors. There's the usual logistics of travel, playing in unfamiliar halls, fatigue... The list goes on.
The Minnesota Orchestra embarked upon a tour of the Midwest recently, and made their way down to Indiana University Bloomington on Jan 23., but barely. Their first flight out of Minneapolis was cancelled, but many musicians were able to hop on another flight and make it down late. Others made it to Bloomington only hours before they took to the stage.
As stressful as this probably was, you couldn't hear a trace of it in their stellar performance. Quite the opposite – the orchestra sounded as if they'd been down for a weeks-long residency, and became well acquainted with the IU Auditorium. Music Director Osmo Vänskä and the orchestra started their stellar concert with Jean Sibelius' En Saga, demonstrating the lushest of sounds for a string section wonderfully led by concertmaster Erin Keefe, and a solid unity within the wind and brass sections.
Special kudos to principal violist Rebecca Albers, who had several solos that were rich in tone and deeply emotive. Brilliant pianist Inon Barnatan then joined them for a wholly satisfying performance of Peter Ilych Tchaikovsky's famous Piano Concerto no. 1. Barnatan shaped phrases just so, and the orchestra, when repeating said phrases, matched incredibly well to their soloist, The collaboration between soloist and orchestra was some of the best I've heard. Barnatan was definitely the soloist, but the way he and the orchestra seemed to meld together musically was compelling.
After intermission, the orchestra finished up with Ludwig van Beethoven's Symphony no. 7 – an incredibly cheerful symphony in the ever happy and luminous key of A major. The first movement was full of life and vibrancy, with the cellos and basses sounding warm full with the beginning scale-like runs, and and the dotted eighth sixteenth rhythm that's part of the main theme later on in all sections sounding crisp and precise.
The second movement was devastatingly beautiful, and the presto third movement was lots of cheeky fun. They saved the best (though it all seemed like the best) for the fourth movement, where the orchestra was absolutely explosive.
Hands down an absolutely magnificent concert, and easily the best one I've heard so far in the 2017-2018 season.
Indianapolis Chamber Orchestra at the Schrott Center for the Arts (four stars)
Music Director Matthew Kraemer led the Indianapolis Chamber Orchestra on Jan. 27 in a concert of collaboration and celebration in a wonderfully varied concert.
The ICO was chosen by the League of American Orchestras for their Women Composers Commissions Program, and gave a world premiere of Chen-Hui Jen's in eternal dusk. This captivating piece started out with a mysterious air, with the bass drum and double basses, and then other instruments adding on at different intervals, and never finding a conventional resolution to them.
While Kraemer was clearly conducting, the work seemed to have no time to it. The usual idea of phrases that we are used to hearing didn't exist, yet I was still trying to listen for them; It was surreal and engaging.
The second collaboration of the night was with 2013 America Pianist Award winner Sean Chen, in Shostakovich's Concerto for Piano and String Orchestra, which also features a small, yet not insignificant solo trumpet part, that was played by John Rommel. Chen has created a wide pallet of tones to choose from; he is equally adept at creating the clearest bright tone followed up by giving notes a warm, round, almost fuzzy sound to them, and he is rhythmically crisp, which is needed for Shostakovich.
Rommel was an excellent choice for the trumpet part; his part isn't anywhere near as involved, but every note was thought out and placed well, with a tone that trumpet players aspire to.
Chen delighted the audience with an encore of Wolfgang Amadeus Mozart's Overture to the Marriage of Figaro, which struck me as incredibly thoughtful, as the second half of the concert was celebrating Mozart's birthday. His fingers flew expertly everywhere over that keyboard. Mozarts's Symphony no. 41, known as the Jupiter Symphony, rounded the evening out.
There were some things left to be desired: the trumpets and timpani were almost always too loud (in general the orchestra as a whole could come down a notch, as Schrott Hall is loud and bright), and the intonation of the first violins, which was consistently shoddy.
Despite these drawbacks, Maestro Kraemer's vision for this brilliant symphony was well thought out and executed. Volume and intonation issues aside, it was a vibrant, exciting performance.