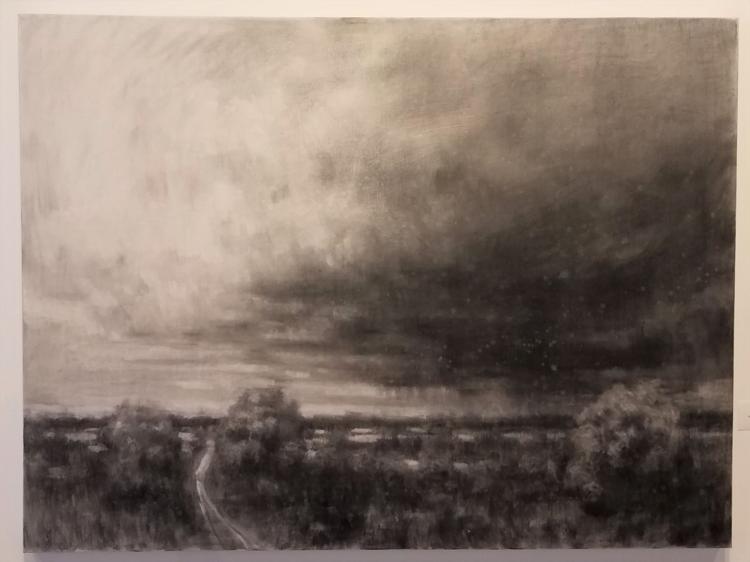 Serene walkways along a canal. An open field under a vast sky. Covered bridges. You'll find all these plein air painting subjects and more in Benny Sanders' exhibition A Certain Light at the Harrison Center.
Sanders is, for those unfamiliar, part of a group of maybe half-a-dozen young painters, many of them Harrison Center studio artists, who regularly go out to various outdoor locations around central Indiana to set up their easels and paint their subjects. They have, in the words of Harrison Center executive director, Joanna Beatty Taft, "made plein air painting cool again."
But this show transcends the Midwestern plein air genre—where covered bridges have become an overused trope—in so many ways. Consider Sanders' small-scale painting of a dude named Chad right beside the painting of the covered bridge. You can't see Chad's eyes because they are cast in shadow by his baseball cap. This could be the dude you might see, say, if you happened to be walking on that very same covered bridge. You might be wary of such a dude whose intentions, so to speak, are also cast in shadow.
Then there's "Self-Portrait (as a Barn)," a portrait that is stunning in its painterly precision. The particular barn in question is so riddled with holes that you wonder how it's still standing. You can practically smell the barn's rotting wood. If you weren't already clued in by the title of this show, it's the light that's also a subject in this particular painting, as well as the others.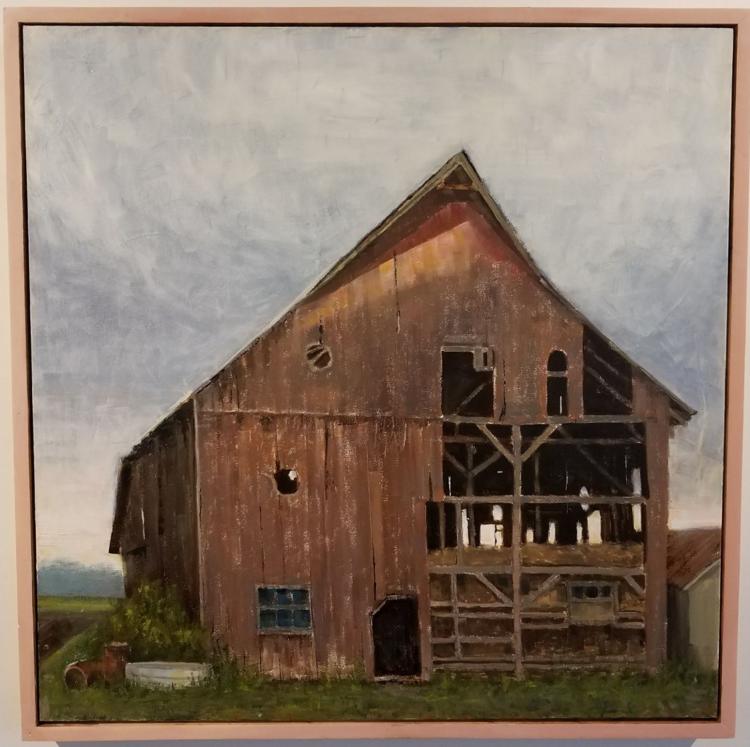 I'm talking about the light peeking through the holes in the barn's rotten wood planks, the sunbeam on the barn's outer wall indicating that the sun is near the horizon, and the light softly suffused in the clouds above.  
In the interplay between light and shadow, you might find the essence of Sanders' personality as a painter.
There are paintings in this show that seem only composed of shadow and light. Consider his black and white landscape "Open Field," (wax and charcoal) where the subject is as much the turbulent sky above as the actual field. The clouds themselves seem to have a weight borne by their shadowy underbellies.
On the dark footpath through said open field, you might imagine peasants enroute to stations of the cross à la "A Pilgrimage to San Isidro"—Goya is one of the painters Sanders habitually mentions in conversation—but there's no one there.
The most stunning works in this exhibition are a series of precision-painted portraits of young women. In his painting "Hayley in Blue," you see Haley in profile; You see the young woman as she brings her hands to her face where there is a sad, contemplative expression. The portrait brings her to life in all her beauty and sadness and cast in mysterious and glowing light.There is, in fact, something of a halo around her.
There's also something of a halo around this exhibition. Considering the enormous amount of work in this show, considering how quickly it was painted, and considering the diversity of media and subject matter, it's miraculous how it all coheres together.  
You'll find a certain light—and a certain darkness—in all of it.