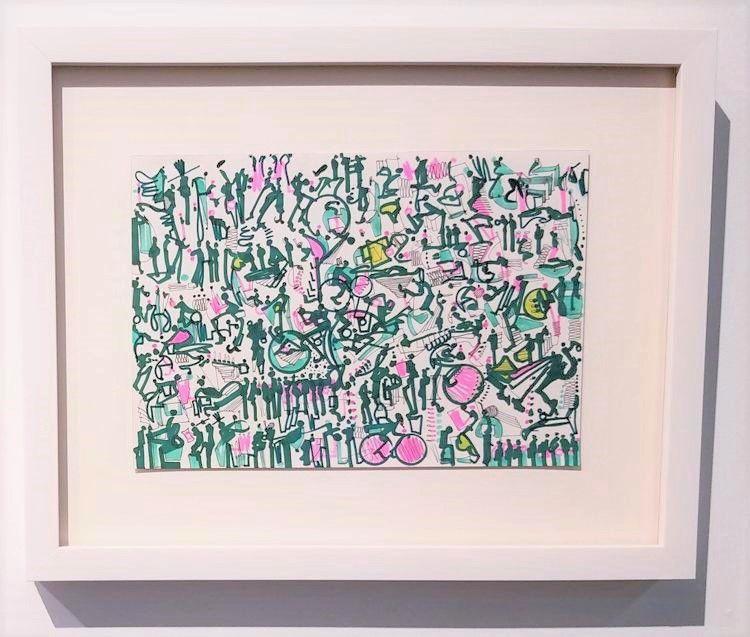 If you think art should stand on its own without the benefit of an artist's statement or didactic text, you might have your opinion challenged by Lauren Zoll's artwork. It definitely helps when looking at Zoll's "Black Bean Paintings" to know that she was inspired by common household tasks—such as making supper for her family—in order to create the inks from black beans that she used to create paintings. She helpfully reveals such information to you in various wall text.
Wavelength: Current Works by Lauren Zoll is on view at Edington Gallery through the end of March. But that's not the only artwork you'll find at this venue located just northwest of Downtown Indy. That is because Christopher West Presents, which shares with Edington this storefront space at 1495 N. Harding—they split the space in half in fact—also has a group show titled Paper running concurrently through the end of the month.  
"Artists have always looked to nature for composition, color, and form," Zoll writes in her artist's statement. "I am looking at nature's technology, photosynthesis."
In "Black Beans for Navy Pier" you see literally the marks where beans rested on the canvas during the composition process, drying and curdling, leaving their marks. Said marks look, well, like beans on a canvas; groupings of beans on a canvas that seem to possess a trompe-l'œil 3-dimensionality. But in fact, a number of these paintings contain bean residue stuck to the surfaces. So there is relief. And thus these paintings could be described as protruding into 3-dimensional space.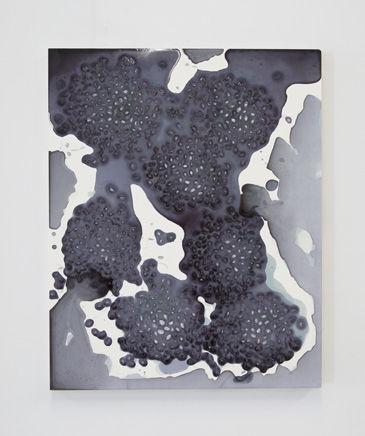 For those not familiar with Zoll's work, this is an outgrowth of work she presented at Gallery 924 in 2018 as an Arts Council Creative Renewal Fellow. In this work, she used bean ink to generate experimental dye that mimics photosynthesis. Zoll, in fact, hooked up voltage meters to this work that mimicked solar cells so she (and you) could tell how successful they are in terms of creating energy. (She hasn't reached the point where a series of her paintings could, say, power your kitchen appliances, but give her time.)
Zoll's "Black Reflectance Paintings," on the other hand, mimic mirrors, not solar energy generation cells. In the painting "Wavelength" you see black house paint thickly applied to a canvas. She uses said painting to act as a "Claude Glass" the same way you might reflect light with an piece of obsidian. (In the 18th Century, Zoll notes, painters used said obsidian mirrors to simplify forms, colors, and tones.) And she has photographic prints where she used the painting "Wavelength" to reflect various scenes such as "Reflected Wavelength (Forest.)"
The intent of all this?
"This series originally came to being from my interest in closing our eyes and still seeing," she writes. "Neurological signals abound, the eyes see from a blank black space."
Elsewhere you might catch—rather than approximations of the fireworks that you see behind your eyelids when you close them—a sense of humor.  In "A Floating Stone Gathers Moss" you see a floating stone with moss on a black surface. Elsewhere you may be tempted to think of Zoll as a closet Abstract Expressionist. That is, she's painter who very much likes drips and coagulation, so much so that in the painting "The Forest Recedes After Judy" you see the paint hanging in a congealed sheet off the canvas.
Fair warning: if you approach Zoll's work in a glancing, offhand way, you might not get much out of these paintings. As for myself, I suppose that I've allowed Zoll to take me on a journey with her art, which has helped me expand my conceptual art horizons just a little. Zoll is an artist who is very much obsessed by her mediums and her processes.  And if you give her work just a little bit of time to grow on you—like moss on a floating stone—it might just reveal its rewards to you as well.
Paper: 1957 to Yesterday
In this group exhibition of works on paper curated by Christopher West, you see a number of works by artists you'll be familiar with if you're a devotee of Indy's First Friday scene.
"Antique Lace Circle  2" by Anila Quayyum Agha, the winner of both the public and jury prize at ArtPrize in 2014 for her work "Intersections," has Antique Lace Circle 2. In said work, you see a threaded circle on white paper beneath a strip of metal cut with designs that suggest arabesques—the types of decorative flourishes and sacred geometries that you might see on many a mosque.
Agha, who grew up in Pakistan, was not allowed to visit mosques in that country because she was female. Much of her work seems to attempt to tap into the contemplative spirit that walking into a mosque or other sacred space allows you.
Moments of contemplative silence seem few and far between in the works of Stuart Snoddy, if they exist at all.
Three oil-on-paper paintings by the Indy-based painter are a definite standout; "#LA Fire" depicts a barefooted woman sitting on the grass in the foreground, holding her knees. In the background is a forest on fire, but it's unclear in the painting whether the forest fire is in the distance or is engulfing her. This uncertainty seems intentional on the artist's part, and there even seems to be some uncertainty about which way the subject's head is facing as well. (Or maybe she is looking forward and looking back like the Roman God Janus.) When I first looked at the painting, I couldn't help wondering if the shadows on the girl's neck were in fact the shadows of flames. But then I wondered if I was looking at a painterly equivalent of a photographic double image. The more I looked, the more I saw—or imagined. See for yourself: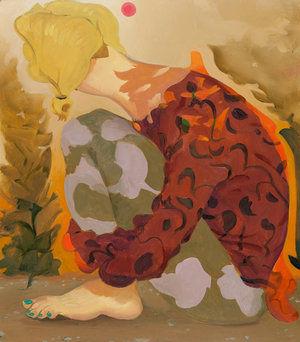 The colors in "#LA Fire" are more or less naturalistic, but the same cannot be said for Snoddy's other two paintings here.
"Ridiculous Wave" depicts a swimmer close-up swimming through a wave made up of very oddly shaped, glassy white wavelets, while "Brothers" depicts two girls rather than boys (apparently), one in a boat that's on fire, about to capsize. The other one's already in the water. The colors in "Brothers" are as disconcerting as the subject matter. In "Brothers, you might describe the colors as Fauvist or Expressionist; the girls are green, and the sea is red.  
There's a lot to think about in the paintings that Snoddy has here, and in the compelling visual language of his work in general. If he were a poet, he'd probably be more akin to a prickly Ezra Pound or a weighty Robert Lowell than a congenial Billy Collins, but I infinitely prefer the works of the former two to the latter.
(One of the three paintings at Christopher West Presents—"#LA Fire"  wound up, deservedly, in the periodical New American Paintings #137, published this February.)
There's also not much room for contemplative silence in the single work by Beech Grove-born James Yakimicki on display here. In "Untitled", from his Daily Drawing Since Trump Inauguration series, you see silhouette-like depictions of figures going about their business, mingling at parties, bicycling, paying pianos, bicycling but this time on penny-farthings. Perhaps all this frenetic activity is just to keep busy. Perhaps it suggests that life must go on even during as destructive a presidency as Trump's.
Or maybe all this over-exertion is a deeply neurotic—and deeply destructive—coping mechanism designed to avoid overthinking our imminent doom.
Take your pick.
[Editor's Note: We'd love to read your reaction to this review, even if it's to pick an argument. We'd love it even more if you'd post your reaction in the comments section of this article rather than on Twitter or Facebook.]