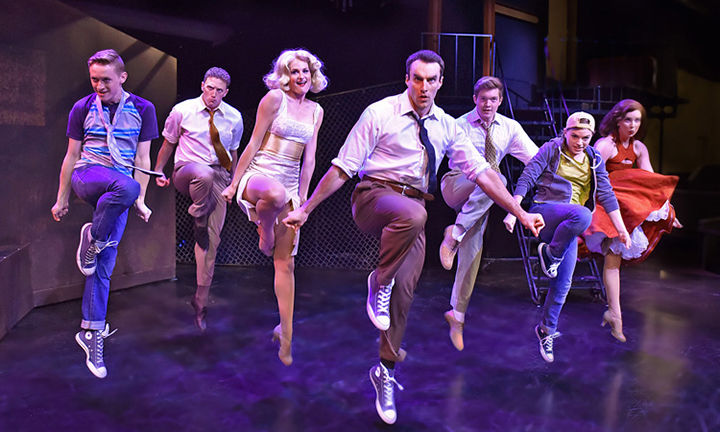 The meticulously nuanced West Side Story at Beef & Boards, directed by Eddie Curry, viscerally grips the audience. Within minutes of the opening, ominous chords are followed by Jets swarming the stage like tigers defending their turf. Emotions accelerate on both sides of the lights. Belligerence and bravado smolder and erupt with each succeeding appearance, made all the more prescient in light of current events. 
"You hate us and we hate you back," pronounces Bernardo, leader of the Sharks.
 The West Side Story storyline explicitly references the tale of star-crossed lovers Pyramus and Thisbe in Ovid's Metamorphosis. From this tale Shakespeare drew Romeo and Juliet.  
The production is thus imbued with the timeless quality of humanity at its worst with a yearning quest for us to attain our best.
"Why do we have to hate each other? Why can't we just be nice and get along?" lamented my 14-year-old granddaughter, mirroring the innocence of Maria on stage, and like almost everyone else around us, was weeping at the end of act one, and like almost everyone else was sobbing openly at the fadeout close of act two.
Technically, this might be Beef & Boards' finest production. Maybe it's the immediacy of the small stage or maybe it's the cast of very young talent feeling the world closing in on them (12 of the 19 people on stage are debuting at B&B). Terry Woods' musical direction lifts Broadway musical to operatic status with a melding of voices into harmonic resonance reverberating within the movement captured by choreographer Ron Morgan as a natural outgrowth of the musicality within us. We move as we feel and want others to feel toward us. Each character on stage knows this; we are implicated with each by our own preference. Clueless adults are our bane; innocence dooms the peacemaker; not checking veracity of what we are told impales us.
When the dream team of writer Arthur Laurents, composer Leonard Bernstein, lyricist Stephen Sondheim, and director/choreographer Jerome Robbins burst open Broadway 60 years ago, they paved the way for Hamilton. The biting humor of "Gee, Officer Krupke" just might be the best sociological study of our escalating inability to be a virtuous rather than a destructive society. Glenn DeVar as Tony and Courtney Chatham as Maria are standouts; the same can be said for everyone else, with John Cardenas as Chino as a prime example of everyone on stage being in every moment of each situation building to armageddon.