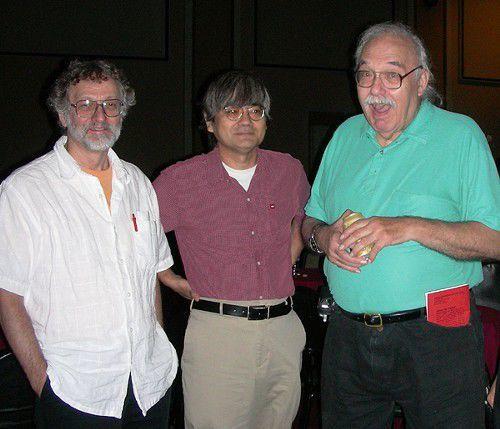 I'm sad to report that Richard Pflum, a longtime fixture in the Indianapolis poetry community, died on Thursday.
Pflum was born in 1932, in Indianapolis. He graduated Purdue University in 1956 with a B.S. in chemistry.  
There was—come to think of it—a certain chemistry that bound unlikely elements together in his poetry. There was also, his almost-scientific dissection of subject matter ranging from the mundane to the bizarre. But, perhaps most importantly, he was both accessible and funny.   
(Having been out to dinner with him once or twice, and having sat in on some of his poetry salons, I can also report that he was just as funny in person, albeit in a very dry sort of way.)
Pflum was a frequent contributor to a diverse array of publications including Conceit Magazine, Event, Sparrow, and Tipton Poetry Review. He was anthologized in A New Geography of Poets (University of Arkansas Press,1993) edited by Edward Field, Gerald Locklin, and Charles Stetler. He had also published a number of books including the chapbook The Haunted Refrigerator and Other Poems (Pudding House Publications, 2007) and the book A Strange Juxtaposition of Parts (The Writers Center Press, 1995.)
Perhaps his most enduring legacy will be among those who knew him as a mentor and friend.
"Richard Pflum was a founder and life-member of the Indiana Writers Center, who contributed a great deal to the organization over the years," says Barbara Shoup, who is executive director of the organization. "Recently, he moderated the poetry Poetry Salon, a free critique group for poets, and was the organizer and emcee for 'Evening with the Muse,' a popular monthly program that featured a local poet and an open mic. He was passionate about poetry, he built his whole life around it. A curious and well-read man, his knowledge of a wide variety of things, such as classical music and astronomy, often made its way into his poems. His voice was unique, always surprising. His wry take on the world often made me laugh. I'll miss him."
Pflum made frequent appearances in pLopLop, a literary zine published by Indianapolis resident John Clark, who published Pflum alongside the likes of Kurt Vonnegut, Charles Bukowski, and Lawrence Ferlinghetti.   
"I learned plenty about reading, writing and performing poetry from Dick Pflum and admired him as a writer who shared an interest in the creation of experimental  humorous writing with Surrealist tendencies," says Clark. "Pflum enlightened me with tales of what is was like to be a writer and publisher during the legendary Mimeograph Revolution of the 1960s, influencing my own micropress adventures."
JL Kato, who runs Brick Street Poetry South and was a longtime Pflum friend is organizing a remembrance.
"I'm inviting Richard's friends and attendees of past Poetry Salons to gather at the Indiana Writers Center to remember Dick this Tuesday, March 20, at 7 p.m.," he announced on Facebook. "I think it appropriate that Dick be remembered during a Salon night. There will probably be a larger, more formal gathering at a time when more people can attend. I am in contact with Richard's brother David, and will let you know when something is arranged. But for now, I'd like Salon members to bring memories and poems about Dick, for Dick, or one that he has written. I will have copies of his books and chapbooks."
His visitation has been scheduled for Thursday, March 22, from 5-8 p.m. at Shirley Brothers Washington Memorial Chapel, located at 9606 E. Washington St.  Pflum's poet friends will be invited to read their work during the visitation.