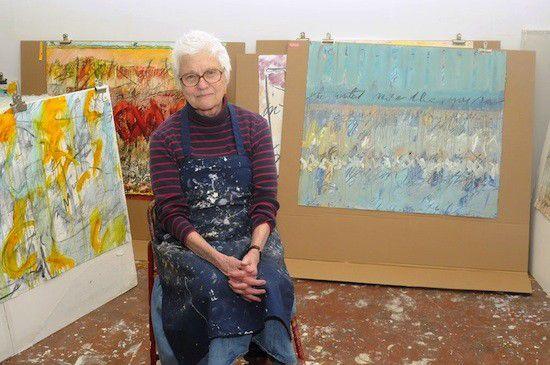 On Nov. 7 came word that painter Lois Main Templeton, who played a substantial role in the development of the Indianapolis art scene, has died.
Templeton, born in Wisconsin in 1928, was the subject of a retrospective exhibition of her work A Reinvented Life at the Indiana State Museum this past spring.   
She was also the recipient of the NUVO Cultural Vision Lifetime Achievement Award in 2011.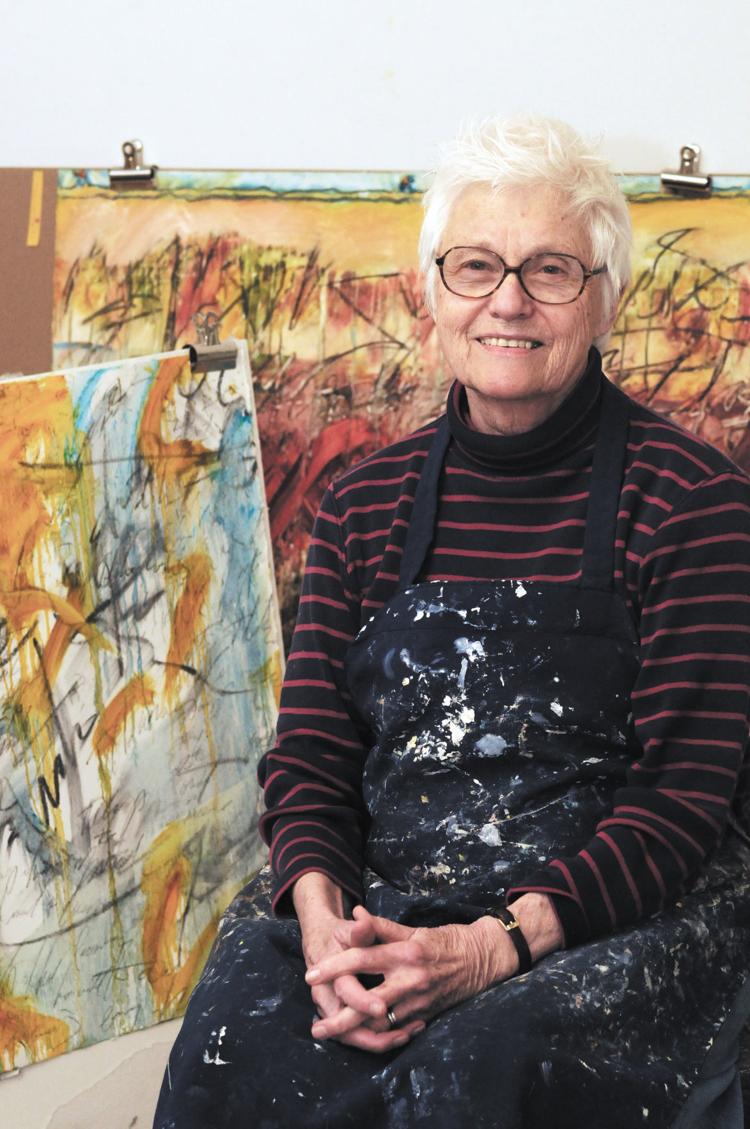 Her friend and collaborator Phil O'Malley explains the title of the exhibition, "She's reinvented herself more than once," he said. "After she had raised her children, she decided she wanted to do something meaningful again with the next phase of life. She said that she was too clumsy to dance, too old to learn an instrument. She couldn't sing a note, so what's left? Painting and writing."
She attended Herron School of Art and Design, at IUPUI, at the age of 51. According to Mark Ruschman, senior curator of art and history at the Indiana State Museum, she didn't waste any time starting her career as an artist.
"Lois was a year ahead of me at Herron," said Herron School of Art and Design professor Anita Giddings. "She and Mary Wicker were our inspiration, tackling painting with force. Lois sublet her studio to me the summer after graduating. This photo is from that time. She would lay out her huge canvases on the floor, drawing and painting on her knees. She was a leader of our art community, offering sage advice and helping many young artists start their careers."
Templeton was the first one to rent studio space in the Faris Building.  
Other artists soon joined her. And the Faris Building, now part of the Rolls Royce campus on the Near Southside, became a center for artmaking in the Circle City and remained so until the late '90s. (Templeton stayed in her studio at the Faris Building until 1999.)
The paintings that she created on her large canvases in that space were in an abstract expressionist vein at first.
"As she moved into the early '90s, she started incorporating her writing into her canvases," says Ruschman. "And she's always been a writer. She kept personal journals, she wrote poetry...At one point she said, 'I didn't know if I was a painter or a writer. And it turns out I was both.' So she just started incorporating her writing into her compositions."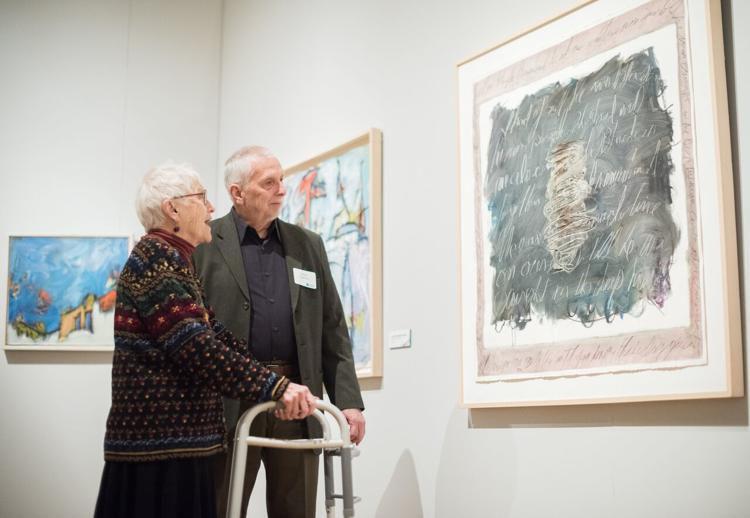 But Templeton's work wasn't bound by the edges of her canvases, as it were.
"She also taught college students," says Ruschman. "She went to Herron to teach students at night for several years right after she got the studio. She taught people with special needs…And she went out and took her art on the road, went into the prisons and taught art to inmates. She has got this extremely wide reach."
Her children's book Who Makes the Sun Rise?—created with the help of Indy-based artist Phil O'Malley—serves as an example of not only her art but of her work in the community. O'Malley and Templeton went out into Indianapolis' public and private schools with the book and used it to teach children how to read.
"I met Lois on a spring First Friday evening in 2007," says O'Malley. I walked into her studio, we started talking about painting, and two hours later we were still talking about painting. Lois was 80, planning to retire, and I was taking possession of her studio. We shared the studio space during the transition. After a month as temporary studio partners she decided not to retire."

But she still had another decade of painting still inside of her.
"We became studio partners, business partners, and family. We were in constant collaboration," O'Malley continues.
Since that time Templeton completed more than 300 paintings.

"She and I severed on the board at ArtMix where she was also a teaching artist," says O'Malley. "She supported ArtMix for more than 30 years. A donation to ArtMix would honor her memory greatly." 
An exhibit of her art will open today at The District Theatre Nov. 10 to honor her passing.