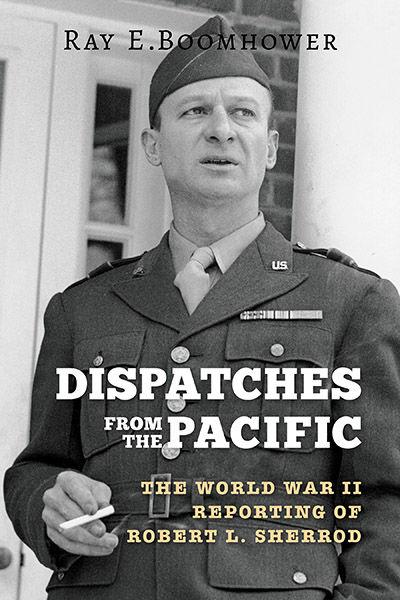 Dispatches from the Pacific: The World War II Reporting of Robert L. Sherrod recounts what American Marines, determined to avenge Iwo Jima and defeat the Japanese, endured. Sherrod's stories were aimed at deepening understanding about mounting casualties in hand-to-hand combat under grueling conditions for civilians at home. 
Biographer Ray Boomhower, Senior Editor at Indiana Historical Society Press, analyzes Sherrod's dispatches from the fighting zone and comments on how civilian attitudes and actions in the U.S. were undermining the morale of the military forces as they struggled to gain a foothold on atolls along the way toward the final attacks on mainland Japan. 
Sherrod's writing style recalls the straightforward on-the-spot reporting of Homer, whose stories in the Iliad and Odyssey still resonate with us today. While Hoosiers are more likely to connect with Ernie Pyle's WWII columns of the ordinary GI on the battlefields and in the trenches, Sherrod diligently followed the Marines in their unwavering determination and bravery despite staggering losses. 
Rodgers and Hammerstein grasped the essence in their Broadway-hit-turned-Hollywood musical, South Pacific. Both the musical and Sherrod's stories remind us that going to war might be a way to affirm one's allegiance to one's country, but the underlying effects  have lasting implications on individuals, families, and communities beyond the moment of combat.
 All of the human toll witnessed by Sherrod needs to be revisited by Americans. The politics of divisiveness and of war is fresh upon us with belligerence toward people of color and North Korea. The problems that Sherrod continued to cover after WWII, such as the inequality faced by Black veterans returning from war, are still with us.
A quote from the book, published in 2017 by IU Press, summarizes the actions of the Marines in the Pacific during the war: "They told us to hold and by God, we held." But no such declaration has come out of succeeding conflagrations in the 1950s and 1960s on the domestic front. But then, this situation was telegraphed by the treatment of Blacks during what Studs Terkel and others called "The Good War."  
Every person of color in the military during WWII had to double up personal efforts to gain respect from fellow white service people. Sherrod repeatedly pointed out the united efforts to win a war for a country that denied justice and equality for all — including what drafted serviceman Jackie Robinson had to say.
Sherrod was prescient in his observations of the December 19, 1946, Viet Minh attack on Hanoi. Boomhower quotes Sherrod in January 1967, looking back. "At that time I had written an article speculating on the possibility that one day American blood might be spilled in Indochina," wrote Sherrod. Boomhower then adds Sherrod's dismay regarding Vietnam. "How could such a monstrous situation come to pass?" Perhaps watching the forthcoming Ken Burns documentary on PBS will provide a glimmer of an answer.
Along with unfolding the story surrounding Sherrod's dispatches to Time editors from his starting point in Australia to the final battle on Okinawa, Boomhower details the books Sherrod wrote regarding the war in the Pacific. As we move toward the 75th anniversary of VJ Day, it is wise to read Dispatches from the Pacific, and particularly look for reprints of Tarawa: The Story of a Battle and On to Westward, both still considered among the finest reporting of U.S. Marine Corps actions during WWII. Also worthy of a mention is Life's Picture History of World War II with Sherrod's sterling captions for each photograph.
Born February 8, 1909, in Thomas County, Georgia, Sherrod died February 13, 1994, in Washington, D.C. Throughout his career as an investigative reporter, Sherrod sought to surround every firsthand observation with the observations of others who would have been standing in different sightlines.
By the end, like Homer's Odysseus, Sherrod sought to understand the meanings of loyalty and fate, restoration to order, and perhaps most importantly of all respect — not for the Greek pantheon of Gods — but for the humanity of each person in a very changed United States of America.
Just as Odysseus thought he never would get home, Sherrod wrote, upon hearing the news of Japanese surrender, "We thought the Japanese never would surrender. Many refused to believe it. Sitting in stunned silence, we remembered our dead. So many dead. So many maimed."