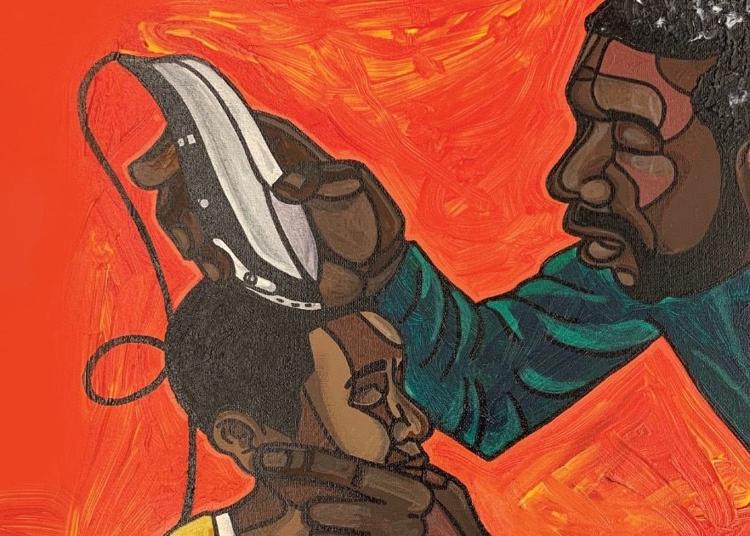 The 2019 Meet the Artists opening Gala brought a capacity crowd to the atrium of the Central Library on Feb. 9 for an evening that included gospel music and spoken word performance, and dance. Serious issues of racial justice and equity were also raised, if in divergent ways.
The work of the Meet the Artists visual artists, as well as the work of the WE ARE Indy Arts Group, are on display at Central Library through March.
The featured speaker was U.S. District Court Judge Tanya Walton Pratt, who talked about her remarkable career, and how her likeness wound up on one of the window posters that grace the Center for Black Literature and Culture along with the likenesses of Tamika Catchings.   
The Center for Black Literature & Culture opened in Oct.  2017 in Central Library features works by writers of African heritage and hosts many events celebrating Black culture.
"I'm still in awe when I go into that room and see myself up on that wall," said Pratt. " And what I've been asked to do is explain how I made the cut to be considered wall worthy  home town girl. I grew up in Center Township went to Indianapolis Public Schools." From there she received her B.A. from Spelman College and her J.D. from Howard School of Law, two historically Black colleges.  
Pratt talked about how Barack Obama had nominated her for the position in 2010; she praised the former president for his role in making the federal bench more diverse, noting that she was approved by a Senate vote of 95-0, a vote that could not possibly occur in Washington D.C. in the current political moment, and she praised the way Republican senator Dick Lugar and Democratic senator Evan Bayh came together to recommend her to that position.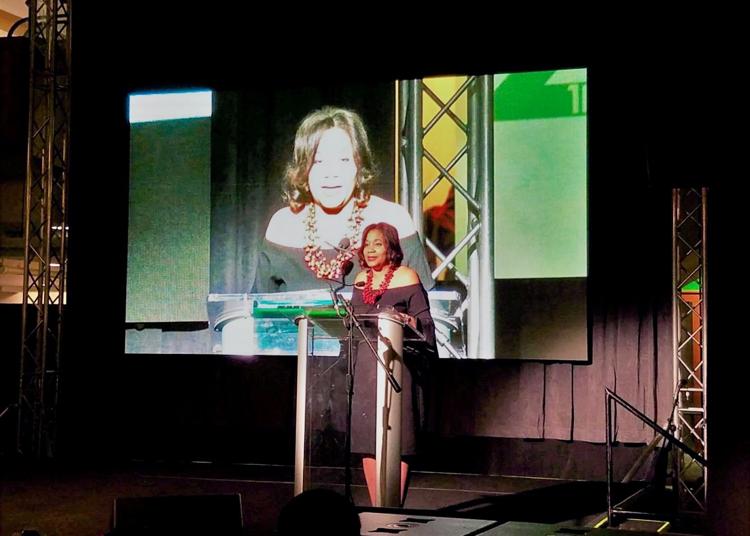 Pratt also took a moment to recognize Tony Radford, the retiring founder and curator of Meet the Artists, which has been in existence for 31 years.  
Radford, as one of the WE ARE Indy Arts group, had several mixed media works on display in the library.  His "Blackface II" seemed particularly timely considering the current calls for Virginia governor Ralph Northam to resign, after picture of a man in blackface, beside another wearing a KKK robe and hood, came to light. These photos were on Northam's medical school yearbook page.  
The mixed media work, titled "Blackface II (Welcome to AmeriKKKA)" features the backside of a black hand mirror made out to look like a blackface caricature: if you look into the clear plastic circles in this work representing eyes, you see the photo of a man being lynched in one, and an actual bullet casing in the other.
The mirror is set on a background depicting photographs of slaves in chains, lynching victims, including Emmett Till and (the much more recent) Trayvon Martin. San Francisco 49ers'  quarterback Colin Kaepernick, whose football career was ended because of his protests—taking a knee—during the national anthem, was also depicted in the collage.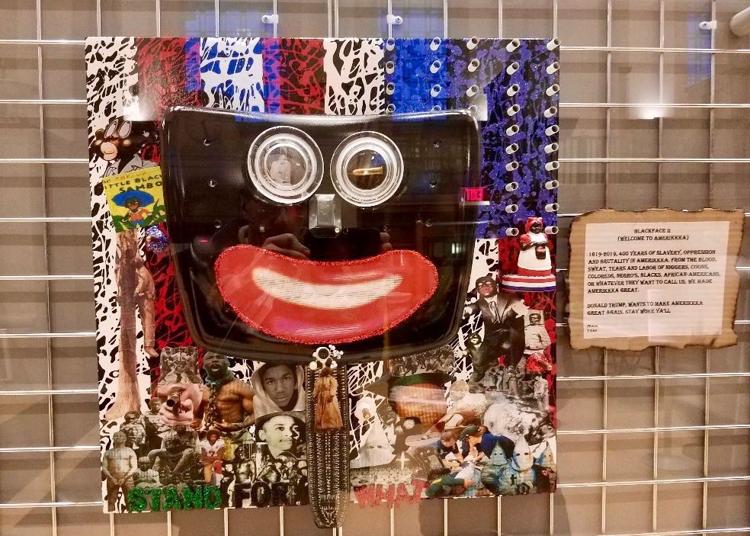 Radford's work challenges the notion, ubiquitous, not just among Fox News talking heads, that racial discrimination is a thing of the past in America.
The explanatory text to his work reads: 1619-2019, 400 years of slavery, oppression and brutality in AmeriKKKa, from the blood, sweat, tears, and labor of N_____, C____, Coloreds, Blacks, African Americans, or whatever they want to call us, we made AmeriKKKa great…  Donald Trump wants to make AmeriKKKa great again. Stay Woke, ya'll.
Community journalism can only survive with community support. If local, independent journalism matters to you, please consider supporting NUVO with a paid membership. In 2019, 100 percent of membership dollars go towards our editorial budget/paying writers.  nuvo.net/membership.