Huddled in the back room of a restaurant bar in Muncie, a group of drag queens wearing full makeup were waiting for their performance to start.
Although the term "queen" is sometimes seen as a negative term for catty or over the top, it was used candidly to show respect, kinship and identity. One queen crouched in a corner while tugging on her third pair of tights, which is the perfect amount of fabric to hide the padding on her hips.
Another queen unflinchingly wrapped pink duct tape around her bare hairline to help her wig fit snugly on her head. She looked up at the newcomers and in a frank tone said, "This is the worst part."
It was a typical Wednesday night. Although the people behind the cutting eyeshadow and false lashes had work or class in the morning, they chose to stay out late into the evening to practice their art.
One queen wearing a denim jacket and sweatpants chatted away while biting carefully into fried chicken in an attempt not to smear her lipstick before showtime. She had put hours into perfecting the look from her eyes to nose to mouth. Although she is someone completely different outside of drag — the drag community uses female pronouns for queens in costume as a sign of respect for the illusion they're creating — on stage, she is Ryne Stone, a queen with an authoritative atmosphere about her.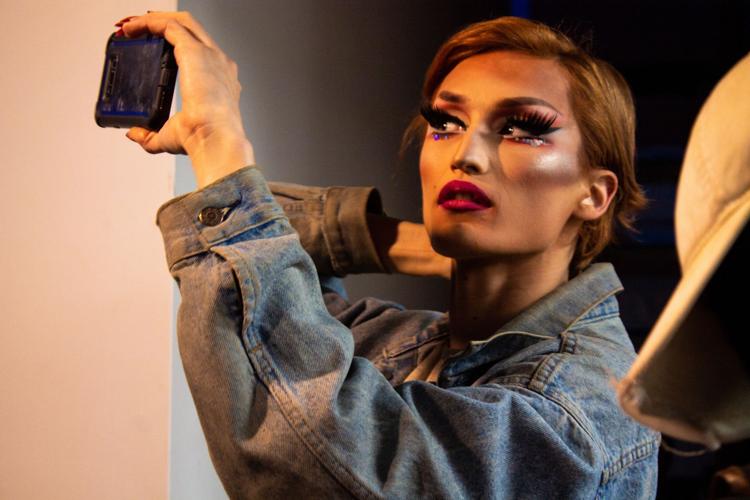 In their daily life, this queen is just Ryne Bullington, a non-binary Ball State Univesity student and performer.
They use pronouns like "they," "their," and "them" to indicate a separation from both masculinity and femininity. Drag has been part of Ryne's life for the past three and a half years.
"Any place you can get a crowd together for a show is an opportunity to do a show," Bullington said.
Although Bullington lives in Muncie, they travel all over central Indiana for performances with their group: Haus of Stoner. Bullington and the rest of the collective see potential in areas that don't often have drag shows. One of the venues they often visit is Black Circle Brewing Company in Indianapolis. It's a brewery and bar with a heavy metal vibe whose patrons Bullington described as a unique audience for a drag show.
Bullington said, "It's a predominantly straight audience, older, not a drag audience that you'd traditionally think of, and they are one of the best audiences I've ever been around and most supportive."
Another member of Haus of Stoner, Laken Garvin-Hall — known on stage as Ava — chimed in. They laughed at themselves then said, "I went there once and thought that I was going to get beat up."
The instinctual fear isn't too far-fetched for drag queens like Garvin-Hall. They are a black, non-binary drag queen with a beard in a part of the country that has a reputation for being anti-LGBTQ+. Notably, not all "straight audiences," as Bullington called them, are overwhelmingly positive. At its worst, Bullington felt like a spectacle instead of a performer.
"Have you ever been to a circus? It's kind of like that, they don't realize we're just people or that they can behave normally around us," Bullington said.
Historically, a feeling of "otherness" is what brought drag queens in the community closer together, and originally formed groups like the one Bullington is now a part of. But when Haus of Stoner comes to places like Black Circle Brewing Co., the positive response from the audience gives queens hope that one day their art form will be normalized.
"They get to know us and so they get the vibe. It's more about being in that atmosphere than it is being gay," Bullington said.
A similar feeling of mutual understanding is what originally brought the members of Haus of Stoner together. Garvin-Hall, for example, started doing drag about five years ago. They met Bullington at a drag show on the Indiana University Purdue University of Indianapolis (IUPUI) campus. They saw Bullington and the rest of the collective at a few more events and found a mutual understanding and bond. They decided to join the group because of that connection.
"I liked the family, and it was just a lot easier to work with them," Garvin-Hall said.
Bullington founded Haus of Stoner. These 10 queens perform together, schedule events and give support on each other's social media networks. Moreover, the queens give feedback, inspiration and resources to one another. If a wig needs fixed, one of the queens takes it home and restyles it. If one of the queens wants to go out for a smoke before the show, two leave with them for the strength in numbers.
"Baby queens are crafty, but you really have to be around other people before you see the whole form," Bullington said.
A Historic Perspective
Drag queen collectives like Haus of Stoner have been around for decades across the country. In the 1990 documentary Paris is Burning, New York City drag queens talk about their houses dating back to the 1960s. The film shows a much deeper version of the community drag queens experience today.
A few decades ago, queens created a chosen family because they were oftentimes cast out from their own communities.It didn't start and end with guidance on drag. The connection extended to friendship, and communal protection.
Dressing in as another gender has been around for much longer, but it was in scenes like New York and San Francisco that the pageantry style drag that is most popular today grew into an underground craze.
Even though Indiana is not a typical drag scene like New York or San Francisco, it has been a home to queens for decades. Most of the queens in that back room in Muncie had only been performing for a few years; six or seven at the most. However, down the road, the oldest gay bar in the state, The Mark iii Taproom, first opened in 1968.
In Indianapolis, almost 70 miles away, The Bag Ladies have been strapping on heels since the 1980s to raise money for AIDS research. This group of queens performs for charity throughout the year. Although the organization started during the HIV/AIDS epidemic, it's modern day efforts raise money for a wide range of nonprofit organizations that are involved in the LGBTQ+ community.
The gap between old and new queens is bridged by performers like Jeremy Turner, known better in the drag community as Cassidy Fellows-Sommers. Turner has been performing for the past 15 years and was crowned Miss Gay Indiana in 2010. During that time, he has begun to notice a shift in perceptions both inside and out of the community.
As Turner sees it, there is an inequality statewide when it comes to the fear LGBTQ+ people have. Turner is an active member of the Indianapolis Bag Ladies and is involved in the philanthropic side Indy pride. He sees within the Indy community huge acceptance on a nearly universal level. One of his examples was Mayor Joe Hogsett attending Indy Pride this past year.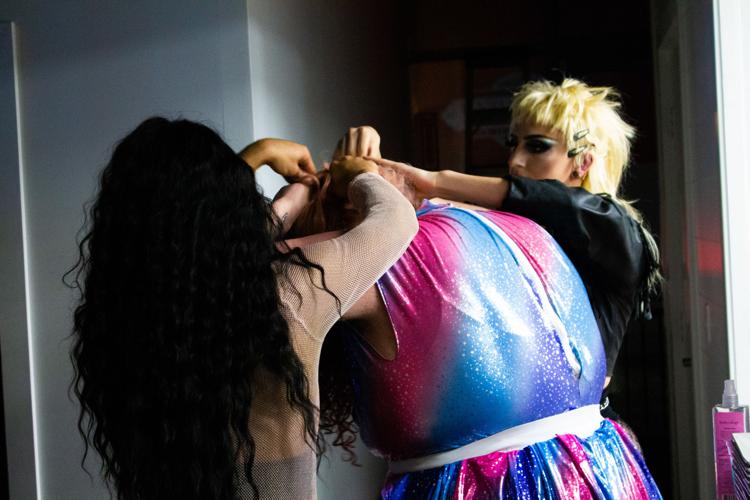 "You see him coming to the parade and having a conversation with us, remembering us, and that says something," Turner said.
For other parts of the state, that acceptance isn't so prevalent yet. Earlier this year, in Turner's hometown of Evansville, protesters stood outside of its public library for an event where drag queens read to children. The event hit capacity for every session, yet there were protesters outside pleading for the event to stop. Turner said that the biggest takeaway for him was that there's no way to legislate how free someone feels to live their lives.
"Imagine walking out your house in full drag for the first time. I'm lucky, my neighbors think it's funny, but for a lot of people it can be scary. You don't know how they'll react," Turner said.
That uneasy feeling is something that Turner has just recently overcome for himself.
"Oh I used to hate to go buy pantyhose, I used to hate to buy nails," Turner said. "It's not even in drag and being in public. It's about doing something that goes against what a man would typically do."
It was only a few years ago that Turner still felt that embarrassment and fear at doing something that broke the normal. On one particular occasion, he remembered riding in an elevator at Bankers Life Fieldhouse in full drag with a fellow queen and friend of his, Patricia Yolanda Weave. They were getting out at the street level to go for a drink, and they had forgotten that it was the same night as a Garth Brooks concert.
"The two of us, if you can imagine, stepped out into this sea of country music fans, and we only realized as soon as the elevator doors closed behind us," Turner said. "Looking back, I think it's hilarious that there was a time that I would be mortified. I'd be terrified."
Still, Turner confided that he felt like he was coming from a place of privilege as a gay white man.
"I'm critical of white gay men because I'm one of them," he said. "We still have privilege that women, black people and trans people do not have."
Bullington, who is around the same age that Turner was when he started, said sometimes people see the drag community as this oasis of liberal opinion, but there are still arguments and transphobia and accusations of racism.
"I feel like a lot of problems that are coming up in the world right now are coming up in the drag community too," Bullington said.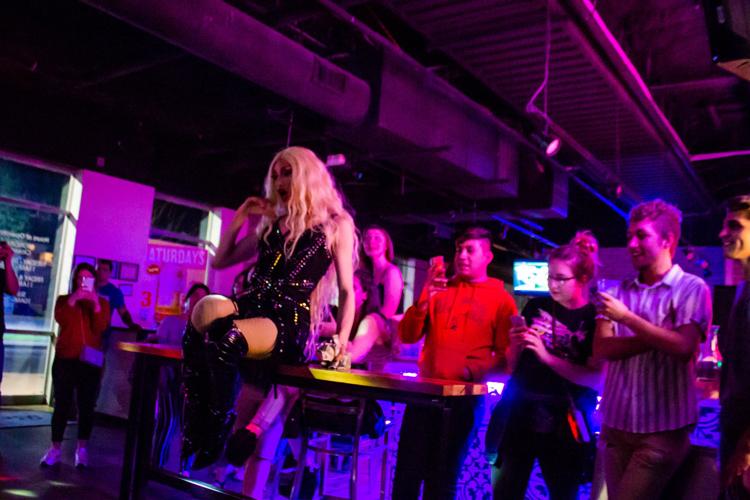 A New Conversation
The queens said one of the largest discussions between older and younger people in the drag community is that of appropriation. Is it taking away from trans culture and womanhood to wear another gender identity as a costume? Is it limiting an art form to tell someone they cannot dance to a traditionally African American song?
"You kind of feel like you have your feet on both sides of the fence," Turner said. "If I were to ask an older trans person, 'Is this appropriation?' they would say, 'Oh, my goodness, no! People are so touchy these days,' but take that to a younger audience and the discussion is very different."
As far as Turner is concerned, no one has the perfect answer to the question on identity. Queens from across the state would agree that being in drag doesn't give you a holistic understanding of gender issues.
Fort Wayne Queen Kandy Warhol — whose legal name is Justin Brown — found his community through drag when he first moved to Indiana from Texas. Brown works at a wig shop and said even his boss calls him Kandy. He said he has thought about what it means to enjoy presenting as female on stage, but he still identifies as a man and there are still gender identities he can't completely wrap his head around.
"Maybe it's because I don't know anyone personally that identifies that way, but I don't fully understand when people say they are non-binary or gender neutral," Brown said. "If I could wake up tomorrow and be the perfect woman I would be the perfect woman but it's not that simple."
For Brown, there is a separation of the character on stage and the person he is when the makeup comes off.
"When I started, I never thought I would be more comfortable as Kandy than I am as Justin, and that's still true," Brown said.
Turner hears these new conversations on gender and looks back on his 15 years of drag. He said, "None of this was part of the conversation when I was 21, I tell ya."
When Turner started performing 15 years ago, he said there were clearly defined expectations from older queens.
He said, "when I started there was an acceptance that there were gatekeepers on what drag could be."
He mentioned the tradition in Indianapolis as opposed to new drag collectives that are coming into existence.
"Avant-garde is having a hard time finding a place alongside traditional beauty," Turner said.
One example Turner gave was Low Pone, which is a show that happens once a month in Fountain Square's Pioneer Theatre. It's organized by the drag collective Haus of Blasphemy. The host dips into horror genres and the venue sits outside of Indianapolis' traditional LGBT community. Turner described it as a more avant-garde space for drag performances.
"In a lot of ways, I think that's great. I remember being a young queen and feeling limited to what I could do, but then there are times that I am grateful to those expectations," Turner said.
Bullington sees artists stretching their performance as a delicate balance.
"You see a lot of queens trying to stretch the art form, but you still don't want to do something innately wrong," Bullington said. "It comes through even in this community, I think people think that because it's going to be different because it's this community but that old Indiana mindset still creeps in sometimes."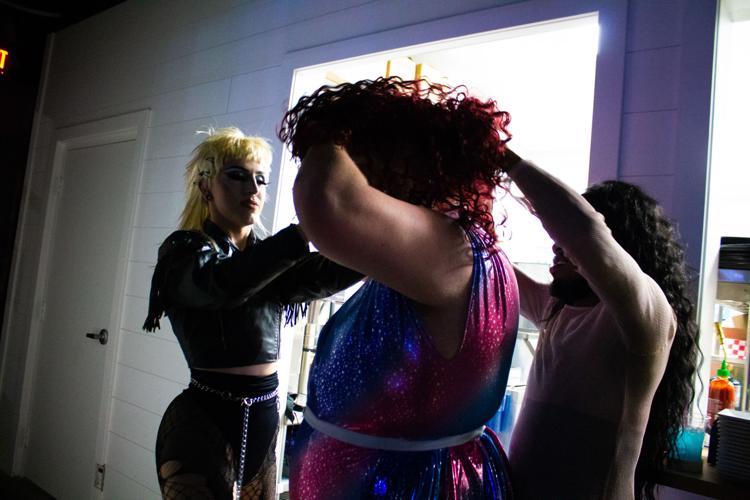 In Fort Wayne, Justin Brown has seen the same parallels, even back home in Texas.
"There's hate everywhere," he said. "It's the same with Texas, I would feel comfortable walking down the street holding hands with my boyfriend but I saw a story the other day where a gay couple was beaten up for doing that."
Still, all of these queens remember what pulled them into the performance in the first place.
Brown chose Kandy Warhol as an homage to Lady Gaga's short films under the same name. He said that drag was what first connected him to a community when he moved to Indiana. He performed at an open stage at the gay bar After Dark and eventually was brought back by the owners for weekend shows. Now he performs a few nights every week.
Brown said, "I love the relationships I've made, and I love my job, so I don't see myself leaving any time soon."
Jeremy Turner's start came from Evansville. He remembers the exact moment. He was watching one of Evansville's most prominent queens perform. Her name was Mama T.
Turner said, "She had such a gravitas about her and I just thought, 'I would love to do this'."
"I'm as far from 21 as I am 50," he said. "I don't think I'll ever retire."
Bullington's start came on Ball State University's campus, but for them it all comes back to the community they've found.
They said, "Honestly we're all drag moms about it. We really help each other."
Turner feels the same of his place in the community.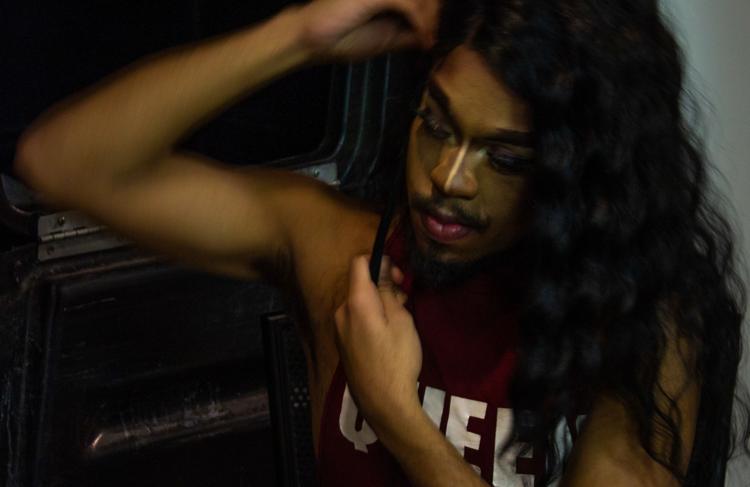 "I do feel like drag has afforded me a platform in a leadership role," he said. "People here have taken to calling me Nana."
Turner has slowed down from performing every weekend, but still takes the time to visit bars and venues around the state that have hosted him over the years. For him, there's nothing like getting a taste of the stage again.
"For me it's about trying to represent the comedic side, and the history," Turner said.
He said it's weird to think that he is seen as an older queen now. When he thinks back to Mama T and the queens that mentored him, he realizes that a lot of them had to fight through harder times to make him feel as comfortable as he does today. When he performs, he said, "I'm representing a legacy. I look back at what people went through in the past and it emboldens me to be brave."
That legacy carries through to performers like Bullington and Haus of Stoner, to Kandy Warhol in Fort Wayne. It inspires queens to continue performing. They do it for the love of the form, the people that came before, and the betterment of the community in the future.