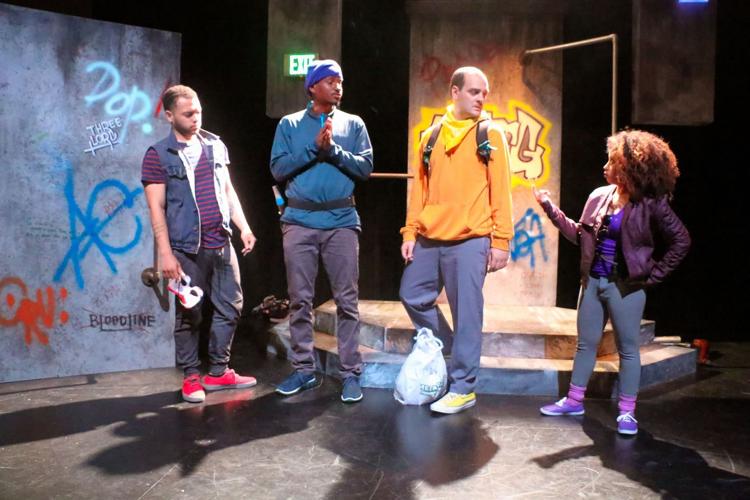 When does fear become aggression? Self-defense becomes an attack? Heroics become vigilantism? When does drawing blood become an addiction?
Prowess explores all of these concepts and more through an intense staging by Storefront Theatre of Indianapolis, which has just announced that it will be moving into a permanent space in the former Crackers Comedy Club in Broad Ripple.
While its situations and subjects seem grim, it isn't emotionally exhausting because it gives the audience breaks to relax, to take a breath, most often at the expense of the sole white character, Andy. You can't help but laugh when he duct-tapes a tank of wasp spray to his back and charges into battle with squirt nozzles. The show has a little Kick-Ass feel to it.
Mark, played by Jamaal McCray, advertises self-defense classes on Craigslist. Zora, played by Paeton Chavis, takes a chance on that ad. She has Mark come to her office after hours and enthusiastically begins training. But Zora's motivations aren't just self-defense. She wants retribution. But Mark won't train her to fight offensively. He is still experiencing personal healing, and the classes are a sort of penance for past transgressions. But when Andy, played by Zachariah Stonerock, stumbles upon Mark and Zora mid-class, he insists on joining the sessions. Once Andy tells them his own story, Mark relents and begins teaching them how to actually fight. Safety in their Chicago neighborhood is elusive, and both Andy and Zora's lives have been crippled in some way. They want their power back.
Near the office, a graffiti artist, Jax, played by Donovan Whitney, memorializes each killing that has occurred in the neighborhood, but he keeps his head down and away from potential trouble. His chosen outlet is his spray can. He thinks he is a realist. "What's your color?" he asks Mark so that he can have the right can on hand when Mark is inevitably murdered. Watch for those colors.
Chavis is a little ball of perpetual motion, a direct contrast to the focused demeanor of McCray. McCray's character is like a guru, trying to guide his relentless students, but you can tell his character is holding something in—something dark he is trying to run away from just as much as Zora and Andy are trying to face their demons. It informs his reluctance to fight. Stonerock plays Andy as a loveable goofball—there is just no better way to describe him. Whitney's character feigns indifference, but Whitney gives him more depth than that in his body and facial language. Each character is a survivor and distinctly reacts to that in his or her own way.
Director Ronan Marra's cast and crew grasp the grit of Chicago and transfer it to the small stage. Much of the play hinges on violence, and fight director Rob Johansen does a remarkable job of making those hits realistic.
Storefront Theatre is still a new company, having only staged one other production. After seeing Prowess, I'm challenging them for an equally impressive follow-up.
  Lisa Gauthier Mitchison covers local theater at IndianapolisTheaterReviews.wordpress.com.