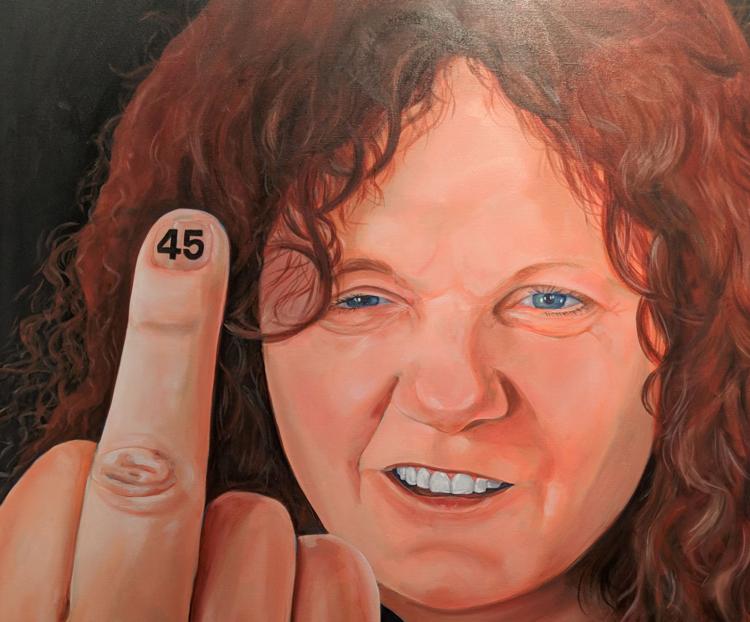 Kime Contemporary gallery director Alec Stewart was so committed to show the works of artist Henry Swanson at the contemporary art gallery on East 10th Street that he drove the artist himself from Dallas, Texas, to Indy for the month-long exhibition.
The pair met each other while studying at Rhode Island School of Design, and they have kept in touch since. "He sees the humor in overthinking and under-thinking, which is similar to the paintings," says Swanson. Swanson has epilepsy, so a road trip with large paintings would have been a challenge without a little help.
The exhibition, Snoopy Tattoo, features nine oil paintings with titles such as "Untitled ('I Sneezed with My Eyes Open Until I Cried')" and "Untitled ('Winnie the Pooh Obviously Has a Clear Idea of What Clothes Are So Why Are We Still Discussing It')."
"Alec and I set up this show the same way I put together a painting," says Swanson. "It was like a Pretty Woman montage with trying different, sometimes bad ideas without being too serious."
Snoopy Tattoo comes from Swanson's apprehension about making permanent decisions. He tells me his paintings start off active and without too much planning, a lot like a Snoopy tattoo. The references are evident with stylistic brushstrokes and compositions derived from classical paintings and flat representations that look clearly sourced from digital images off phone screens or computer monitors.
There are some neon spray-painted words as well as logotype lettering that references corporate branding. But as a whole, the works do not appear to be collaged or to be digitally assembled. They remain painterly and break away from classical beauty into abstract surrealism from canvas area to area; a basketball player's bent knee glows and folds in all the right places, but the hand's barely distinguishable fingers that hold up logs are treated with the same thoughtful purpose.
This thoughtful display of balance and purpose can also be appreciated in Rachel Hayes' Infusing the Scene, currently on display at iMOCA (Indianapolis Museum of Contemporary Art) at CityWay. The mood of the quilted floor-to-ceiling installation is surprisingly soft and meditative as a result of the effects of the indoor lighting.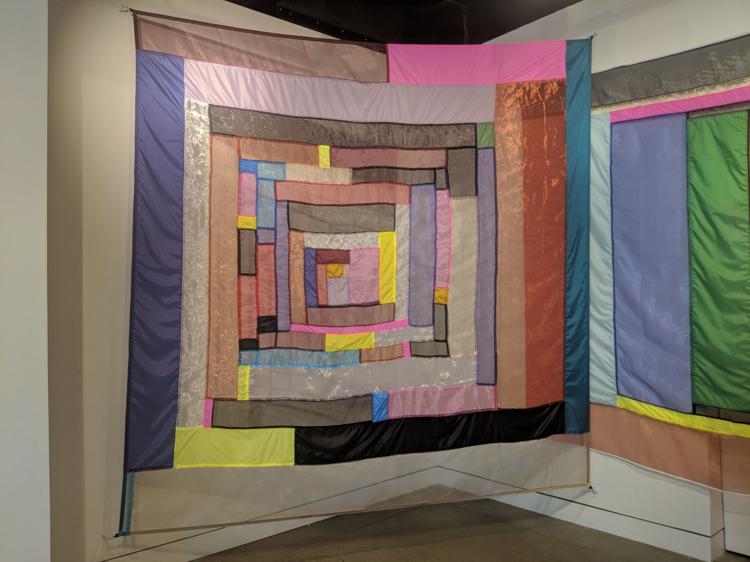 Hayes, who has been collaborating with Italian fashion house Missoni since 2017, typically shows her work in outdoor and architectural settings, achieving different effects each time. For this particular installation, she was seeking an intimate moment according to her artist statement. Infusing the Scene is on display through December 2018.
At the Schwitzer Gallery at the Circle City Industrial Complex (CCIC), artist Jamie Willis lets the subjects of her paintings make the statement with the 45 Project—an ongoing series of portraits that explore the emotional ride people are experiencing in our current political climate.
"I have been feeling a lot of angst and anxiety, especially with the division of America," says Willis.
To deal with her feelings, she made a self-portrait and titled it "Fake News" but felt there was more she could do. Willis asked people to submit their pictures with their feelings about the current president and 52 people sent her photos. She promised to portray each one of them respectfully.
"I am hoping this project brings people together or at least reminds us all that we are human beings."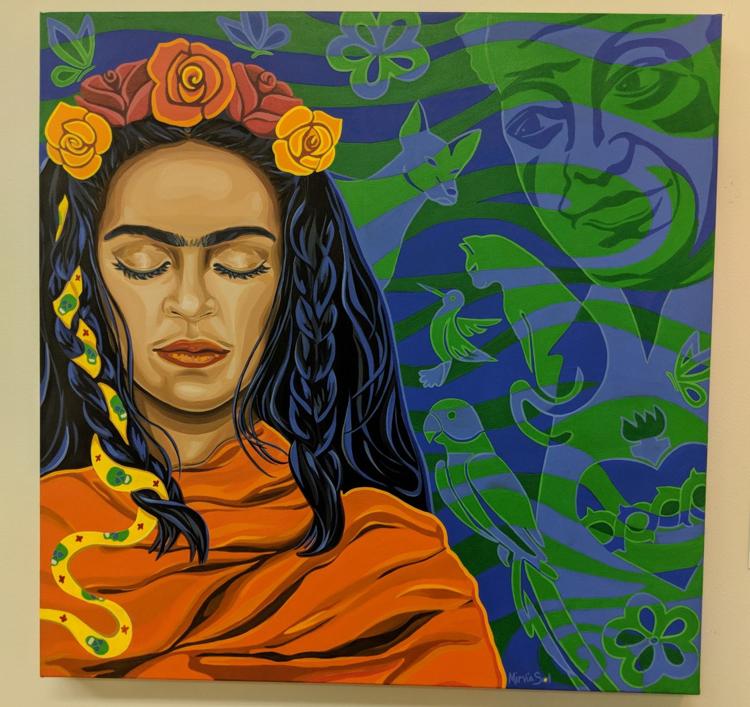 A floor below at CCIC, at Satch Art Space, Frida Kahlo proved to be a less divisive figure with 53 works by 36 women artists, all inspired by the life and works of the Mexican surrealist painter, for the exhibit Long Live Frida.
Kahlo, whose famous last written words read, "I hope exit is joyful and I hope never to come back," have been anything but forgotten since her death in 1954. The artist remains an object of curiosity in ways that are both reverent and controversial, as in the case of Snapchat's recent Women's Day filter debate. There have also been recent debates regarding the commodification of her image, given her personal politics.
The work on display was diverse with sincere homages to Kahlo's life struggles, such as in "Looking Within" by Mirvia Sol Eckert, and touching celebrations of her famous works, such as Erin Huber's "Two Fridas." There was, unfortunately, work reminiscent of the Snapchat Frida filter. The worst was the inflatable flailing-arm tube man with a unibrow just outside the Circle City Industrial Complex as a sobering reminder of how not even a world-famous Mexican artist can escape the character flatness and disrespect that comes with otherness.