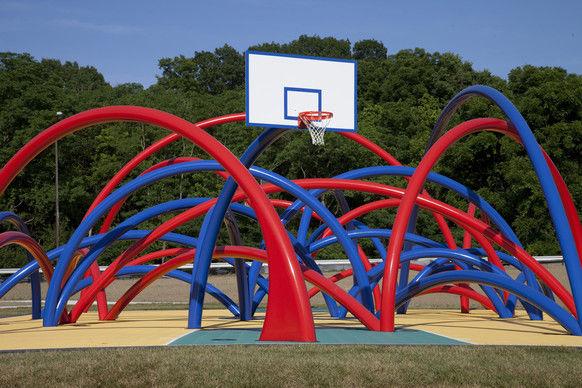 This list is part of our fall guide arts schedule bonanza, rolling out over the next week or so. For a complete list of all our lists, click here. 
1 // Free Basket at 100 Acres
Indianapolis Museum of Art / Newfields
Of course, there's very little that's free about the IMA anymore, now rebranded Newfields: A Place for Nature and Art. but the Free Basket designed and built by Los Carpinteros, still lives up to its name. This crazyass basketball court, completed in 2010, is complete with twisting arcs of steel tubing, some painted red, some painted blue. I've been meaning to bring a basketball to this court for a while, but keep putting it off because ... well, I guess I don't have any more excuses now that I'm writing about it. Wouldn't it be cool to see the Pacers play the Celtics here? Accessible off of 38th St. at the Edgar & Dorothy Fenhel Entrance.  
2 // The Pyramids
I'm not talking about the Giza pyramids built by the pharaohs, but the "Pyramids" office park on the northside of Indy (3500 Depauw Blvd.) where I had an appointment with the Dunhill Staffing Services on Aug. 1, 2006. The office was located on the third floor of Pyramid One. Instead of a gloomy tomb I found an airy perch with a view of its two angular triplet sisters: identical structures of glass and concrete. I entered the computer room sarcophagus and sat down for two hours of office skills assessment: tests including typing, alphanumerics, Excel, and Word. The high priestess of Dunhill took my papers and promised to make an attempt at career prospect reincarnation despite a CV burdened by too many years of retail slavery and a skills assessment that left much to be desired. 
3 // Nora Goodwill
In early June 2013, when I was working at the Nora Goodwill store, we received about half a dozen paintings through the drop-off door of clearly high value. One of the paintings, a painting of a mid-century cityscape by the late Austrian painter Joseph Floch (1895-1977). In the foreground there were massive edifices under construction, foreshortened, under brooding, cobalt-blue skies. I wouldn't have been surprised at all to see this painting on display at the Indianapolis Art Museum or the Art Institute of Chicago. Through a brief search on the internet, I found that Floch's paintings are in high demand at auction and on art websites. In fact, there had been a solo show of his artwork at the Montclair Art Museum in New Jersey, in 1987. I sent this painting off to Shopgoodwill and it wound up selling for thousands of bucks, though I can't recall the exact figure. You can dream about finding a painting like this at Goodwill, but more than likely it will windup selling online.   
4 // UBER Lot 
Actually, it's the UBER/LYFT Lot at the Indianapolis airport, where rideshare drivers waiting in queue to pick up arrivals. The UBER lot was across from the taxi driver lot and I spent countless hours there waiting for rides. The dividing line between rideshare and taxi drivers was kind of like the line between North and South Korea. Sort of. But we all used the same bathroom on the DMZ. You may wonder why a paragraph like this winds up in the Fall City Guide. Well, if you're in the rideshare economy, it helps to be able to have an appreciation for things like parking lots, like planes taking off and landing, like the five-time daily rhythm of taxi drivers kneeling to pray under the awning, bowing down to Mecca.
5 // The Alexander Hotel
On the second floor of this drop-dead-chic hotel, you will see Sonya Clark's eight-foot-high portrait of Madam C.J. Walker, the African-American multimillionaire entrepreneur who began the planning of the Indy's historic Madame Walker Theater prior to her death in 1919. In this sculptural portrait, built of 3,840 black "Unbreakable" brand hair combs, you can see that the chosen media is one with the conceptual content of the piece; Madame Walker made her fortune selling hair products to Black women. You sort of need to be a millionaire to be a regular at the nearby Plat 99 Mixology Lounge. They also make a mean cup of coffee, in a French press.
6 // The JW Marriott
The J.W. is an awe-inspiring architectural — and artistic! — achievement, from the outside at least. While Indianapolis-born architect Evans Woollen is renowned for creating spaces that dialogue with the Circle City — particularly his Central Library addition — the Chicago-based architects of the JW created an edifice that seems to be having an ongoing conversation with the sky. Walking into the JW, however, was a disappointment compared to its jaw-dropping exterior. The lobby was spacious and uncluttered; the backlit transparencies of vegetation behind the front desk were coolly chic. But I wasn't overwhelmed. I was expecting to see the hanging gardens of Babylon, I suppose.
7 // Herron Galleries at the Herron School of Art & Design
Back in January, I had some business to attend to at Indiana University-Purdue University Indianapolis, where Herron School of Art & Design is located. I stopped by the Tom Sachs exhibit at This Radiant City: Paintings 2000 - 2017 at the Herron Main Gallery. Sachs takes iconic advertising imagery, as well as charts and government emblems and the like, and paints them in a way that you know they are hand-painted. It's a different aesthetic, say, from the clean lines of Andy Warhol's "Brillo Boxes", in which you can almost see Andy Warhol's blank gaze staring back at you.  If you look closely at the latex paint and palladium on plywood "Reese's" you see thick globs of yellowish brown in the lettering, like peanut butter. There are other oddities like a "Recreational Dive Chair," which is basically a recreational dive chart with Hello Kitty emblems. (There's a "Bad Kitty" emblem for when the nitrogen levels get too high.)  26 paintings to show for 17 years' work, all with a similar aesthetic. I like the playfulness of the art but there's also something standoffish about it. As if it doesn't want you to come to close. Sometimes, it's nice to come across art that you disagree with. So you could have an argument with it.  
8 // Bagel Fair
To my mind bagels are a work of art. Bagel Fair's got all kinds of bagels: blueberry, rye, onion, garlic… they're the real deal. The shop has been open since the mid-seventies and keeps on going. They now accept credit cards. In early September 1991, I bit down on a bagel and my front tooth became loose. At home, later, it dropped out. But it wasn't the fault of the bagel! Because the next day my dentist told me that I had root canal failure (the result of a bike accident in my teens). I was distraught, because I was due to depart as a Peace Corps volunteer to Niger, West Africa. My dentist, whose office is currently decorated with James Wille Faust paintings, installed a bridge in my mouth five days before my departure to Africa. That bridge is still in my mouth. To my mind, good dental work is a work of art.
9 // Carmel Roundabouts
In my mind these are Carmel Mayor Jim Brainard's greatest achievement. Check out the one where Meridian St. meets Old Meridian and 136th St.  It's like driving through a bowl of spaghetti.   
10 // Cummins Distribution Headquarters
If you've seen Columbus, the movie, then you've heard the name Deborah Berke, who's designed many buildings in and around Columbus Indiana. The Cummins Distribution Center, which opened this past January, was also designed by Berke. Inside is commissioned works includes a ceiling hanging sculpture in the lobby entitled "Torque Moment, Torque Momentum" by Kendall Buster, which evokes moving gears with circular aluminum frames, and a series of abstract paintings found throughout the building by Philadelphia-based Odili Donald Odita, entitled "The Wisdom of Trees." This work was inspired by the artist's visit to the Miller House in Columbus, Indiana. There is also a wall painting by Indiana artists Emily Kennerk and Jennifer Riley entitled "Big Bright Steel," visible from the exterior of the building. But sadly, even though the building sits on the former Market Square Arena site — where the King gave his last concert — there are no Black Velvet Elvis paintings.