In the basement of the Informatics and Communications Technology Complex at IUPUI you'll find Scott Deal in his laboratory as often as not. He might be tinkering with a computer interface or composing a "telematic" opera on his vibraphone.  
Deal, professor of music technology with the School of Engineering and Technology, organized the immersive musical and mixed-media programming for a free, three-day film and music event called Fata Morgana scheduled for Oct 3-5 at the Eskenazi Fine Arts Center.  
As part of that event, featuring six different musicians and musical groups, Deal will showcase a piece by composer Christopher Biggs on vibraphone and interactive electronics.
Deal is not just a virtuoso in percussion instruments of all sorts; he specializes in interactive electronics and computers.
"Beyond my instruments that I'm playing," Deal said, "software will be sometimes using machine learning algorithms to analyze the software or analyze the sounds and then do some interesting things with them. All three pieces I'm playing for Fata Morgana are going to totally fit into that."
For Deal, interest in percussion preceded interest in electronics. But he wasn't bound to a particular style.
"Early on, I was a drummer and I was playing in a rock band. So I played in jazz bands, all kinds of bands; I've played in orchestras," he said. "I wanted to be able to express myself as an individual and not be just playing a style that has been very well established and that 50 zillion guys play."
Early on, Deal also became interested in melding his musicianship with technology. But when he was going to university in the '70s – he received his B.A. in music at Cameron University in 1980 – the cutting-edge electronics he was interested in were very new and unavailable. 
"In the '90s, I began my career with electronics, just by studying at the doctoral level and learning. Since 1995, most of the works that I have been involved in, commissioning, or premiering or playing have involved some sort of high technology, in tandem with percussion, because there's so many sounds of percussion," he said.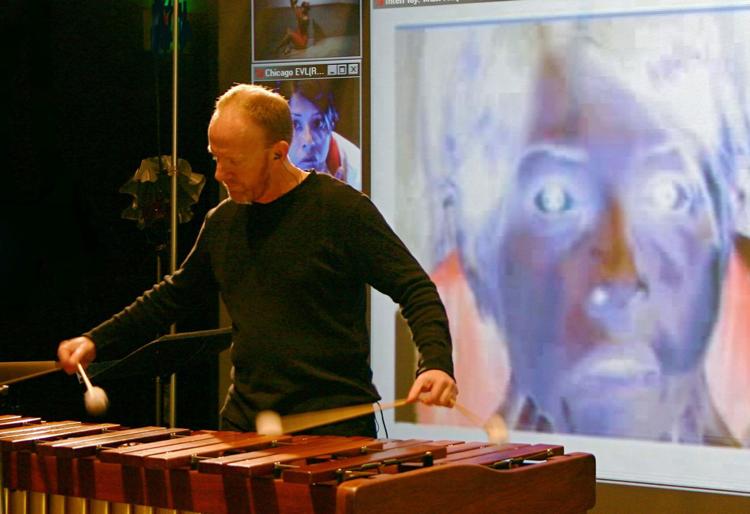 "Electronics and percussion are the same, and they both use noise, making a noise, as opposed to just learning to play a melodic line."
Deal received his Doctor of Musical Arts at the University of Miami in 1994.
It was while teaching as a professor at the University of Alaska that Deal encountered the composer John Luther Adams. Deal performed – and a colleague recorded – the drum piece "Qilyaun" in 2004, a piece composed by Adams and commissioned by the Fairbanks Symphony Orchestra.
Adams and Deal would collaborate again. You can hear Deal's percussion work on Adams' disc Four Thousand Holes, and also on the soundtrack for the 2015 motion picture The Revenant, directed by Alejandro González Iñárritu and starring Leonardo DiCaprio.
This is just one of numerous collaborations with performers and composers based all over the world. 
At the University of Alaska, however, Deal's job was to teach students to play progressions and run ensembles.
"While I was doing all that, I got involved doing telematic art, which uses high bandwidth networks, internet networks, to create artistic pieces, drama, dance, music, using multiple spaces over a given ... like it could be across the country, across the world. But using the internet to connect spaces, and the spaces interact with each other. So I got very involved in that and became a leader in that whole thing."
Then IUPUI built the Informatics and Communications Technology Complex (aka the IT building), with up to the minute broadband internet equipment, and was looking for staff to run it.
Deal came to IUPUI in 2005.
"I went from having a studio with bass drums and timpani and marimba and stuff like that and teaching people to play those things to having a lab where we do funded research, and we create software," he said.
Deal also became the first director of the Tavel Center, based in the IT building.
The center is named after Donald Tavel, son of the founder of Indianapolis-based Tavel Optical, who was both an inventor and a musician. When he died in a car crash in the late '80s, leaving behind a 2-month-old daughter, his parents created an endowment in his name.
"One of his inventions, it was this beautiful, very unique kind of synthesizer that never got to market," said Deal, who is resurrecting the synthesizer in his lab.
He is working with Tavel's daughter, who is now in her 30s, in an attempt to bring the synthesizer to the public. 
"We're collaborating to create a new version of this synthesizer that will eventually get to market in a couple of years," he said.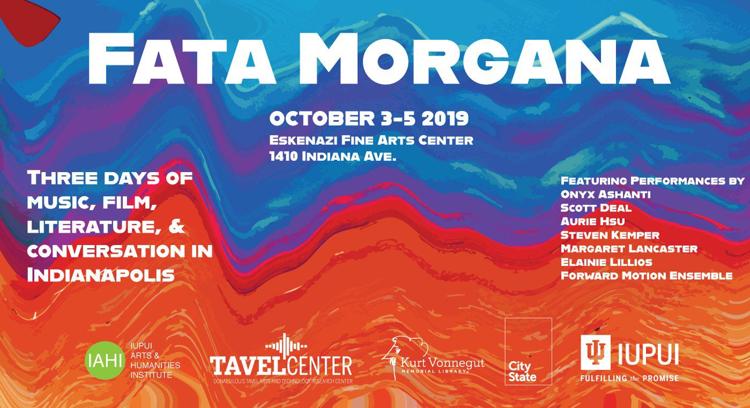 Fata Morgana
The genesis of the three-day Fata Morgana event had to do with Deal's wanting to showcase pieces from forthcoming musical work featuring his collaborations with various composers, titled the Percussion Computer Media Collection.      
"I wanted to showcase that here in Indianapolis, and so I wrote a grant to the IUPUI Arts & Humanities Institute saying I want to do something more than just setting up in the hall and knocking the tunes out," he said.  
Jason Kelly, director of the aforementioned institute, loved the idea for bringing to fruition such a showcase, and he wanted to combine the music with films confronting complex 21st century issues such as immigration, racism, the surveillance state, and LGBTQ+ life in America.
Kelly and Deal struggled for some time to come up with a title for this event. At first they were looking to the works of Indy-born author Kurt Vonnegut for inspiration. But then Kelly got the idea for the title Fata Morgana, which denotes a type of mirage and which is also the title of a 1971 Werner Herzog film set in the Sahara Desert. (The film will be screened on Oct. 5, during the eponymous event.)
"You see it, but what is it?" says Deal, describing the term. "We felt like that was really perfect for this idea of like, we're doing stuff that's right on the edge."
The themes in the films screened, including The Feeling of Being Watched – which documents the surveillance of a Muslim community in New York by the federal government after 9/11 – are akin to some of the themes that Deal tackles in his own work, like global warming and the surveillance state. You can find these musical ruminations in works like Surveillance and Goldstream Variations.  
On Oct. 5 at Fata Morgana, Deal will play the aforementioned piece by composer Christopher Biggs. The piece, Will All Fall, addresses the issue of climate change.
He also has invited six guest performers.
Onyx Ashanti, the only featured performer who describes himself as a "cyborg musician," also is a programmer and open-source proponent. Ashanti will transform Eskenazi Fine Arts Center into a showcase for his "beatjazz" – an interactive melange of electronically derived jazz and rhythm, of sound and projected visualization. He will transform his body into a musical instrument, fusing cutting-edge technology with musical chops.
"When he comes out performing he looks almost like a transformer," Deal said. "He's all wired." 
up. His hands look like robot hands."
Robots – musical robots – also will make an appearance during the collaboration of composer, dancer, and pianist Auri Hsu and composer Steven Kemper.
Each evening, interdisciplinary artist CandyStations, who has collaborated with Sufjan Stevens and St. Vincent, will light up the gallery walls of Eskenazi Fine Arts Center with her improvised live video compositions.
There also will be performances by Margaret Lancaster, Elainie Lillios, and Forward Motion Ensemble. All performers, including Deal, will make appearances throughout the three-day festival.
"We're doing interesting stuff that's not in the mainstream, but looking to the future," he said.