The Ronen had me listening on unfamiliar landscapes at their opening concert for their 2019-2020 season. The November 4, program "Spotlight on Winds," gratefully on my part, snuck in Josef Haydn's Duo for Violin and Cello in D major. The splendid, nuanced interpretation by violinist Peter Vickery and cellist Ingrid Fisher-Bellman, reflected all that is joyful about Haydn and brought me into a kinder, gentler world. Fisher-Bellman and Vickery radiated an embracing warmth as they conversed throughout a joyful interlude of sharing. I was reminded to go home and read about the way Hadyn chose to live a compassionate life and set out to create works with an exploratory originality in the midst of an explosion of 18th century musical creativity. That thought helped me grasp what the composers of the three other works were conjuring up in their 20th-century milieu.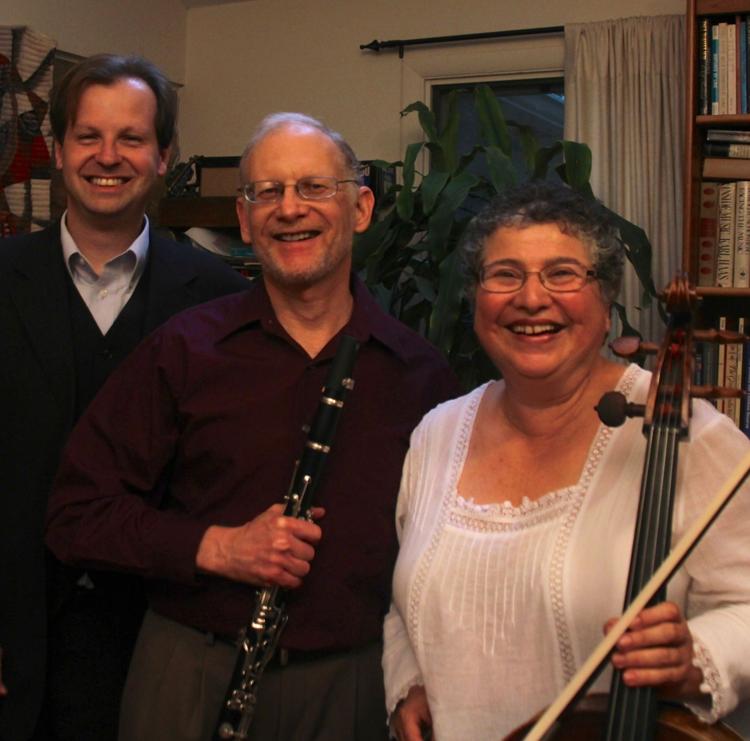 For me to grasp the constantly shifting cacophony underpinning George Rochberg's Trio for Clarinet, Horn, and Piano, I had to create a scenario of a city awakening and plunging through a day of activity, this snapshot being re-invented during different seasons. I have no idea if this is what Rochberg meant when he initially composed this work in 1948 and revised it in 1980 since there were no program notes. Nevertheless, what most intrigued was the interplay between David Bellman, clarinet; Rob Danforth, horn; and Gregory Martin, piano. Their body language in the hand-offs of solo, duo, trio parts alternated between mechanical and lithe.
From the stage, Gregory Martin shared some insight into Emile Naoumoff's "Echo" Trio, composed in 1988. What I grasped in this work was an abiding sense of calm and lyricism that grew from the interplay between the musical animation of Jennifer Christen's oboe, Mark Ortwein's bassoon and Gregory Martin's piano. Naoumoff, IU associate professor of Music, was in the audience, as he had been during a previous Ronen concert several years ago when he and The Ronen paid tribute to Nadia Boulanger, who guided Naoumoff through his formative years as a prodigy from the age of seven. Find that story here: http://info.music.indiana.edu/faculty/current/naoumoff-emile.shtml  
and in the NUVO March 31, 2015 review here: https://www.nuvo.net/music/review-ronen-chamber-ensemble-s-mademoiselle/article_476df1be-4e4e-5905-b8ea-1746aac30c05.html
The program closed with Janacek's "Mladi" (Youth; 1924), described by Ronen publicist Marion Garmel as an "almost symphonic scale of depicting colorful memories from the composer's youth." The four movements put me in mind of Maurice Sendak's "Where the Wild Things Are" in the swirl of emotionality throughout the interplaying between Alistair Howlett, flute; Jennifer Christen, oboe; David Bellman, clarinet; Sam Rothstein, bass clarinet; Mark Ortwein, bassoon; and Rob Danforth, horn.
Although there was no intended connection between the Ronen program and the newly hung art exhibit in the adjoining gallery, nevertheless serendipity arose. "The Horizon Unfolds:AJ Nafziger" immerses us into graphite on paper depictions of 19 National Parks through a totally unexpected lens. With the feel of cloths draped over the furniture of a summer home closed up for a season, Nafziger drops fabric over parts of familiar landscapes, hiding from view the very thing that specifies where it is. Discombobulating? Yes. Intriguing. Yes. Up until December 6, 2019. Worth the trip to the DeHaan Fine ArtsCenter, 1400 E. Hanna Ave. more info at events.uindy.edu
Next up in the Ruth Lilly Recital Hall at Christel DeHaan Fine Arts Center, at the University of Indianapolis:
New Music Series: Dr. Douglas Knehans; November 15, 7:30 p.m. Free
American Pianists Association presents pianist Anthony de Mare, November 17, 3:30 p.m. 
Tickets: www.americanpianists.org or 317-940-9945.