Indianapolis' Low Pone queer dance party means a little something different to everyone.
Held on the first Saturday of every month at Pioneer in Fountain Square, Low Pone is hosted by drag queens Mary Fagdalane and Stevie Dicks, with DJ Littletown providing the soundtrack for the night. Since starting back in February 2017, Low Pone has grown in size and scope, bringing drag kings, drag queens, and musicians from across the country to Indy as they perform in front of hundreds of glowing attendees.
Through her travels, Indianapolis native Carrie Keel noticed other cities had pop-up queer dance parties that were not held at LGBTQ clubs. "They do a lot of pop-ups in Chicago and New York," Keel says. "In any big city, you'll always find one." With this in mind, she decided to be proactive and start her own pop-up queer dance party in Indianapolis, choosing to call it Low Pone.
"A low pone is the hairstyle that every baby lesbian ever has when they haven't cut their hair off yet," Keel explains. "It's basically a really tight ponytail that sits at the nape of the neck."
From its onset, Low Pone has been subversive in nature. "It was definitely a response to the acceptable queerness that was happening here," Keel says. For this reason, she chose Mary Fagdalane and Auntie Christ (who passed away in 2018) as the party's two resident drag queen hosts.
"I had seen Mary and Auntie several times before Low Pone was even a twinkle," Keel says. "They were totally awesome and crazy. They did not reflect the rest of the drag community as far as I was concerned."
For many years prior to Low Pone, both Mary Fagdalane and Auntie Christ struggled to find their place in Indy's drag community. "When we started performing, we would go to Zonie's Closet every Thursday for the open stage," Fagdalane says. "We did drag that everyone considers not to be drag. We did a lot of [drag with elements of] horror movies and theatrical makeup and things like that." This nonconventional style caught many in Indy's drag community off guard.
"It's inspired by real places but dark places at the same time," Fagdalane says. "What everyone was used to was very typical female-presenting, completely beautiful, and polished head-to-toe. With our art, we always thought it would be good for us to show the parts of being a human that aren't always the standard of beauty, just to show that it could still be beautiful."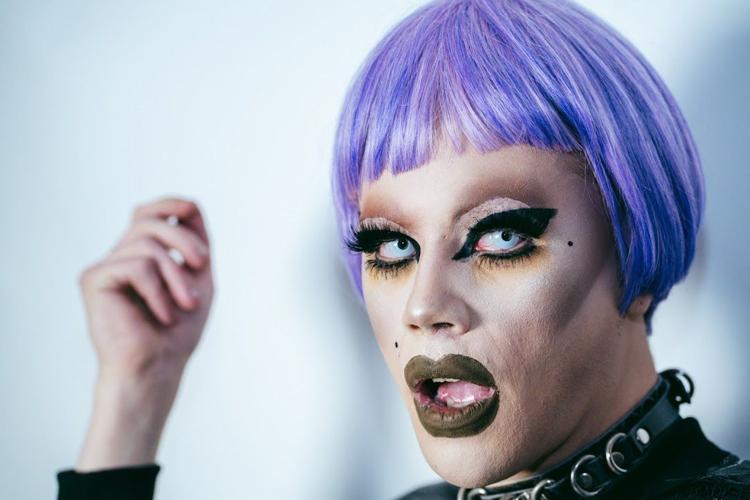 But while many in Indy did not jive with Mary Fagdalane and Auntie Christ, the pair of queens was just who Keel wanted to host Low Pone. "I was like, 'Look. I've seen you two perform. You're definitely pushing the envelope as far as what we're doing here in Indianapolis. I'm trying to start this thing,'" Keel recalls. In keeping with this theme, Low Pone has always featured guest performers who are bucking the system in some way.
"For our first show, we booked Ava, who has been around forever," Keel says. "We booked her because she initially got booked at Zonie's, and then when she showed up with a beard, they told her she couldn't perform. One of the big things stepping right out of the gate for us was to break the stupid pageantry stigma that the Indianapolis drag world unfortunately focuses on in a lot of ways. The whole point of drag is to be subversive."
As the event has gained notoriety, Keel and company have welcomed many notable guests to the Low Pone stage from cities like Chicago, Los Angeles, Miami, and Philadelphia. For Fagdalane, it has been rather surreal to share a stage with these performers. "A lot of the drag kings, drag queens, and musicians we've been bringing in are people that Stevie Dicks [now Fagdalane's co-host] and I have looked up to for a long time," Fagdalane says. "We really appreciate their art. To get to meet them and actually work alongside them is just incredible."
When it comes to the perception of Low Pone in Indy, Keel says there is certainly a ways to go. "I still think it's an uphill battle, at least here," she says. "Trying to convince other people that this is actually the way that drag is moving is sort of like teaching an old dog new tricks sometimes. It's not easy." At the end of the day, however, the event means much more to so many in Indy's LGBTQ community.
"Having a space where you can feel at home, let loose, and be yourself is something that a lot of people probably take for granted," Fagdalane says. "But for a lot of other minority communities, that is something that's really rare. Not a lot of places really cater to this demographic in communities like ours."
CRASHING THROUGH THE FRONT DOOR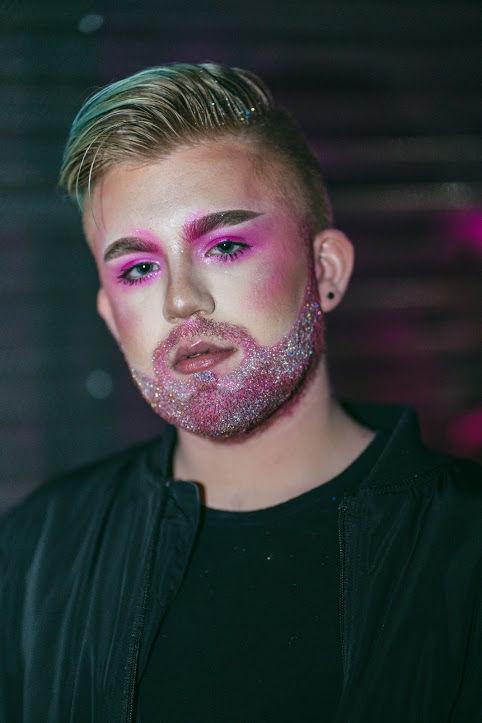 Longtime friends Casey No and Taylor Rose first met about 13 or 14 years ago in Vincennes, Ind., where they were fortunate to have a support system. "It was very much rural Indiana," Rose says. "We had a very small group of gay friends that kind of protected each other." After eventually winding up in Indianapolis, they both quickly gravitated to Low Pone.
"I had never been able to experience queer culture like that," No says. "I truly didn't realize how queer it could be until I got to Low Pone and started seeing all this subversive stuff."
"For me, it was seeing that queer culture didn't have to look like these binaries," Rose adds. "It didn't have to be put together in a certain ordered fashion. Being able to see that, I felt like I saw parts of myself. I just felt comfortable in it and felt connected to it."
With No being a photographer and Rose being a writer, the pair of longtime friends had discussed collaborating on some sort of project for years. After bonding over their love for Low Pone, they decided to document this very special time in Indy's LGBTQ history.
"We both just looked at it and came together with this idea," No says. "It was like, 'Well, I studied art, and I'm a photographer. You're a journalist. This is happening. It's not history. It's unfolding right now. We can document this and show the world this seismic shift in queer life.'"
In the spring of 2018, No and Rose began gathering all that they needed for their project. For No in particular, the task was a little daunting at first, being that he had previously dedicated most of his time to music as the frontperson of Spandrels. "My camera was sitting in the deepest, darkest corner of my closet, and I was just ignoring it," No says. "But it just called me back. So I dusted it off and got reacquainted." As No captured Low Pone through his lens, Rose gathered stories from those who the event has already touched in its short existence.
"Some of the stories and people that we've gotten to encounter have been so amazing," Rose says. "There was this young trans guy who came up to us and asked to be interviewed. He was talking about mental health and said to me, 'I've struggled with mental health my entire life, but why would I kill myself when there's Low Pone next month? I have something to look forward to.'"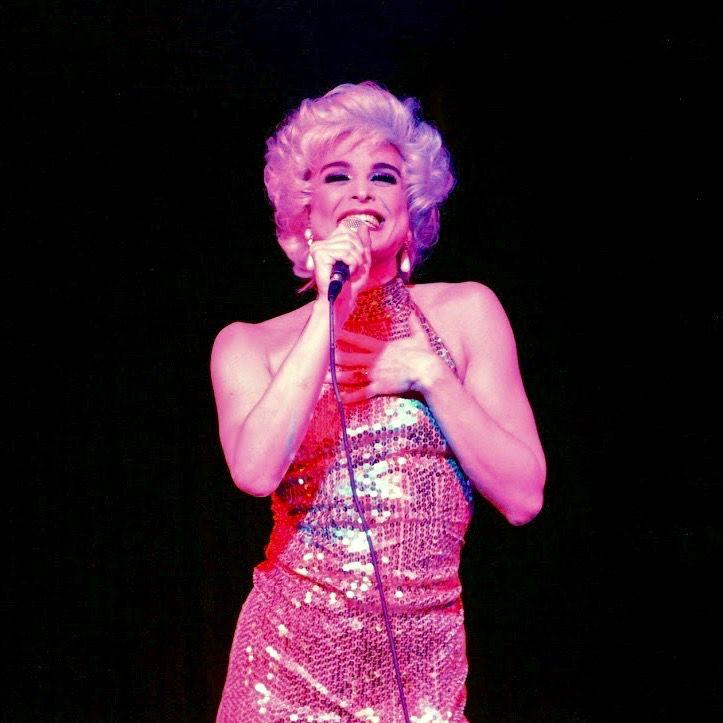 In gathering all of this information, No and Taylor have gained an even greater appreciation for the work that Keel is doing with Low Pone. "We're capturing a very historical queer movement in Indy, and one that Carrie honestly started," Rose says. "It was punk from the beginning," No adds. "It needed to be."
Titled Crashing Through the Front Door, No and Rose's book contains photos, narrative nonfiction, poetry, and more. "It's paired down to the story and conception of Low Pone, and then speaks to its impact in the community," Rose says. Crashing Through the Front Door was designed by Ben and Janneane Blevins at PRINTtEXT and will also coincide with a February gallery show at Big Car's Tube Factory artspace in Garfield Park.
"Usually Indianapolis lags far behind when it comes to trends, especially performance-wise," says Shauta Marsh, co-founder/director of programs and exhibitions at Big Car Collaborative. "Low Pone is bringing horror drag to our city around the same time its' popularity has risen in New York and Los Angeles. They are also creating a new platform for the queer community at a time we've lost venues like Talbott Street, The 501, and several others."
Marsh continues, "The LGBTQ community has been consistently bullied by Indiana lawmakers. As an arts programmer in the capitol, it's important that we do what we (Big Car) can do to ensure an organization like Low Pone broadens their audience and platform. Low Pone broadens our horizons as a city and creates a better place for everyone."
Local arts organizations are not the only ones noticing Low Pone's cultural significance. With Indianapolis nearing its bicentennial in 2020, the Indiana Historical Society has added Low Pone's Crashing Through the Front Door collection to its LGBTQ archive.
"The Indiana Historical Society is thrilled to be the archival repository of Low Pone's Crashing Through the Front Door collection of photography and oral histories," says Jordan Ryan, curator of the Indianapolis bicentennial project and architectural archivist at the Indiana Historical Society. "The Indiana Historical Society established our LGBTQ collecting initiative in 2014, which has predominantly focused on gay life and culture of the 1980s-1990s. The Crashing Through the Front Door collection provides historians with an exciting opportunity to research the context of almost 50 years of local drag history within our archive. Materials will be available in the archive and online later this year."
THE NEXT CHAPTER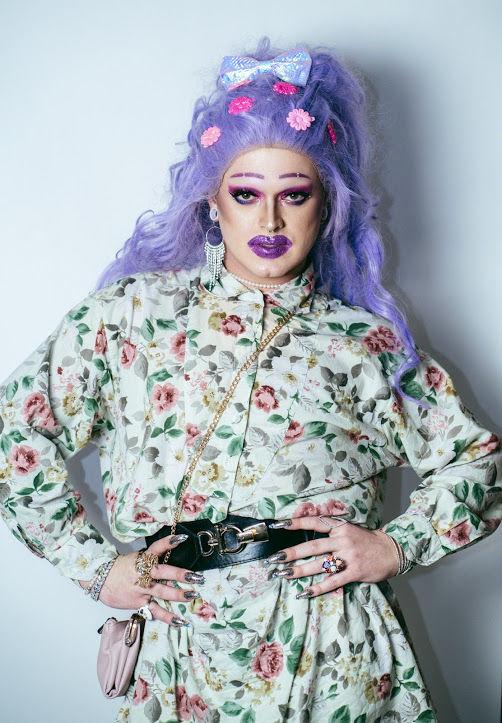 This February, Low Pone will celebrate its two-year anniversary with a very special show at Pioneer featuring performances from Austin drag queen Louisiana Purchase, Nashville, Tenn. drag queen Monroe Fitzgerald, and much more. Outside of Low Pone, however, Keel also has a few other offshoot projects in the works, including an all-ages event called Minor Sweat.
Described as a mash-up of open mic, art drag, radical thoughts, and community for the youth of Indy, Minor Sweat was inspired by Keel's experiences growing up as a queer youth in Indy.
"In my mind, Minor Sweat was an absolute necessity," Keel says. "When I was a kid, I had a space in the Abbey [once located on Mass Ave]. I think anyone of my generation would absolutely be like, 'That was pivotal to my queer existence when I was a kid.'"
After a recent benefit event at Duke's, Minor Sweat is now funded through the end of 2019, allowing youths to come and be a part of the event at no cost.
"It's kings. It's queens. It's dancers. It's singers. It's poets. It's everything," Keel says. "We didn't want to narrow the field in any way. The point is community, and it's not for me to decide what that looks like. I'm only here to provide a space that I thought was critical in my childhood."
On September 7, Low Pone will also present the first installment of an LGBTQ music festival aptly titled BUZZ/cut. With a layout similar to that of Fountain Square Music Festival in its early years, BUZZ/cut will take place in the PNC lot behind Pioneer, providing a full day of performances from queer artists.
"I'm sort of pitching this as an alternative to our Pride," Keel says. "It's the most beautiful week of the year in Indiana. We're trying to get the fucking righteousness back into our community."
But whether it's Low Pone, BUZZ/cut, or Minor Sweat, everything Keel and company are doing ultimately ties back to the approach they've taken from the beginning.
"We're trying to make a space not only for super queer performers but also just for people [being people]," Keel says. "We've always made it a point to be totally open-minded. That's how it all started."
---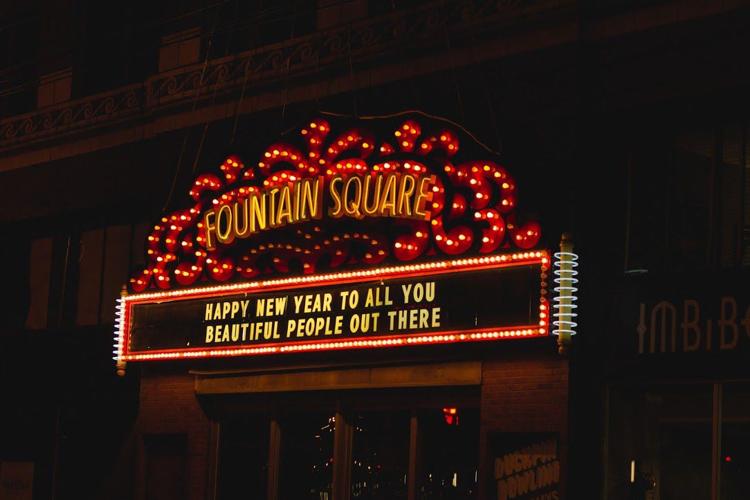 here's a list of Indy's other top dance parties:
Minor Sweat at Hoy Polloy
Minor Sweat is Low Pone's affiliated all-ages dance party committed to providing a safe space for Indy's under-21 LGBT community. Taking place on the near east side at Hoy Polloy at 2121 E 10th St., Minor Sweat offers all the fun and freedom of Low Pone without the restrictions of having a horizontal license photo.
Revolution Sunday at The Casba
Revolution Sundays at The Casba in Broad Ripple has been Indy's favorite Reggae dance party for 20 plus years. DJ Danger and DJ Indiana Jones make sure every little thing is alright and that the crowd keeps jamming for decades to come. 
Baila Noche Latina at The Vogue
Featuring some of Central Indiana's hottest Latin Djs, Baila Noche Latina dance nights at Broad Ripple hotspot The Vogue is muy caliente. Playing amazing cuts of Salsa, Merengue, and Reggaeton as well as the biggest hits of today will keep your boogie shoes grooving well into the night.
Proper at The Patron Saint
Featuring a rotation of Indy's hottest DJs, Proper takes the Saint's voodoo dive bar mystique and turns that into a full on rager that ensures you won't be able to keep still. No cover charge is required, and the drink specials are out of this world. Who wouldn't come out with $2 mystery beers and $5 Fernet? 
Indy Soul Sundays at Grove Haus
Are you the type of person who likes digging through milk crates full of faded record jackets for that perfect break beat? Are you into soul food? Does $10 entry that includes a free drink sound like a hell of a deal? If you answered yes to any or all of these Indy Soul Sundays is the way to round out your weekend. DJ Rusty Redenbacher provides the crates full of soul loot for the January 20th return party as well as spoken word by Bashiri Asad and a performance by singer-songwriter Yadin Kol.
Lari Pati at Pioneer Indy
Every third Friday, Lari Pati is reminiscent of the best house party you've ever been to. Pati specializes in alternative hip-hop and R&B music and strives to convert would-be wallflowers into crazed danceaholics. A pretty reasonable goal when the DJ is spinning the perfect blend of new and old with a healthy mix of local bangers peppered in.
Spellbound DJ Dance Night at Pioneer Indy
Taking place on the last Saturday of every month, Spellbound features A-Squared DJs and DJ Evil Twin dropping the darkest in New Wave, Industrial, Goth, and Post-Punk. Dust off the black fishnets and wear your best mascara because goths get down too.
Real Talk! At White Rabbit Cabaret
Only 5 dollars to attend, Real Talk! is a hell of a deal for your monthly second Saturday event calendar. Those in the know already know to expect all things lit. DJs Action Jackson and Andy of A-Squared take to the decks to keep the party going at the White Rabbit in Fountain Square.
Soul'd Out Vintage Dance Party at Square Cat Vinyl
D. Strange and DJ Shaw Shank are always sure to drop the most recognizable Soul classics as well as some hidden gems that are sure to make you pull out your phone's Shazaam app. BYOV is encouraged. Come Mashed Potato and Twist your night away.