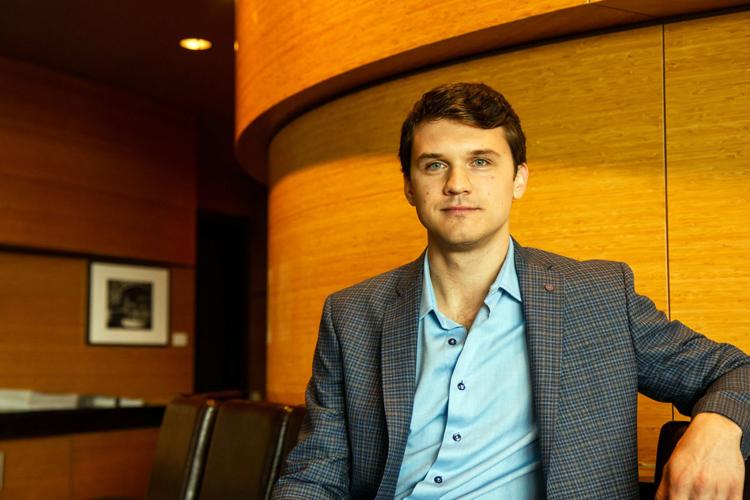 On Saturday I went to the Jazz Kitchen to see the third American Pianists Awards concert of the season featuring the 27-year-old Keelan Dimick, one of five finalists competing for the Cole Porter Jazz Fellowship worth $100,000 in support and career advancement.
Originally the Midwest and now based in Miami, Fla., Dimick played with two familiar players in the Indy jazz scene: Kenny Phelps on drums and Nick Tucker on bass.  
Dimick began his 2nd set of the evening with two pieces, "Away with it" and "Deep in Cerebration," both titles of which referenced his practice of Transcendental Meditation, he explained to the packed Jazz Kitchen crowd between songs.
He also performed the Ray Brown version of  "Street Life" composed by Joe Sample, at the same time giving away two of his influences.  
The final number of the evening was a Christmas medley featuring "Santa Claus is Coming to Town" and "Christmas Time is Here" leading into another one of his own composition. It was hard to know where the medleys ended and his own composition began, which made it sound to my ears something like Vince Guaraldi meets Keith Jarrett.
The solid chemistry between the performers was notable because Dimick and his backing band, who normally perform with local artist Steve Allee and had never met Dimick before the competition, only had an hour and a half to practice before the concert.
But I thought of Keith Jarrett as well in the interplay between Dimick and his band—particularly between him and Phelps.
That is, the overall performance made me think of Jarrett's 1987 performances recorded on the album Changeless where Jarrett plays piano to Gary Peacock's bass and Jack DeJohnette on drums.  
The players communicated between one another with facial expressions, and gave each other space to groove, all the while maintaining a driving rhythm.
Dimick talked with me after the show about some of his influences.
"Mulgrew Miller," he said. "Thelonious Monk, obviously. And if we're just talking composers. Billy Strahorn. Ray Brown like that "Santa Claus is coming to Town," that's something you hear on a Ray Brown Christmas album for sure. Maybe that exact arrangement."
I asked him where the dividing line was between the Christmas songs and his own compositions during the Christmas medley.
"There wasn't really one," he said. "And I was worried that it was going to get too much for everyone, too many notes.  I think it worked out. I think we chilled out enough because you have to have that flow. It can't be too much one thing or else it get…. You get immune to it, right?  You have to bring it back down and we try to do that hopefully that came across."
I also wondered about his meditation practice and how that related to performance and composition.   
"As it relates to composition, it just kind of all alleviates any stress that's in my head," he said.  "And stress constricts creativity. So when that's gone, it's easier to just let music write itself because the best musicians start with a seed and the music just writes itself. Meditation helps bring that about. If it's less going through your mind and the more just… because the more you really dwell in a song, the worse it gets.  So it's better to just write it out and be done with it."
Finally, I wondered what drove him to jazz during his formative years, rather than to classical music or to rock.  
"I think it was really my teacher," Dimick said. "He spoon-fed me Ray Brown and Gene Harris and Oscar Peterson.  So he really didn't give me another option. In middle school I was into funk and rock and things like that. In high school, I started getting into playing piano and there's not much stuff in that world that you can take to your practice room. Whereas, with jazz it's like if you're disciplined and you want to practice, you can practice forever. I think it was a mixture of my teachers…. And me just wanting to practice."