Photo by Indianapolis Ballet
The District Theatre resonated with 'Spirits' Uplifted, with new choreography delving within the many facets of All Hallows Eve and All Souls Day. Woven within the ancient Celtic festival of Samhain, celebrated by people in costumes around bonfires to keep ghosts at bay, is the dual desire to 'let people rest in peace' and for them to return for one more day.
IB founding company member Kristin Toner made her choreographic debut. Sharing what is at the heart of her work, touched on the essence of the program as a whole.
"It's how we remember people we have lost. We each face loss in a different way. 
We think deeply, and something happens with the mourning."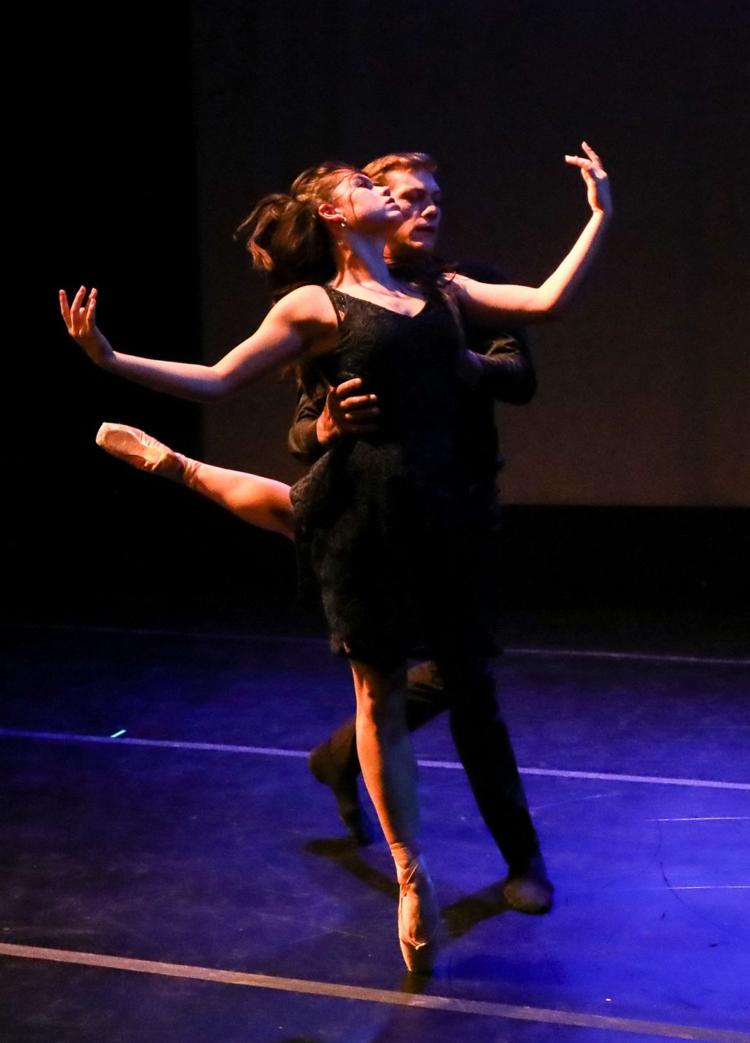 Toner's "A New Normal," with music by Philip Glass, opens itself for multiple interpretations. Three females surround a prone male, obviously freshly dead, each interacts with the body, bringing it back for one last encounter. Are they three facets of the same mourner—is the female in red representing young love, the female in iodine-rust representing the middle-aged companionship, the female in black the old-age widow? Or are the females three separate people expressing grief, hoping for just one more chance to express something before death becomes final in the mind, heart, gut of someone left to live? The theatrical depth in this piece hits everyone with some deep-seated memory of loss and how we coped. Greg Goessner and Shea Johnson alternated as the dead male, with Rowan Allegra, Indiana Cote, and Dagny Hanrahan, each expressing a range of emotions, whether in motion or anchored to the floor.
Paul Vitali, associate artistic director, and ballet master, is gaining cognizance with edgy choreography on edgy music. "The Nest " opened the program with an in-your-face thrust into a clutch of ghoul-like feathered creatures, literally flying on Paul Hindemith's constantly meter-changing composition. With fingers twisted into claw-like thrusts, and insect-like movements, It's fast, aggressive, mesmerizing in its ferocity.
Camila Ferrera and Kristin Toner alternated as the head bird of the flock, ready to decimate their partnering cohorts— John Beatrice, Greg Goessner, and Glenn Kelich. The feathered corps included: Rowan Allegra, Abigail Bixler, Indiana Cote, Abigail Rose Crowell, Elise Csizmdia, Dagny Hanrahan, Sierra Levin, and Mary Ann Schaefer
Victoria Lyras, IB founding artistic director, places Yoshiko Kamikusa and Chris Lingner in a dusky duet of discovery. Set on a Frederic Chopin "Nocturne," the pair is exploring the relationship from different vantage points. Lingner is showing an already established fact—you and I are a pair; Kamikusa is not that certain—she tests the seeming commitment. The moment of her decisive 'yes!' and his joy in it is everyone's moment of wow. Along the way, we are gifted with dancing to stand up and cheer. Humans finding themselves and each in the night time comes with both a longing and a relief, pricked by —is this just a dream?
Opening Act II, Vitali's comedic "What Limits," music by Mannheim Steamroller, put me in mind both of Balanchine's "Agon" and Dance Kaleidoscope's 3-D depiction, about a decade ago, of Theodore Roszak's painting, "Girl at the Piano Recording Sound." 
Clad in tight-fitting shiny psychedelic, studiously remaining mechanical throughout and very much moving like whatnots powering technologically-humanized objects, the corps kept a straight face while going through the craziest patterns of whirrs and oomps, not too unlike the shenanigans in "Charlie & the Chocolate Factory." But here we're inside one of those very old, very big computers and tv sets. Things change, and everyone dancing never heard of electronics you can't fit in a pocket. 
"Giselle" is up there with Hamlet as the lust after star role. She is doomed, yet she does not go gladly into the grave. Dancing like deadweight is not easy. Jessica Miller with Shea Johnson, and Yoshiko Kamikusa with Chris Lingner, alternate performances of "Giselle Pas de Deux." Simply sunning within the music by Adolphe Adam and choreography by Jean Corelli. Lyra coached this with a tender heart and memory of her own career.
Topping off this already high spirited, intellectually broadening, totally entertaining concert is Lyras' depiction of Franz Liszt's "Totentanz," with three pairs alternating as lead couple: Jessica Miller partnered with Shea Johnson at the Oct. 31 program I attended; alternating are Kamikusa with Lingner; Miller with Johnson; Toner with Riley Horton. With the full company in the corps, the virtuosity here, as in the previous five works, simply amazes.
Up next for Indianapolis Ballet:
The Nutcracker, presented by Methodist Sports Medicine
Nov. 29-Dec. 1, 2019 at the Murat Theatre at Old National Centre.
Information and tickets here:  https://indyballet.org/nutcracker/.
learn more about Halloween here: http://www.holidayinsights.com/halloween/samhain.htm